Revenue Impact (RI) Story
Semiconductor and Electronics
Identification of Market Opportunity in 5G Infrastructure Market
Business Proposition
Markets and Markets leveraged its engagement model for identifying growth opportunities in 5G infrastructure market. Market divergences across the interconnected ecosystem of vendors, client's clients, and their clients' ecosystem were considered for solving a series of problems. Insights drawn were helpful in increasing return on investments, market share, conversion, and pipeline, backed by improvised pitch and better account planning. Key questions answered as a part of the engagement were-
Which segments should be invested in for increasing revenue growth?
What are the major factors that help in the 5G market growth?
Our Approach
In-depth market intelligence across all interconnected markets were accessed in our AI-driven market intelligence platform, KnowledgeStore. The information was further enriched by inputs from our analysts, who helped in identifying bilndspots and revenue opportunities. Our client services team devised strategies that would help the client to stay ahead of the curve and increase revenue growth.
Revenue Shifts identified
The causes of shifts in revenue sources were identified-
5G is the next-generation wireless broadband technology that will provide high-speed data communication for various applications such as industrial automation, consumer electronics retail public safety, and emergency communication system. The 5G network connectivity is positioned to address the growing demand for high-speed data communication from the business context.
The 5G network is a key enabler of IoT providing a platform to connect all the devices to the Internet using high-speed data transmission and processing. Owing to growth opportunities in IoT and M2M communication technologies, the 5G network is expected to play a vital role in manufacturing healthcare aerospace & defence industrial automotive and other sectors.
Governments all over the world would play a major role in the growth of the 5G market by deploying 5G networks at government schools and colleges government offices airports railway stations public places and others. They are also planning to deploy these solutions in rural areas where there is no internet access and provide hardware solutions at a cheaper rate.
Smart home synchronized watches smartphones and fitness apps are capturing market share at a rapid pace these days and are expected to grow with the speed and performance capabilities of 5G. These technologies utilize the 5G network for device connectivity and monitoring of applications in residential space.
Interconnections
Insights were offered into interconnected ecosystems-
The speed and reliability of 5G is expected to have a massive impact on M2M and IoT. The key reasons for the increased adoption of new M2M technologies are better connectivity for smooth communication and low power requirement. To achieve effective machine-to-machine communication, the existing capacity of mobile networks must be able to handle billions of nodes that are expected to ascend in the next couple of years.
5G network offers different features such as high-speed data transfer rate, low latency, consistent connectivity and easy management with previous generation technology. All these features are useful across various industries. 5G infrastructure plays an integral role to meet various requirements of several connected devices and numerous sensors that are being deployed.
5G network slicing will provide network operators the ability to deploy only those functions that are necessary to support a particular set of customers and specific market segments. Such software-driven network technologies would further drive the 5G infrastructure market in terms of ease of deployment and efficient operation of 5G network.
IoT is among the use cases that 5G network would support; for instance, it enables communication between a large number of sensors and connected devices. Also, the need to provide uninterrupted Internet connectivity to increasing number of devices along with a reduction in power consumption is driving the 5G market.
Unknowns Identified
We expanded the understanding of revenue shifts and interconnections for finding blindspots-
Higher throughput of 5G is essential for VR and AR content that is streamed from the cloud. With access to 5G getting closer, AR and VR will go mainstream with it. Initial implementations of AR applications at the enterprise level will become seamless once 5G networks become widely available.
In July 2019, Municipality of The Hague and T-Mobile announced their collaboration for the realization of 5G network. They collaborated to provide the Royal City in 2020 with a full-coverage 5G network, making it the first in the Netherlands. The research locations are a vital part of this collaboration. Therefore, owing to these developments from major industry players it is further estimated that the 5G network infrastructure market will have huge growth opportunities in various European countries.
In March 2019, Worcestershire 5G Testbed and Trials (UK) in collaboration with Huawei O2 and BT Group started testing the potential of 5G in factory floor production reconfiguration and real-time analysis and remote machine control.
Countries such as the US, the UK, South Korea, and Japan have announced their 5G spectrum strategies showing that the period during 2018 and 2020 is the right time for the deployment of 5G commercial systems using mmWave bands. In line with this, 5G commercial services will be initiated with FWA in the US.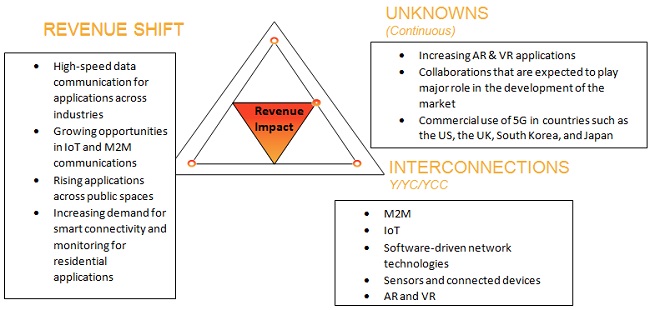 More Revenue Impact stories
See how future revenue sources change for these companies