Revenue Impact (RI) Story
Semiconductor and Electronics
Helped a Prominent Semiconductor Vendor to Increase Its Potential Revenue by USD 100 million
Business Proposition
Markets and Markets was engaged to secure revenue streams and make strategic decisions for increasing revenues. Our team defined a series of problems and solved them that helped the client to build strategic foresights. With our insights the client was able to enter new regions. One of the key problems solved was deciding which region or countries should we target to accelerate revenue of advanced ceramics segment, considering automobile industry and its ongoing phase of maturity in most of the Western nations.
Our Approach
As a part of our engagement model, access to high-growth niche markets was offered in our AI-driven market intelligence platform, KnowledgeStore. These insights helped in understanding the interconnected ecosystems of our client, client's clients, and their clients on both regional and global level. Analyst hours were used to expand the understanding of the insights offered. Further, client services team build customized strategy with quick turnaround time for the client to tap into new regional markets.
Revenue Shifts identified
The causes of shifts in revenue sources were identified-
Business opportunities in South-East Asian countries as multiple automakers have their plants set up in the Asian region and the automobile industry is yet to reach the maturity stage.
Customer analysis of advanced ceramics in electronics industry helped the client to set up a new plant in Asia. It helped client to attract more customers specially in China and South Korea (Hubs of electronic manufacturing). This strategic decision brought a two-fold impact on the client's revenue by increased customer base and lower cost of production (cheap labour and energy). This step helped the client to increase the revenue by 7% i.e. USD 8 Million.
Asia Pacific is anticipated to constitute a key share of the market during the forecast period. It is estimated to be a rapidly growing region of the advanced ceramics market owing to the increase in demand from the electrical & electronics industry in the region.
Interconnections
Insights were offered into interconnected ecosystems-
Advance Ceramics are yet to attain the long-expected broad market penetration especially on the African continent.
Asia Pacific dominated the market in 2018 and is anticipated to expand at the highest CAGR of 9.9% from 2019 to 2025 owing to growing production of automotive and consumer electronics.
The Middle East & Africa (MEA) is likely to be an attractive region of the advanced ceramics market during the forecast period led by the increase in demand for these ceramics in the automotive industry in the region.
Unknowns Identified
We expanded the understanding of revenue shifts and interconnections for finding blindspots-
South East Asia contributed around 8-10% of the total potential market with a regional growth rate of 7%. CAGR. High priced products and quick technical support were unmet needs of key customers.
Domestically produced high quality and established brand image were key criteria of supplier selection.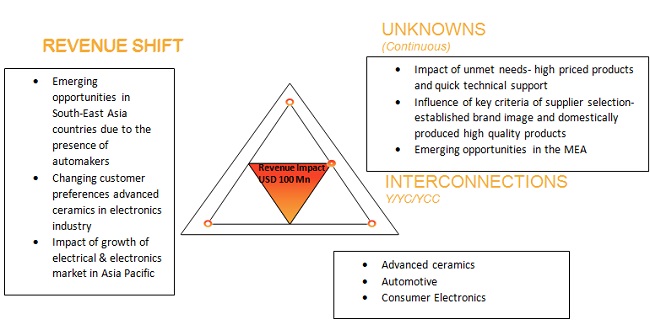 More Revenue Impact stories
See how future revenue sources change for these companies