Revenue Impact (RI) Story
Chemical and Materials
Identification of Market Opportunity in Composites Market
Business Proposition
Markets and Markets, using its engagement model, helped in defining a series of problem for identifying growth opportunities in composites market. Insights on different composites mapped against their usage for multiple applications in various industries since decades were offered for solving the problems. Two key questions were answered during the engagement-
Which type of composites will embark the path of future growth?
How can these segments be tapped for fuelling future revenue?
Our Approach
Our AI-driven market intelligence platform, KnowledgeStore, was leveraged for gaining actionable insights across the market and its segments, both on regional and global level. Further, an expert team of analysts helped with the understanding of the market opportunities and blindspots to build a strategic foresight. Our client services team decided use cases, and learnt about emerging technology trends that would help in maximizing product potential.
Revenue Shifts identified
The causes of shifts in revenue sources were identified-
Hybrid composites market is valued at USD 460 million in 2019. Composite when optimized for specific and better properties by combining three or more materials form a hybrid composite. This concept is not new but research and development is growing and use of hybrids is expanding particularly into cost-sensitive applications.
Carbon/glass and glass/carbon hybrid fibre composites accounted for the largest share of the global hybrid composites market.
Carbon/glass fibre hybrid composite parts are lighter and stronger than their metal counterparts. Thus, they are extensively used in many industries including automotive & transportation and wind energy. Carbon/glass hybrid fibre composites are used in high-end vehicles to reduce the overall cost.
The wind energy is expected to be the fastest-growing industry for hybrid composites owing to the rapid shift to renewable energy sources. Increasing wind turbine installations across the globe especially in the APAC region will drive the market growth.
Europe is expected to the largest hybrid composites market. Being most advanced in terms of technology adoption and infrastructure development it is home to some of the major automotive and aerospace & defence equipment manufacturers which create demand for hybrid composites in the region.
Interconnections
Insights were offered into interconnected ecosystems-
Kenaf fibres are amongst the most promising ones and have recently received greater attention as the top national commodity crop under the supervision of the Malaysian National Kenaf and Tobacco Board (Ling and Ismail 2012). There are many benefits to using kenaf fibres such as their minimal abrasive wear to machinery, low density, low production costs, high specific strength, and good damage resistance.
Synthetic and natural fibres reinforced hybrid polymer composites have been used to enhance the performance of the resultant material, reduce moisture absorption, balance the costs of the fibres, reduce the negative environmental impact, and lower the energy and carbon footprint.
Environment sustainability is ensured by usage of hybrid composites (when synthetic fibres are combined with natural fibres). It is biodegradable and reduces carbon footprint to an extent.
Hybrid nanocomposites involve the inclusion of nanofiller in polymer composite. Nano-scale materials have large surface areas and therefore, the incorporation of such materials induces the connection between combined fibres/resins.
Unknowns Identified
We expanded the understanding of revenue shifts and interconnections for finding blindspots-
Researches are currently focusing on natural-natural fibres reinforced hybrid composites as suitable alternatives to synthetic fibres such as carbon and glass fibres. They have investigated the mechanical properties of natural-natural fibres reinforced hybrid composites.
In the case of solar energy, hybridized composites were recently applied as part of the trough for the collection of energy from the sun. The production of the parabolic trough collector (PTC) is expensive due to the costs associated with their moulds. In such cases, the addition of natural fibres is of significance in an effort to compensate for the overall costs of the resulting composite materials.
With research and development on hybrid composites, it is anticipated that a potential application in a residential building and bridge can be materialized in the near future across the globe. It is effective enough in serving benefits such as strength and cost, improvised tensile strength and stiffness , better mechanical properties etc.
Hybrid composites find its application in the telecom industry as well. Due to the change in technology and an increase in the application of communication for data transmission optical fibre cables have now become the backbone of communication. New hybrid cable design is made such that it reduces the cost of installation.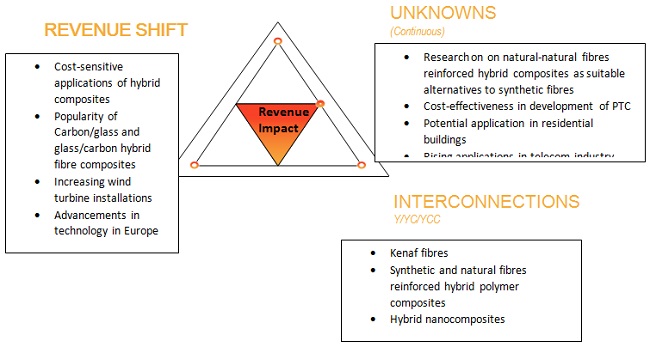 More Revenue Impact stories
See how future revenue sources change for these companies