Revenue Impact (RI) Story
Chemical and Materials
Identification of USD 70-80 Mn Market Opportunity in Auto Refinish Coatings Market
Business Proposition
Our engagement model was used to understand the factors in interconnected ecosystems that are likely to impact the auto refinish coatings market. A closer look into ecosystems of vendors, client's clients, and their clients revealed business opportunities and challenges. These insights were leveraged for defining and solving a series of problems to strategize positioning, segmenting, and targeting for acquiring new customers. For this purpose, few key questions were solved. Some of these questions are-
How to gain market share in Latin America Auto refinish coatings (with special focus on Brazil and Mexico) market?
Which end-use segments should be prioritized (passenger or commercial)?
What are the new sources of revenue from different coat types?
What should be the best value proposition to the customers?
Our Approach
Insights were drawn into interconnected ecosystems of vendors, client's clients, and their clients with the help of our market intelligence platform, KnowledgeStore. These insights were further backed by data from our analysts that helped to identify potential blindspots and growth opportunities. Every key factor influencing the future trajectory in related high-growth niche markets were considered by client services team to devise an apt strategy for better positioning against competitors. As a result of our engagement model, a growth strategy was developed for tapping into new market opportunity.
Revenue Shifts identified
The causes of shifts in revenue sources were identified-
In 2019, approximately 2 million new cars were registered in Brazil.
Passenger vehicle segment accounted for 75% of the total automotive refinish coatings market (US$ 300 million) in Brazil.
Fillers are low-end products but they are used in very high volume. In this segment local players are giving tough competition to the global players. In Brazil the fillers market accounted for US$ 17 million.
Client launched a competitive brand as per customer preferences in Brazil and Mexico which strengthened its market position and customer database. The marketing and product launch strategies undertaken by us enabled the client to tap the opportunity to a tune of USD 70-80 million.
Interconnections
Insights were offered into interconnected ecosystems-
Vehicle insurance companies and OEM alliance can increase the demand for automotive refinish paints. Due to the high costs Brazilian customers do not insure cars. They are very likely to visit any local body shops in case of any damages to be repaired.
The large customer base in the country and high disposable income levels of individuals have fuelled the demand for electric vehicles which in turn has resulted in a proportional increase in the paint market for EV and hybrid vehicles.
Unknowns Identified
We expanded the understanding of revenue shifts and interconnections for finding blindspots-
Local players have a significant share of the market due to low cost and brand familiarity in the target region.
Solvent-based coatings hold the maximum share (more than 95%); but water-based is projected to grow at the highest CAGR.
Auto-insurance companies have very less impact in the Brazilian and Mexican auto refinish market as only 25-30% of the total fleet in Brazil and Mexico are insured.
Distributor and service centres preferred training workshops experience exchange investment in technology from automotive refinish OEMs.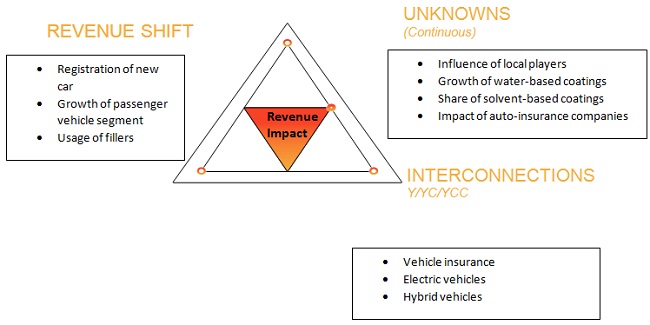 More Revenue Impact stories
See how future revenue sources change for these companies