Revenue Impact (RI) Story
Chemical and Materials
M&A Opportunity Identification and Partner Prioritization in Lubricants Market
Business Proposition
MarketsandMarkets, through its engagement, identified the need of partnership, estimated synergy, targeted and prioritized prospects to become partners for lubricants manufacturers in India. A series of problems were defined and solved taking into consideration all the macro and micro factors influencing the trajectory of the stakeholders across the value chain. Few of the key questions answered were-
How to enter into Indian lubricants market?
Which types of lubricants to prioritize (mineral or synthetic)?
What are pricing options are offered by competitors?
Whether we should enter our own or with partner?
Our Approach
For capitalizing on opportunities in Indian lubricants market, our team mapped new use cases against client's clients' revenue sources through insights from KnowledgeStore, our AI-driven market intelligence platform. This helped in identifying new growth opportunities and prioritize partners that can enable to tap into these opportunities. For this purpose, detailed insights were gained through our analysts into adjacent markets and interconnected ecosystems. Further, our client services team strategized, identified and prioritized targets based on revenue potential.
Revenue Shifts identified
The causes of shifts in revenue sources were identified-
Indian lubricants market is largely dominated by mineral lubricants. Multinational players are mainly focusing on premium synthetic lubricants offering revenue opportunities of US$ 1 200 -1 300 million.
India has a large automotive market base with sales of 2.9 million passenger cars in 2019. From April 1st, 2020 all vehicles started adhering to new emission standards BS-VI which requires lubricant products with low SAPS (sulphated ash phosphorus and sulphur) oils.
Government's investment within the infrastructure industry as well as initiatives such as 'Make in India' boost growth of construction and industrial sector driving demand for lubricants.
Interconnections
Insights were offered into interconnected ecosystems-
Increasing per capita income and India's changing demographic distribution are positively influencing the growth of the automobile segment. Huge middle-class base and large working youth population are driving the passenger vehicle demand.
In budget for FY19, government announced an investment of around USD 40-60 billion to upgrade infrastructure facilities across the country driving demand for construction equipment, therefore, driving the growth of lubricants.
Easy finance schemes through banks are driving the auto industry. Car finance penetration has increased from 72% in 2015 to 79% in 2019.
Unknowns Identified
We expanded the understanding of revenue shifts and interconnections for finding blindspots-
Major players have a strong presence with a wide distribution network across the country.
Mineral lubricants dominated the market with a share of 70% of the market however synthetic lubricants are expected to grow at a higher rate.
Distributors network and partnership with OEMs are major success factors for key players in the market.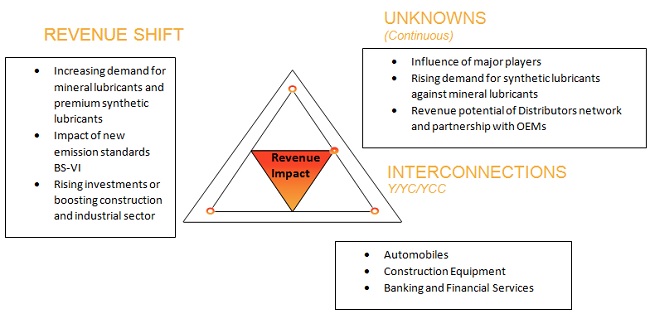 More Revenue Impact stories
See how future revenue sources change for these companies