Client's Goals
Our client wanted to grow its revenues and strengthen market foothold. For the purpose, MarketsandMarkets engagement entailed defining and solving a series of problems for the client to attain requisite revenue potential from the new product opportunity. Three key problems defined and solved were:
Identification of emerging opportunities based on new applications of anti-corrosion coatings such as epoxy, polyurethane, acrylic, alkyd, zinc, etc.
Understanding the competitive landscape across application-based segments in major regions
Strategic recommendations for expansion of business opportunities
How We Did It?
As a part of our engagement model, detailed insights on all applications of anti-corrosion coatings was provided to help client identify the revenue opportunity accurately. Our market intelligence platform, KnowledgeStore, was leveraged for the identification of new revenue opportunities. The client services offered facilitated the assessment of our client's and client's clients' ecosystem. In addition, free analyst hours helped in understanding the impact of revenue shifts in interconnected ecosystems and unknowns arising out of the interconnection.
Revenue Shifts Identified
Various forms of polymer coatings have been applied in corrosion-control attempts to prolong the useful life of materials. Shift towards self-healing coatings that would provide repetitive anti-corrosion protection in the steel structures is projected to impact the market favorably.
Interconnections
Demand for microencapsulation, nanocontainers, and ion exchange pigments are projected to impact the market in near future. Shifts in industries, such as marine, industrial, power generation, and oil & gas are expected to influence the market.
Unknowns Identified
The revenue shifts and interconnections led us to identify the "unknowns" or the blind spots that are often missed out on and are likely to impact the market in the future. The effects of corrosion sensing, self-healing, anti-fouling, and self-cleaning coatings for corrosion inhibition of metallic materials.
With our insights
The client was able to understand the market potential, market growth, and CAGR estimated by us. The engagement also helped the client understand the global market based on application industries, and thus helped focus on the lucrative industry segments.
The client gained an understanding of competitive benchmarking and the market share analysis of various players based on business strategies.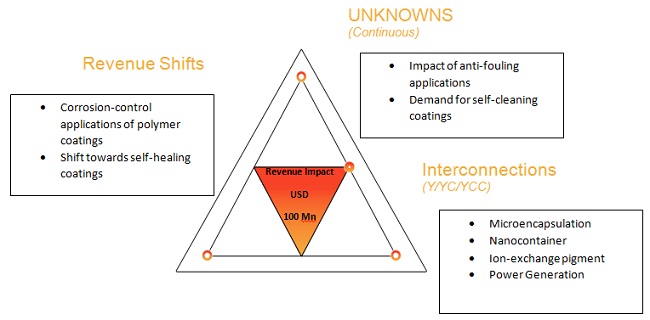 Revenue Impact
As a result of the insights offered, the client was able to identify the revenue potential worth USD 100 million for the next five years from the anti-corrosion coatings business.