Top Three Technological Trends and Their Impact on Automobile Manufacturing
Authored by Farhan Hussain, Co-Authored by Kevin Kelly & Shweta Surender, 19 Apr 2023
1.1 Top Three Technological Trends and Their Impacts on Automobile Manufacturing
The automotive industry is entering a new era of digitalization. Digital technologies have advanced more rapidly than any innovation. Digital transformation is all about using technology to achieve goals, and technologies such as AI/ML, IoT, 5G, Blockchain, digital twins, additive manufacturing, robotics, and connected systems are at the core of accelerating this shift. The shift toward new and emerging use cases in the automotive industry, such as autonomous vehicles, mobility-as-a-service, smart factories, intelligent transportation systems, ADAS, EVs, and vehicle-to-infrastructure, are increasing the implementation of AI, digital twin, and 3D printing across the automotive supply chain. For instance, the mandate to reduce carbon emission output drives the shift towards EVs from ICE. This shift is opening new hotbeds for market players in AI/ML, Digital Twin, and 3D printing for automobile production and optimizing the automotive supply chain.
FIGURE 1 KEY REVENUE SHIFT HAPPENING ACROSS CLIENT SIDE THAT WILL IMPACT THEIR FUTURE REVENUE MIX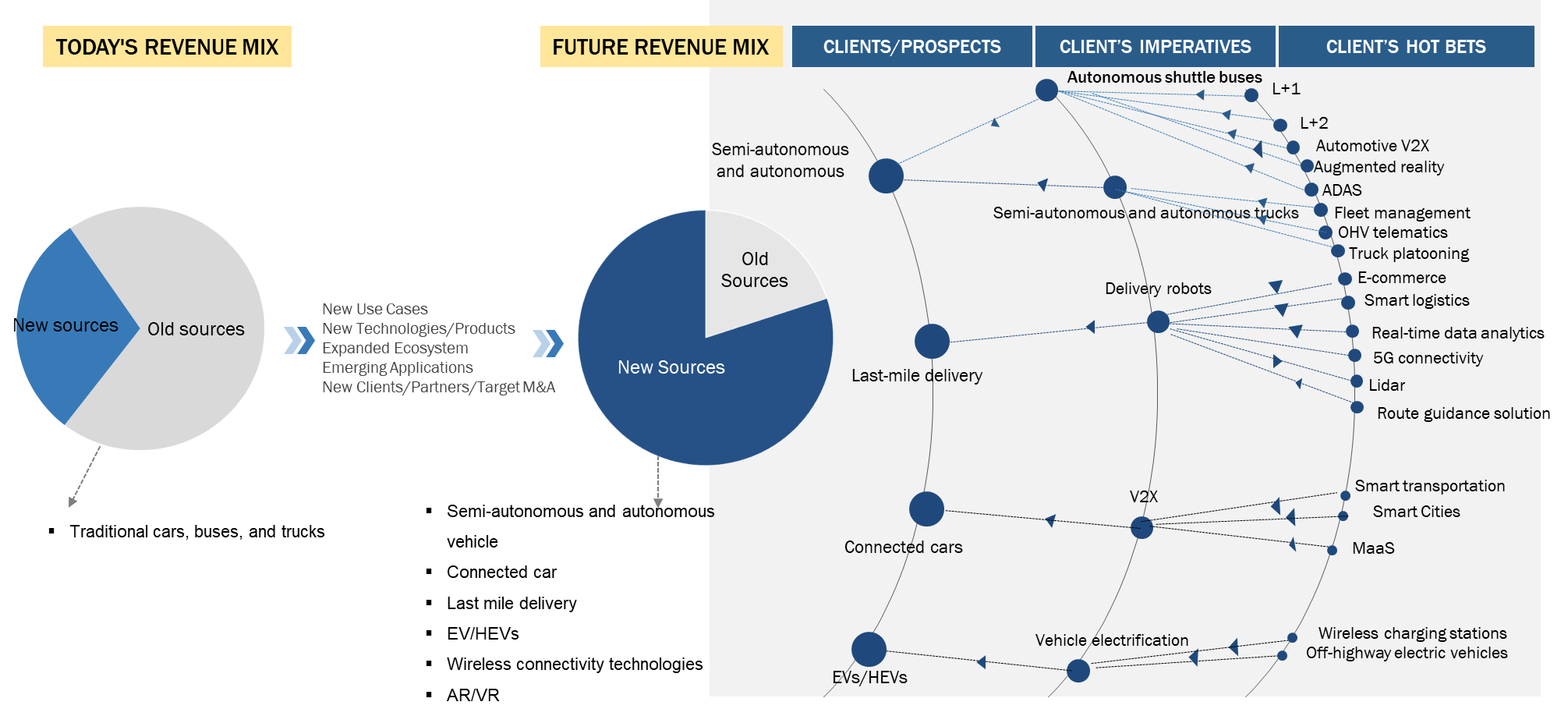 Source: MarketsandMarkets Analysis
AI AND ML ARE CHANGING AUTOMOBILE MANUFACTURING OPERATIONS
The use of AI has steadily risen in automobile manufacturing and is expected to grow exponentially in the coming years. One of the most exciting frontiers of AI innovation is Automobile manufacturing, in which the ability to manufacture and assemble products on time is a significant competitive advantage. Some of the use cases of AI in Automobile manufacturing include operator corrective assistance, quality control, and predictive maintenance. For instance, automobile factory assembly areas and production lines are using AI-enabled robots, machine vision solutions, edge computing devices, and AI-enabled sensors to ensure error-free assembling of finished components and products.
The use of AI and ML delivers unprecedented process refinement and predictive maintenance capabilities. The data collected from field devices and sensors connected to machines helps AI-enabled systems quickly detect any anomalies in the manufacturing equipment so that maintenance can be scheduled before they bring production to a grinding halt. AI and ML technologies are also being used in analyzing the historical data collected from the vehicles as well as simulations to improve the automobile designing processes.
AI in automobile manufacturing has a direct impact on improving the supply chain. Integrating AI into various automobile production processes and data analytics will minimize errors in the assembly process and increase production efficiency. This will enhance the supply chain by optimizing inventory management, purchasing components during industry shortages, and forecasting pricing. It also helps automobile OEMs to respond to market changes at the right time to stay competitive.
RISE IN USE OF ADDITIVE MANUFACTURING/3D PRINTING IN AUTOMOBILE PART PRODUCTION
During the COVID-19 pandemic, the automotive industry witnessed a huge shortage of automobile components primarily due to the shutdown of automobile factories and disruptions in logistics. This created the urgency to look at alternative technology additive manufacturing, which was present in the market but did not gain traction among the automotive supply chain members.
After the pandemic, the adoption of 3D printing in the production of automobile parts increased drastically and is now an established part of automobile production. It can be used to manufacture a wide range of automobile components such as bumpers, brakes, engine components, gearboxes, fuel tanks, grills, headlamps, and fenders. The adoption of additive manufacturing has further been accelerated with the rising investment in EVs. EVs are a hot bet for market participants across the supply chain, including automobile OEMs, automobile IC manufacturers, EV charging infrastructure providers, and other electronic component manufacturers. EV sales, including BEVs and PHEVs, are expected to exceed 10 million by the end of 2022.
In EVs, the USP for automobile manufacturers is the battery capacity, i.e., how much it can run on a single charge. 3D printing could play a key role, as 3D-printed automobile parts are less bulky than their counterpart. This becomes more important for EVs since lower weight can mean much longer battery life between charges. Additive manufacturing also helps engineers and designers to simplify rapid prototypes and complex designs of automobile parts, thereby reducing time to market. 3D printing is an efficient and cost-effective technology that can be implemented in designing, testing, assembly, and manufacturing processes in the automotive industry. It helps reduce component designing time, testing time, and manufacturing time, thereby optimizing inventory and just-in-time delivery of components which is hard to achieve through legacy subtractive manufacturing processes.
DIGITAL TWIN OPTIMIZES PRODUCTION SYSTEMS AND PROCESSES
In the era of rapid technological advancements, the fundamental question for industry leaders is how their businesses will perform with the implementation of new products, processes, or systems. The answer to this question is Digital Twin, a virtual replica of a product, process, or system that industry leaders can use as a testing ground for monitoring, simulating, and optimizing production, quality, and supply chain performance.
Digital Twin allows for more reliable vehicle design and development and optimization of each phase of the production process. Automobile OEMs can simulate the entire manufacturing process in a fully virtual environment, from designing the robotic arm to the conveyer belt to developing the entire supply chain using extended digital twin models and running AI/ML models. Digital Twins also use real-time sensor data collected from the functional components of the systems and vehicles for predictive maintenance. This minimizes unplanned downtime and enables stock and resource anticipation, reducing the time to market vehicles, optimizing inventory, component purchasing during industry shortages, and accurate pricing forecasting.
FIGURE 2 IMPACT OF KEY TRENDS ON AUTOMOTIVE INDUSTRY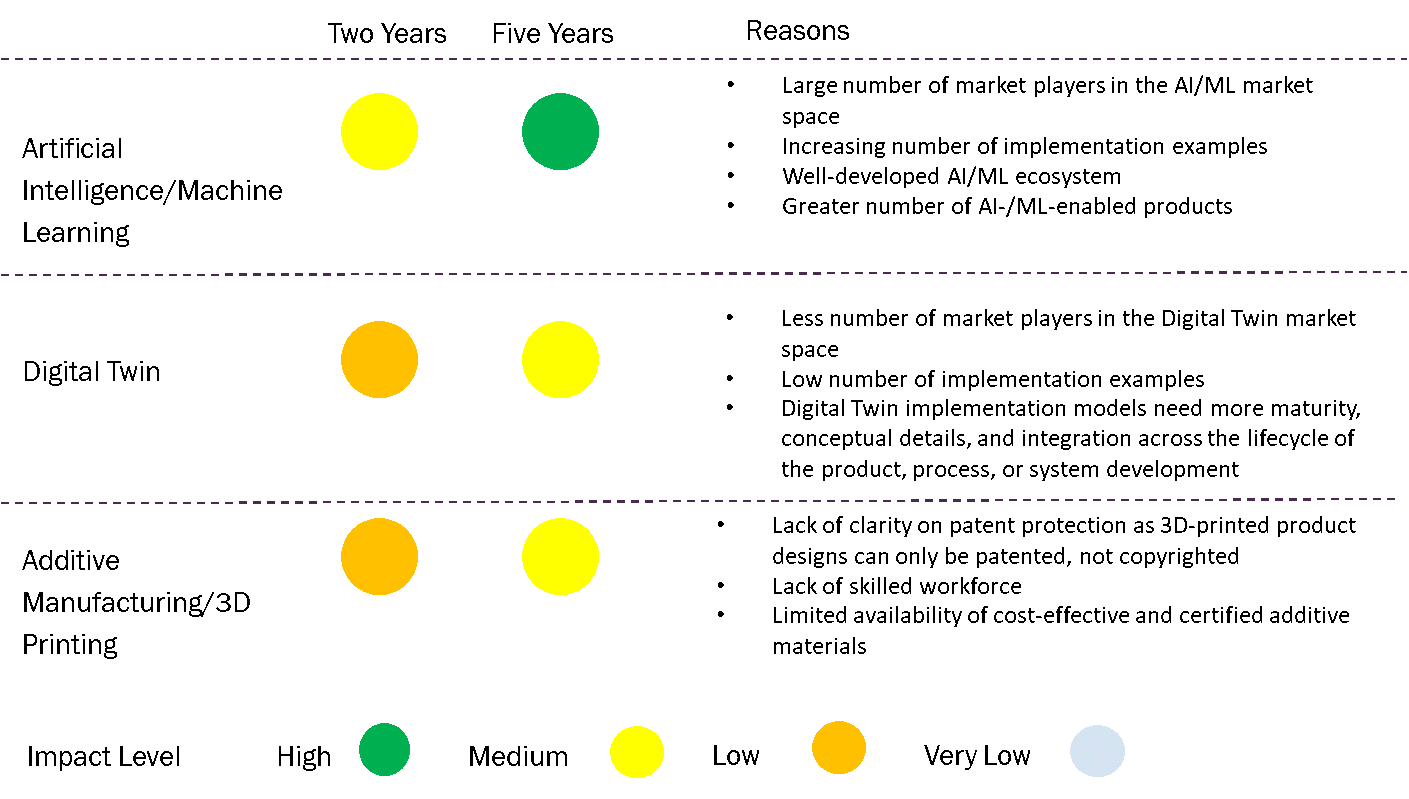 Source: MarketsandMarkets analysis
Inquire Now for a Detailed Analysis
About
80% of the Forbes Global 2000 B2B companies rely on MarketsandMarkets to identify growth opportunities in emerging technologies and use cases that will have a positive revenue impact.
Related Research Projects/Topics
Authored by Farhan Hussain, Senior Vice President & Commercial Head-EMEA, APAC- Customer Success & Enterprise Teams, MarketsandMarkets
Co-Authored by Kevin Kelly, Director, MarketsandMarkets
Co-Authored by Shweta Surender, MarketsandMarkets
For In-depth Analysis on Automobile Manufacturing Market