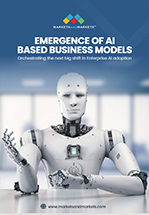 The global artificial intelligence (AI) market was valued at approximately $87 billion in 2022 and is expected to reach $407 billion by the end of 2027, growing at a CAGR of around 36.2% between 2022 to 2027. The primary factor responsible for the market growth is the emergence of AI-based business models. AI has been set up as the primary driver of growing technologies, such as robotics, big data, and IoT. In both the short-term and the long-term, and across back- and front-office applications, AI has the potential to add value to business workflows, augment employee capabilities and harness the power of man and machine to improve customer experience.
DOWNLOAD WHITEPAPER
Featured Insights
CMO Talk Series Episode 4
Artificial Intelligence For Effective Marketing
Artificial Intelligence
Science Fiction To Science Fact
DisruptionDialogues Podcast Episode 16
AI in Cultured Meat
IN MEDIA
The global artificial intelligence (AI) market is projected to reach USD 310 billion by 2026, growing at a CAGR of 39.7% during the forecast period. Various factors such as growth of data-based AI and advancement in deep learning and need to achieve robotic autonomy to stay competitive in a global market are expected to drive the adoption of the AI solutions and services.
forbes
PR NEWSWIRE
Techgig
Financial Express
Your Story
Talk to us our growth advisor
REQUEST Artificial Intelligence WHITEPAPER