MarketsandMarkets Presents
Chief Revenue Officer Talk Series- 5 Steps to Successful CRO
"Managing Revenue in a World Full of Disruption and Choice"
What keeps a business going? Its revenue, of course. Revenue growth is the number one requirement for most companies in the changing economic landscape. Growing business revenue can be a challenge. Even more challenging is achieving consistent revenue growth across the lifetime of a business. To address this challenge, several companies are restructuring their leadership framework to add a C-level position, a Chief Revenue Officer (CRO), to their team
There is a massive shift to digitally transformed and customer-focused marketing and the Customers' journey is more content-driven and engaging now. The key to businesses is the smooth transitions and effective management of sales pipeline and marketing resources.
In today's subscription-based economy, where companies are investing big time in annuity revenue models and with the looming fear of recession, the role of a CXO Revenue Leader becomes mission critical.
How does one navigate these troubled times and exit future-ready and growth-enabled on the other? And how is the role of a CRO shaping up to be more focused on all revenue generation processes in an organization? The pain points and challenges that typical CRO faces are many, and quality insights and networking opportunities are hard to come by.
The Chief Revenue Officer Talk Series by MarketsandMarkets aims to rectify that by bringing together top thought leaders in the CRO world and exploring the dimensions and ramifications of this new age of revenue leadership.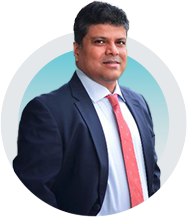 Deb Deep Sengupta
Chief Revenue Officer | Board Advisor | Investor | , Former CEO SAP India & South Asia
Meet Our Host
The CRO Talk Series is hosted by Deb Deep Sengupta. Deep is the President & Chief Revenue Officer for Cloud4C, a global Cloud Managed Services company, which helps Large & mid-sized enterprise in their cloud transformation journeys and become truly "Cloud Native" to drive higher operating efficiency, agility and customer experience. Previously as the President & MD for SAP India & South Asia, he was integral part of SAP's Senior Executive Team in Asia Pacific & Japan. Under his leadership SAP India & South Asia was the fastest growth region globally, and established SAP as a "Trusted Advisor" for CXO's of ET 500 companies as their preferred Digital Transformation partner. Deep has a proven track record of building "Winning Culture", inspiring next generation leaders, transforming legacy software business to Cloud ( SaaS ) market leadership, incubating new businesses to global scale & GTM.
Season 1
Comprising 5 modules, it aims to transform the way CROs meet their goals. Perks for subscribers include captivating content in the form of keynotes, fireside chats, interactive panels, plus endless networking opportunities to help them reach their revenue goals.
The Season 1 witnessed a stellar line-up of speakers -
We have condensed crucial learnings and insights from the CRO Talk Series into a value toolkit that can be implemented by CROs and revenue leaders, immediately.
Download Whitepaper
Module 1: ROLE OF A CRO
What is the difference in a CRO compared to the traditional Head of Sales, COO, Head of Operations?
At what stage of a company's development should they appoint a CRO?
What do you think the role of a CRO is to help or guide and provide input the development and engineering teams?
Our Guest Speaker
Module 2: Transformation in the role of CRO
What are the kind of challenges you faced in enabling the foundation of the organization?
How do you foster the culture of trying to do things without the fear of failure?
What is the shift you have to make from being a cost center to a profit center leader?
Our Guest Speaker
Module 3: Investor Perspective on the role of a CRO
What is the role of a CRO in a growth stage company and what is the right time for a company to invest in a CRO?
Who is responsible if the growth of the company stalls after raising capital?
What is the role of a CRO to influence the product road map?
Our Guest Speaker
Module 4: What experience makes for the perfect CRO?
What makes the right CRO? How can CROs help businesses adopt the market changes and chart lucrative revenue growth?
Today, CROs are primarily focused on strategy and methodologies, combined with bringing in revenue. How the role of a CRO is evolving in the post-pandemic era?
What are the most important metrics to develop a successful revenue operation alongside day-to-day deal?
Our Guest Speaker
Module 5: Role of CRO in Embracing Market Disruptions
Given the current market scenario, why should a CRO consider embracing market disruptions while building strategies for revenue growth?
As per the industry experts, the key to revenue growth is market disruption. In this digitized era, what factors should CROs consider charting a successful revenue growth mindset?
How can market disruptions impact the potential revenue opportunities of a business?
Our Guest Speaker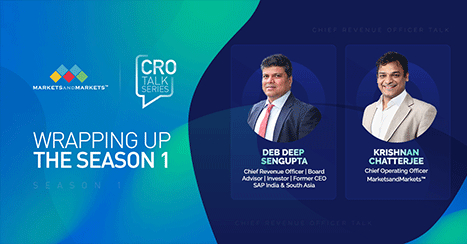 Empower your team with curated,customized and actionable Insights with MarketsandMarkets™