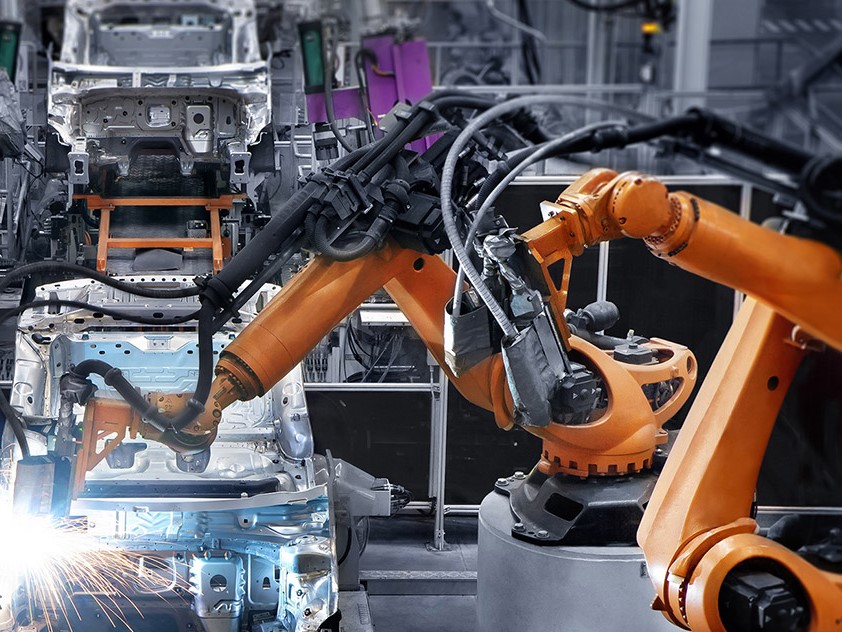 The New Era of Automation: How AI Robots are Reshaping the Future of Industries
Authored by Farhan Hussain, Co-Authored by Kevin Kelly & Shweta Surender, 25 Apr 2023
Artificial intelligence (AI) robots, also known as intelligent robots, are AI technology-enabled robots that would perform a set of tasks with little or no decision-making. AI helps a robot do various tasks, such as successfully navigating its surroundings, identifying objects around it, or assisting humans in bricklaying, installing drywall, and robot-assisted surgeries. AI robots collect information through their sensors or human inputs, compare it to stored data, and decide what the information signifies. Some AI robots can interact socially, recognize human body language and voice, and responds accordingly. AI robots, nowadays, are increasingly being used in pick-and-pack activities in warehouses and the delivery of goods. Moreover, cobots are increasingly deployed in retail stores, museums, hotels, hospitals, and even smart homes to perform assistive roles.
According to MarketsandMarkets, the AI Robots market is expected to grow from USD 6.9 billion in 2021 to USD 35.3 billion by 2026; it is expected to grow at a CAGR of 38.6 % during the forecast period.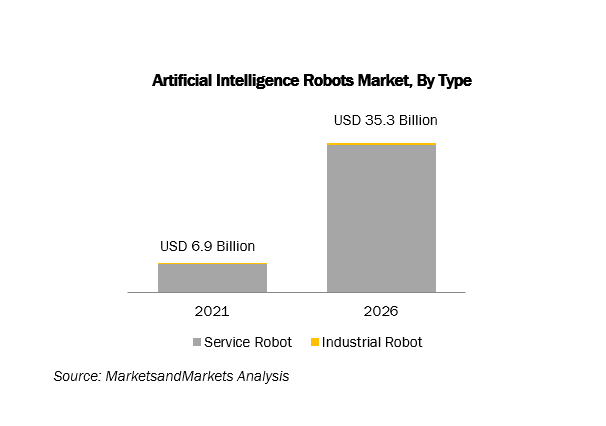 Service Robots to Account for The Largest Share of AI Robots Market
Service robots accounted for the largest share of about 97% of the AI robots market in 2021 and are expected to maintain their position during the forecast period. The growing demand for service robots is partly due to the variety and number of new start-ups indulging in manufacturing AI service robots, which account for around 29% of all robot companies, according to the International Federation of Robotics (IFR). Furthermore, large companies are increasingly investing in robotics, often through the acquisition of start-ups. Moreover, rising power of edge AI chips that can perform processor-intensive AI tasks on the actual robot rather than through the cloud is also one of the major reasons for the increased demand for service robots.
AI-integrated service robots can assist humans in a variety of applications, ranging from domestic tasks, such as cleaning pools and mowing lawns, to critical jobs in the military & defense sectors. These robots also assist humans in performing jobs that are dirty, dull, dangerous, or repetitive. For instance, Nestlé used a humanoid robot, called Pepper, from SoftBank Robotics in numerous Japanese departmental stores to sell coffee makers. Pepper understands about 80% of the conversations and uses the information it learns to help customers.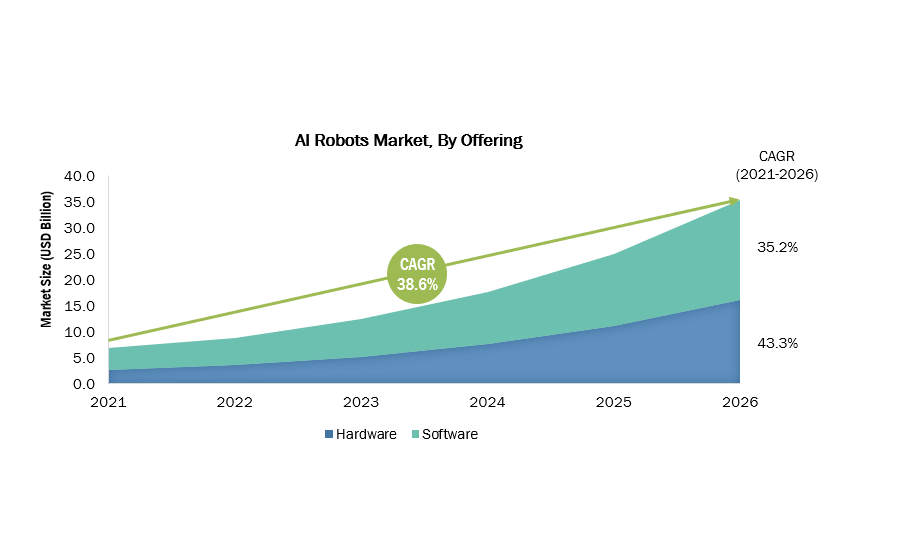 The AI robots market for software has been sub-segmented into AI platforms and AI solutions. The software integrated into an AI system is responsible for carrying out complex operations and providing learning capabilities. The software segment held a larger share of the overall AI robots market due to advancements in AI software and related software development kits. AI systems require several types of software, including application program interfaces such as language, speech, vision, and sensor data, along with machine learning algorithms, to realize the applications of robotics.
Hardware components, typically required for integrating AI in robots, include processors, storage devices, and network devices. Processors held the largest share of AI robots hardware market in 2021. With the increasing technological advancements, large hardware devices are expected to be replaced by compact, efficient, and powerful neuromorphic chip-based systems.
GPUs And FPGAs Are Widely Used to Implement Machine Learning Algorithms in Robots
With the increasing technological advancements, large hardware devices are expected to be replaced by compact, efficient, and powerful neuromorphic chip-based systems. GPUs and FPGAs are widely used to implement machine learning algorithms. In terms of throughput, GPUs are almost 100 times faster than FPGAs, whereas, in the case of power efficiency, FPGAs are 50 times better than GPUs. GPUs are extensively used in computer vision technology; these processors execute multiple computing threads. Several companies are deploying GPUs for all sorts of computer vision algorithms as they provide better computational capabilities than MPUs. Due to these factors, GPUs are an important hardware component used in AI robots. However, FPGAs are expected to replace GPUs in many applications. FPGA-based robotic accelerators are increasingly being used, especially in latency-critical and power-limited scenarios. With specialized designed hardware logic and algorithm kernels, FPGA-based accelerators can surpass GPUs in performance and energy efficiency.
Assistant Robots: An Attractive Market for AI Robots
AI-integrated robots are gaining traction with the increasing requirement of social robots to interact with humans and for assistance, among others. Assistant robots need to perform various tasks involving home security, patient care, companionship, and elderly assistance. Companies are now increasingly focusing on developing robots that are suitable for the entire family and excel in performing the abovementioned tasks. With technological advancements, the scope of AI robots has increased from navigation and interaction to coping with human behavior. Companies such as Softbank Robotics (Japan), ASUS (Taiwan), Jibo (US), NTT DATA (Japan), and Blue Frog Robotics (France) develop interactive robots that assist people in performing several tasks.
Collaborative Robots are now being used for wide range of applications.
Collaborative industrial robots are designed to perform tasks in collaboration with workers in industrial sectors. These are mainly used in manufacturing industries in the industrial sector to speed up production processes, increase productivity and efficiency, and minimize production costs in the long term. Smart robots are being adopted in the industrial sector to collaborate with humans. It is expected that smart robots performing autonomous tasks would solve the problem of scarcity of labor in various industries. Industrial applications of smart robots include automotive, electronics, food & beverages, construction, and others. Collaborative robots have a good return on investment (RoI) because they are easy to install and simple to program and are well accepted by workers. These robots are being adopted at a significant rate due to their safety features and advantages over industrial robots to perform certain tasks in various industries.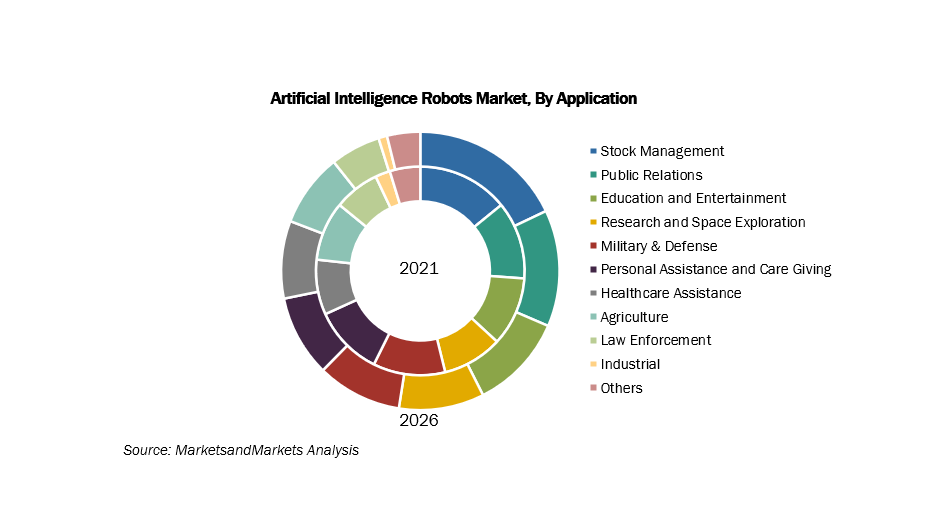 Stock Management and Public Relations are Major Application Areas for AI Robots
Stock Management:-The AI robots market for stock management is expected to grow at a significant rate during the forecast period. The growth of this market can be attributed to the high penetration rate of e-commerce giants, such as Amazon, Walmart, and Alibaba, worldwide. Players in the AI robots market have recently started catering to stock management applications. Automated guided vehicles (AGVs) integrated with AI are largely being used to transport inventory in a warehouse setup.
Public Relations:-Currently, robots are being designed for use in homes, hospitals, offices, and schools. These robots are mostly preprogrammed and hence, cannot react to any uncontrolled situation. However, AI-integrated robots can be employed at public spaces such as retail stores, shopping centers, office receptions, restaurants, recreational and amusement parks, museums, and airports to assist people in the domestic environment. Various companies are indulging in adopting new scalable solutions that include adoption of AI robots for various applications such as reception care, guidance and more, which will reduce direct human interaction. Thus, the demand for AI robots is expected to increase in the coming future.
AI Robots Disrupting Manufacturing Industry
Most industrial robots are used in manufacturing industries to speed up the production process, increase productivity and efficiency, and minimize production costs in the long term. Of late, they have yielded quick ROI and significant improvements in terms of quality. Industrial robots have applications in industries such as automotive, electrical and electronics; chemicals, rubber and plastics; metals and machinery; food & beverages; precision engineering and optics; and pharmaceuticals and cosmetics. Robots responding to their environment requires AI; this is creating enormous opportunities for integrating AI into robots. AI has disrupted the industrial robotics sector for the past 2–3 years. Key players in the industrial robotics sector are investing heavily in R&D and collaborating with technology providers for this disruption. Industrial automation has already transformed the manufacturing process, and AI-enabled robots are improving on automation's impact with more efficient and seamless processes.
Emerging Applications for AI Robots
Education & Entertainment:-Humanoid, telepresence, and animal-shaped social robots are gaining traction with booming digital technology. In addition, devices or robots with larger displays (dedicated for performing tasks such as displaying images, playing videos, and displaying error messages) are being adopted on a large scale for education and entertainment applications. Robots integrated with AI are gaining high acceptance worldwide for education and entertainment applications.
Agriculture:-AI has several applications in the field of agriculture; it is used to optimize the efficiency of crop production in fields and operational practices in use. The adoption of AI-integrated robots for agricultural applications adds significant value to the entire farm-to-consumer supply chain. The combination of IoT and advanced analytics with AI further allows farmers to analyze real-time data of weather conditions, temperature, soil moisture, plant health, and crop prices in the market. Robots such as plowing robots, agricultural drones, and harvesting robots are a few types of agricultural robots that can be integrated with AI technology to achieve complete automation. The integration of AI into these robots is expected to increase return on investment for farmers as this will lower labor expenses.
strong>Healthcare:-Robots have been adopted in several areas that directly affect patient care. They can be used to disinfect patient rooms and operating suites, reducing risks for patients and medical personnel. They work in laboratories to take samples and can also transport, analyze, and store them. Robots are also being used to prepare and dispense medications in pharmacological labs. Robots can analyze data from pre-op medical records to guide a surgeon's instrument during surgery, which can lead to a 21% reduction in a patient's hospital stay. Further, with the integration of artificial intelligence, robots can use data from past operations to inform new surgical techniques, which resulted in five times fewer complications compared to surgeons operating alone. A few robot manufacturers in the AI robots market have already introduced AI-based robots for patient assistance and medicine dispensing. Softbank Robotics' Pepper and Nao robots are being used in healthcare industry for telepresence, mask detection, preventive care, and processing and sharing of medical results.
strong>Mining, Oil & Gas, and Utility Management:-Automation improves the efficiency of drilling companies and the safety of workers on oil rigs. Some other robots used for oil & gas applications include remotely operated aerial drones, automated underwater vehicles, and robotic drills. As the downtime on an oil rig or other drilling sites is a costly affair for the drilling companies, AI robots for oil & gas applications is expected to solve this problem to boost productivity. Apart from this, AI-based drone systems are being adopted for mining and utility management applications worldwide.
About
80% of the Forbes Global 2000 B2B companies rely on MarketsandMarkets to identify growth opportunities in emerging technologies and use cases that will have a positive revenue impact.
Softbank's Initiatives in AI Robot market
SoftBank is a leader in humanoid robots. Its robots NAO and Pepper are used to offer services to different industries like tourism, healthcare, and education. Its strong robots portfolio and robotics technology are its key strengths. The key strategies adopted by the company are agreements and partnerships with other companies to expand its global reach and expand its portfolio of offerings. It is making target investments with an objective to accelerate AI development and breakthrough technologies. These strategies not only help the company in widening its customer base but also in increasing its overall business revenue.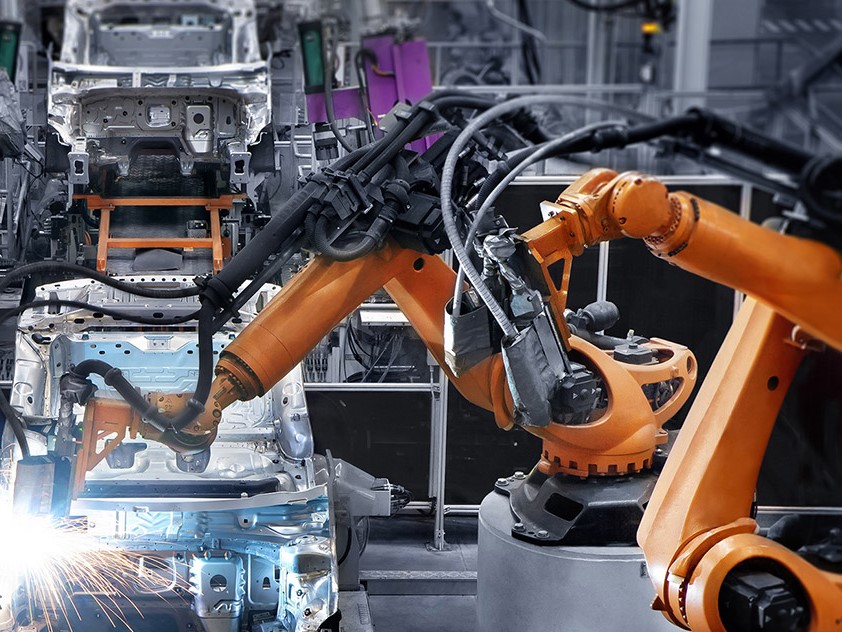 COVID-19 Impact on AI Robots Market
The AI robots market has been witnessing significant growth over the years. However, the sudden outbreak of the COVID-19 pandemic has impacted the demand for AI robots both positively and negatively, especially in 2020 and 2021. The pandemic has forced companies to adopt remote working practices. The imposition of lockdown in all major countries to curb the spread of COVID-19 has disrupted the supply chain and halted manufacturing activities, resulting in delayed production. It has also negatively impacted the research and development activities related to AI robots.
Nevertheless, during the COVID-19 pandemic, AI robots have proved beneficial in some application areas, such as healthcare and law enforcement. AI robots are gaining popularity as they can help provide healthcare assistance. AI robots are being used for surgical purposes and sanitation, delivery, patrolling, and screening and work alongside humans to efficiently reduce the burden of the pandemic. AI robots are also being used for law enforcement, especially in this pandemic where police patrolling robots are being used to maintain social distancing and capture people without masks through facial recognition.
Future Outlook
As technology becomes more intelligent, accurate, and sophisticated, robotics is becoming smarter to adapt to complex environments. From complex business environments to our homes, robotic assistants are everywhere. Rise in investments in robotics projects by companies all around the world is driving AI robots. A growing number of robotic research is undertaken by software developers to unlock new avenues. Robotics companies are making investments in building applications and delivering advanced robotics solutions. The robotics industry witnessing a shift as more start-ups are actively innovating to develop new robots. Rise in investments in robotics projects by companies all around the world is also driving AI robots.
With the adoption of technologies such as cloud computing, robots are now becoming networked. However, development of dedicated AI processors for robots has resulted in AI inference being done on devices rather than the cloud. An increase in computing power, along with efficient hardware and robust software, drives machine learning in edge devices. Edge computing techniques are now being used to move data processing close to the source of data, rather than limiting the processing power in cloud/data centers. AI has continued to beat all records and overcome many challenges that were unthinkable less than a decade ago. The combination of these advances is expected to continue to reshape our understanding of robotic intelligence in many new domains.
Authored by Farhan Hussain, Senior Vice President & Commercial Head-EMEA, APAC- Customer Success & Enterprise Teams, MarketsandMarkets
Co-Authored by Kevin Kelly, Director, MarketsandMarkets
Co-Authored by Shweta Surender, MarketsandMarkets
For In-depth Analysis on Artificial Intelligence Robots Market