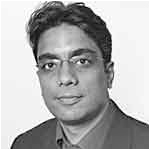 Aditya Chaterjee
Vice President - Sales
Aditya is heading the Sales-Outbound team of MarketsandMarkets. In his 17+ years of career he has consistently driven sustainable growth and built successful sales teams.
He is an accomplished sales professional who has worked in leadership roles in organizations like Gartner & Wipro. His last role was as the Regional Vice President of Gartner where he oversaw the entire Major Accounts business for India. He is known for his ability to build world class sales processes and create a high performance culture.
How can we help you?
To discuss how our team can help you and your business achieve true results,
Get in touch with us