The world is on the cusp of a transformational shift that will reshape the way we live and do business. The Fifth Industrial Revolution, fueled by cutting-edge technologies such as artificial intelligence, blockchain, 3D printing, and quantum computing, is set to disrupt industries across the globe. From healthcare and manufacturing to transportation and finance, no sector will be spared from the transformative power of this revolution. Are you ready to navigate the next wave of technological advancements and global disruptions?
Presenting you,The Next New - Navigating the Fifth Industrial Revolution,your guidebook to unleashing opportunities being presented by the Fifth Industrial Revolution.
As per MarketsandMarkets research, the B2B economy is witnessing the emergence of new revenue streams worth $25 trillion that are substituting existing ones in this decade alone. As the megatrends meet industry operations, disruptions are paving the path for immense new opportunities and newer business models, presenting a multi-trillion-dollar opportunity for investors and entrepreneurs. Those harnessing the gale winds of change can successfully navigate the Fifth Industrial Revolution.
The Next New is the first book to chronicle the impact of the Fifth Industrial Revolution while quantifying the magnitude of global revenue shifts. The book relies on extensive research of MarketsandMarkets to identify the creative destruction of business models and its prediction of new multi-trillion dollar growth options.
Grab your copy of the book now!
Inside the pages of The Next New, you will discover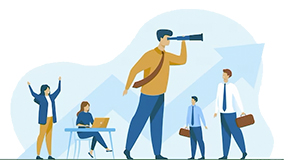 Disruptive Technologies
Learn how technologies such as AI, IoT, blockchain, augmented reality, etc., are transforming industries, creating new business models, and unlocking unprecedented opportunities for growth.

Global Impact
Understand how the Fifth Industrial Revolution is reshaping the global landscape and creating a multi-trillion-dollar revenue opportunity. Gain insights into regional trends, market dynamics, and other factors that are influencing the future of industries.

Industry Insights
Dive deep into specific industries and explore the disruptive trends, challenges, and opportunities shaping each industry's future, from healthcare and transportation to energy and food.

Strategic Imperatives
Gain practical strategies and actionable insights to navigate the Fifth Industrial Revolution and thrive in the new era of the industry by identifying opportunities, mitigating risks, and developing innovative business models to stay ahead of the competition.

Case Studies
Get inspired by real-world examples of companies and organizations and learn from their experiences, challenges, and best practices to accelerate your own transformation journey.