[229 Pages Report] The global waste management market size is projected to reach USD 542.7 billion by 2026, at a CAGR of 5.1%, from an estimated USD 423.4 billion in 2021. The growing awareness programs showing the need of waste management and waste segregation is one the primary factors driving the market growth.
To know about the assumptions considered for the study, Request for Free Sample Report
Waste Management: Dynamics
Driver: Technological advances and shortened life cycle of electronic products leading to increase in e-waste
The typical life cycle of the electronic product includes product development, introduction, growth, maturity, and disposal or recycling. An electronic product comes to a recycling stage either due to the end of its life cycle, technological advances, or changing requirements of consumers. Rapid advancements in technology result in new electronic products and upgraded versions of the existing products, such as laptops, mobile phones, and televisions. Similarly, increasing buying power of individuals leads to a decrease in the shelf life of electronic products. New versions of mobiles and other electronic products are being launched every year; the older versions are either being thrown away or are sold via websites for the purpose of reuse. Thus, with the shrinking life cycle of electronic products, more and more e-waste is generated. This accumulation of electronic waste triggers the need to recycle electronic products, which, in turn, drives the need for electronic waste management.
The average lifespan of consumer devices and the parts that go into them have been rapidly decreasing since the introduction of PCs and mobile phones. Initially expected to last 40+ years, the average lifespan of electronics has come down to 1.5 to 13 years, with the majority averaging 4ľ5 years.
Restraint: Absence of necessary framework for collection and segregation of waste
Waste segregation refers to the separation of dry and wet garbage, which paves the way for other processes in waste management, such as composting, recycling, and incineration. The goal is to reduce waste from landfills and, eventually, prevent land, water, and air pollution. Proper waste collection and segregation are critical for recycling waste and plastic products or any other items such as paper, metals, and wood products. Inappropriate disposal of waste poses a big threat to municipalities and other concerned bodies involved in waste management. Improper disposal of waste can greatly affect the health of the population living nearby the polluted area or landfills. Exposure to improperly handled wastes can cause skin irritations, blood infections, respiratory problems, growth problems, and even reproductive issues.
Developed countries such as the US, Australia, Japan, and Germany have successfully implemented waste management frameworks, enabling effective handling of waste and ensure productive results from it through recycling. However, while considering the actual scenario, these examples are very few.
Countries such as Egypt, Turkey, South Africa, Nigeria, Brazil, as well as Middle Eastern countries are yet to standardize and organize the waste management framework, which is causing improper handling of waste materials to a large extent. The segregation of different types of waste should take place at the source level, which would help recover a good amount of recyclable waste and would reduce the total effort and time. The major problems affecting solid waste management are unscientific treatment, improper collection of waste, and ethical problems such as dumping e-waste. This, in turn, leads to hazards such as environmental degradation, water pollution, soil pollution, and air pollution, restraining the growth of the waste management market.
Opportunity: Growing adoption of construction and demolition (C&D) materials in urban areas with rising number of construction projects
Construction and demolition (C&D) materials are used during the construction, renovation, and demolition of buildings, roads, and bridges. The Environmental Protection Agency (EPA) promotes a Sustainable Materials Management (SMM) approach, which identifies certain C&D materials as commodities that can be used in new building projects, avoiding the need to mine and process virgin materials. Most construction and demolition waste currently generated in the US is lawfully destined for disposal in landfills regulated under the Code of Federal Regulations (CFR).
In some regions, all or part of construction and demolition waste stream is unlawfully deposited on land or in natural drainages, including water, contrary to regulations to protect human health, commerce, and the environment. Businesses and citizens of the US legally dispose of millions of tons of building-related waste in solid waste landfills each year.
Smart cities are developed in urban areas to create sustainable economic development. According to the United Nations, by 2030, 60% of the worldĺs population will live in cities, and one in three individuals will live in a city with a population of half a million or more. Currently, more than 100 smart city projects are in progress across the world, which offers huge opportunities for the construction sector. Need for building, roads offer lucrative opportunities for the waste management market players.
An increase in construction activities creates a substantial amount of construction-related waste that is removed from the waste stream through a process called diversion. Diverted materials are sorted for subsequent recycling, and in some cases, they are reused. Volumes of building-related waste generated are significantly influenced by macroeconomic conditions affecting construction, societal consumption trends, and natural and anthropogenic hazards. In recent years, awareness regarding the disposal and reuse of construction material has resulted in a reduction in volumes of construction and demolition waste disposed of in landfills. Many opportunities exist for the significant reduction and recovery of materials that would otherwise be destined for disposal as waste.
Challenge: Recycling plastic is costlier than producing new plastic
The basic raw materials required to manufacture virgin plastics are petrochemicals such as oil and natural gas. The recycled form of plastic is polyethylene terephthalate (PET). The problem associated with recycling plastic is the generation of a pure stream of recycled material. PET plastics do not have a residual value; they can, however, be recycled into other products, such as new containers and fleece clothing. Several additives are added while manufacturing plastic products; some of these are fillers and colorants. The recycling companies are not usually aware of what is added to plastic, which affects the recycling of plastic products.
Separating plastic from various types of waste streams is a problematic process in energy recovery through different thermochemical processes. The sorting of plastics is an essential step in different waste management techniques. Moreover, the sorting and separating of plastic (according to its different grades, kinds, and the mixture of additives used) are highly labor-intensive and expensive compared to the manufacturing of new plastic from petrochemicals, which is quite cheaper or economical.
The e-waste segment is the leading market by waste type in the waste management market
E-waste contains several toxic additives or hazardous substances, such as mercury, brominated flame retardants (BFRs), and chlorofluorocarbons (CFCs), or hydrochlorofluorocarbons (HCFCs). The increasing levels of e-waste, low collection crates, non-environmentally sound disposal, and treatment of this waste pose significant risks to the environment and even human health. Improper management of e-waste also contributes to global warming. At first, if the materials in e-waste are not recycled, they cannot substitute primary raw materials and reduce greenhouse gas emissions from extraction and refinement of primary raw materials. Next, refrigerants that are found in some temperature change equipment create greenhouse gases. A total of 98 Mt of CO2 equivalents were released into the atmosphere from discarded fridges and air-conditioners that were not managed in an environmentally sound manner.
The landfill segment is expected to be the largest market by service type in waste management market
Modern landfills are well-engineered and managed facilities for the disposal of solid waste. Landfills are designed, located, operated, and monitored to ensure compliance with stated regulations. They are also designed to protect the environment from contaminants, which may be present in the waste stream. Landfills cannot be built in environmentally sensitive areas, and they are placed using on-site environmental monitoring systems. These monitoring systems check for any sign of groundwater contamination and landfill gas. Landfills have a stringent design, operation, and closure requirements established under the Resource Conservation and Recovery Act (RCRA).
The residential segment is expected to be the largest segment by end user in waste management market
The residential segment held the largest share of the waste management market, by end user in 2020. Waste collected from single- and multi-family dwellings comes under this category. Discarded plastic bags, consumer durables, fast-moving consumer goods (FMCG) products, toys, e-waste products, household hazardous wastes, and other packaging materials collectively represent the waste generated by households. Also, increasing disposable income and shifting the preference of consumers toward e-shopping have significantly raised the quantity of plastic waste generated by the residential sector.
Residents from large housing units such as apartment complexes are more diligent about separating wastes before disposal than residents in areas of individual houses. According to the Government of Korea, wastes such as paper, waste metals, cans, and bottles, which are discarded separately for recycling purposes, are thoroughly treated by recycling agencies from the private sector. These agencies usually recycle 30ľ50% of the total volumes of these goods. Only 13% of plastics are collected due to the lack of plastic recycling facilities. Recyclable plastics are therefore stocked in collection sites of local governments and Korea Resource Recovery and Reutilization Corporation.
Asia Pacific held the largest share of the waste management market in 2020
Asia Pacific has been segmented into countries like Japan, China, India, South Korea, Australia, and Rest of Asia Pacific. Rest of Asia Pacific majorly includes of Malaysia, Singapore, Indonesia, and Thailand. The shift of the Asia Pacific population from rural to urban areas is expected to result in a rapid increase in solid waste generation. The total population in Asia Pacific is expected to reach 5.1 billion by 2050, out of which the urban population is projected to account for at least a 64.0% share.
The industrialization has enhanced urbanization in Asia Pacific region through the migration of rural populations to urban areas and the development of towns into cities. Also, as a result of steady economic growth in the Asia Pacific countries, the households are experiencing a continuous rise in their disposable income, which has eventually contributed to the demand for waste management services. The increasing awareness regarding the impact of non-eco-friendly packaging, such as plastic packaging and other plastic product materials, on the environment has had a major impact on the waste management market in this country.
Local and national governments in some countries in the region do not adequately support waste management recycling; also, some local governments do not impose strict regulations on the important aspects of recycling, such as source segregation. The lack of plastic waste management infrastructure and finance poses a challenge for plastic waste management in the region.
The e-retailing boom in the emerging markets of Asia Pacific is projected to accelerate the growth of the packaging market, which, in turn, is expected to drive the waste management market during the forecast period.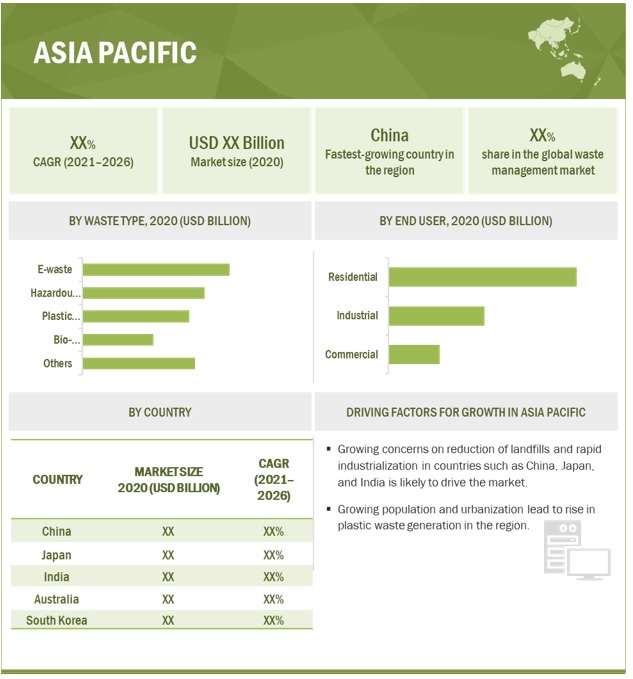 To know about the assumptions considered for the study, download the pdf brochure
Key Market Players
Waste Management (US), Veolia (France), Republic Services (US), SUEZ (France), and Waste Connections (US) are the leading players in the waste management market. Biffa (England), Clean Harbors (US), Covanta Holding (US), Daiseki (Japan), Hitachi Zosen (Japan), and other players operating in the market are the leading players in the global waste management market.
Get online access to the report on the World's First Market Intelligence Cloud

Easy to Download Historical Data & Forecast Numbers
Company Analysis Dashboard for high growth potential opportunities
Research Analyst Access for customization & queries
Competitor Analysis with Interactive dashboard
Latest News, Updates & Trend analysis

Request Sample

Click on image to enlarge

Scope of the Report
| | |
| --- | --- |
| Report Metric | Details |
| Market Size available for years | 2019-2026 |
| Base year considered | 2020 |
| Forecast period | 2021-2026 |
| Forecast units | Value (USD) |
| Segments covered | Waste Type, Service Type, End User, and Region |
| Geographies covered | North America, Europe, Asia Pacific, Middle East & Africa, and South America. |
| Companies covered | Waste Management (US), Veolia (France), Republic Services (US), SUEZ (France), and Waste Connections (US),. Biffa (England), Clean Harbors (US), Covanta Holding (US), Daiseki (Japan), Hitachi Zosen (Japan), and other |
This research report categorizes the waste management market based on Waste Type, Service Type, End User, and Region.
Based on the waste type:
Hazardous Waste
E-waste
Plastic Waste
Bio-medical Waste
Others
Based on the service type:
Open Dumping
Incineration/Combustion
Landfill
Recycling
Composting & Anaerobic Digestion
Based on the end user:
Residential
Commercial
Industrial
Based on the region:
North America
Asia Pacific
Europe
Middle East & Africa
South America
Recent Developments
In October 2020, Waste Management acquired Advanced Disposal Services, a solid waste management company. This acquisition allowed Waste Management to deliver unparalleled access to differentiated, sustainable waste management and recycling services to approximately 3 million new commercial, residential, and industrial customers, primarily located in 16 states in the eastern half of the US.
In May 2021, SUEZ signed an agreement with Eramet, a key player in the extraction and valorization of metals, to expand joint efforts in the area of recycling end-of-life electric vehicle batteries. This partnership is intended to offer a high-performance, competitive and sustainable battery recycling solution for the European market.
In March 2021, Veolia partnered with Groupe Renault, an automobile manufacturer producing a range of cars and vans, and Solvay, a manufactures of chemicals and plastics, to enable the circular economy of EV battery metals in Europe through closed-loop recycling.
In December 2019, Waste Connections announced the closure of acquisitions during the fourth quarter in annualized revenues. The completed acquisitions include a new market entry solid waste collection and recycling acquisition in South Central Pennsylvania and tuck-in acquisitions to existing operations in Alaska, Illinois, New York, and Tennessee.
Frequently Asked Questions (FAQ):
What is the current market size of the waste management market?
The size of the global waste management is USD 415.6 billion in 2020.
What are the major drivers for the waste management market?
The waste management is driven by factors such as stringent regulations of governments worldwide for better management of waste and initiate environmental protection; strong focus of several governments to conduct awareness programs showcasing importance of waste segregation and waste management; technological advances and shortened life cycle of electronic products help in increasing e-waste.
Which region dominates during the forecasted period in the waste management market?
Asia Pacific is projected to be the fastest-growing market during the forecast period.
Which is the fastest-growing service type segment during the forecasted period in the waste management market?
The recycling segment is the fastest-growing during the forecasted period.
Who are the leading players in the global waste management market?
Waste Management (US), Veolia (France), Republic Services (US), SUEZ (France), and Waste Connections (US) are the leading players in waste management market. .
To speak to our analyst for a discussion on the above findings, click Speak to Analyst