[147 pages Report] The image recognition market is estimated to grow from USD 15.95 Billion in 2016 to USD 38.92 Billion by 2021, at a CAGR of 19.5% between 2016 and 2021.
The objective of the research study is to provide detailed segmentation of the image recognition market based on technology, component, application, deployment type, industry, and region. It also aims to provide information regarding key factors influencing the market growth, strategically analyze subsegments with respect to individual growth trends and their prospects and contribution to the total market, analyze opportunities in the market for stakeholders, provide strategic profiles of key market players to comprehensively analyze core competencies, and draw a competitive landscape of the market. The base year considered for the study is 2016 and the market size forecast is from 2016 to 2021.
The research methodology used to estimate and forecast the image recognition market begins with obtaining data on key vendor revenues and the market size of individual segments through secondary sources, such as annual reports, press releases, investors' presentations, white papers, and paid databases, which include Factiva, Bloomberg, and others. Vendor offerings are also taken into consideration to determine the market segmentation. The bottom-up procedure was employed to arrive at the overall market size of the global market from the individual technology segments in the market.
After arriving at the overall market size, the total market was split into several segments and subsegments, which were then verified through primary research by conducting extensive interviews with key industry personnel, such as CEOs, VPs, directors, and executives. Data triangulation and market breakdown procedures were employed to complete the overall market engineering process and arrive at the exact statistics for all segments and subsegments. The breakdown of profiles of primary participants is depicted in the below figure: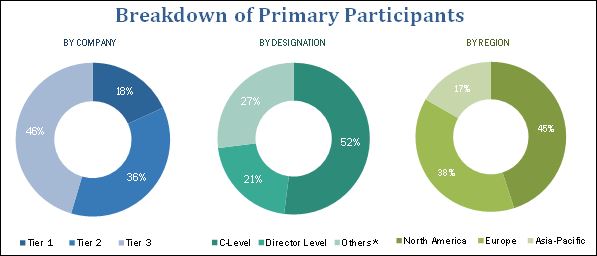 To know about the assumptions considered for the study, download the pdf brochure
The ecosystem of the image recognition market comprises image recognition solutions and service providers and system integrators. Key players of this market are Qualcomm Inc., NEC Corporation, Google Inc., LTU Technologies, Catchoom Technologies S.L., Honeywell International Inc., Hitachi, Ltd., Slyce Inc., Wikitude GmbH, and Attrasoft, Inc., among others.
Key Target Audience for Image Recognition Market
Image Recognition Solution Providers
Technology Providers
Value Added Resellers
Government Bodies & Research Organizations
Cloud Service Providers
Associations & Industry Bodies
Technology Consultants
Satellite Service Providers
"The research study answers several questions for the stakeholders, primarily which market segments to focus on during the next two to five years for prioritizing the efforts and investments"
Scope of the Research Report
The research report categorizes the image recognition market to forecast revenues and analyze trends in each of the following subsegments:
By Technology
Code Recognition
Digital Image Processing
Facial Recognition
Object Recognition
Pattern Recognition
Optical Character Recognition
By Component
Hardware
Software
Services
By Application
Scanning & Imaging
Security & Surveillance
Image Search
Augmented Reality
Marketing & Advertising
Image Recognition Market By Deployment Type
By Industry
BFSI
Media & Entertainment
Retail & Consumer Goods
IT & Telecom
Government
Healthcare
Transportation & Logistics
Others (Gaming and Education)
By Region
North America
Europe
Asia-Pacific
Middle East & Africa
Latin America
Available Customizations
With the given market data, MarketsandMarkets offers customizations as per the company's specific needs. The following customization options are available for the report:
Product Analysis
Product matrix, which gives a detailed comparison of product portfolio of each company
Geographic Analysis
Further breakdown of the Asia-Pacific image recognition market
Further breakdown of the Middle East & Africa market
Further breakdown of the Latin American market
Company Information
Detailed analysis and profiling of additional market players
Increasing use of image recognition applications and increasing demand for security applications and products enabled with image recognition functions to drive global image recognition market to USD 6.72 billion by 2022
Image recognition is a fast-growing technology that helps in identification of images and objects. The technology is mainly used for security parameters such as detecting weapons, unidentified persons, and objects. Image recognition applications are mainly integrated into on-premises and cloud infrastructure.
Image recognition technology is gaining importance owing to the rising demand of image recognition applications to identify people, places, and objects, and to scan images to extract information related to a particular image. Image recognition is used in image search, object detection, e-commerce, security management, facial recognition, digital asset management, tracking, medical image analysis, traffic management, mobile image recognition, shopping, gesture recognition, gaming, and augmented reality.
Image recognition technology is proving useful in various verticals such as healthcare, retail, e-commerce, BFSI, transportation and logistics, and government. The acceptance of image recognition technology has helped these verticals provide better solutions to their customers. In North America, image recognition solutions are at a high demand and constitute the largest share of the image recognition market in the region. Europe is adopting this technology quickly, while Asia Pacific, in the next five years, is expected to emerge as the major adopter of image recognition solutions.
Emerging potential markets such as Asia Pacific and Latin America are expected to open new revenue pockets for the investors in the image recognition market during the forecast period, India, China, Japan, Australia, New Zealand, and South Korea are anticipated to witness increase in demand for image recognition applications owing to the increasing IT budgets and rising awareness about the benefits of image recognition technology among the end users.
Increasing demand for big data analytics and increasing demand of brand recognition among end-user are major opportunities for the global image recognition market
Today, images and image sequences (videos) make up around 80% of all corporate and public unstructured big data, and image analytics is seen as a potential solution to social, political, economic, and industrial issues. Image analytics is the automatic algorithmic extraction and logical analysis of information found in image data using digital image processing techniques such as image recognition and pattern recognition. The use of barcodes and QR codes are simple examples, but complexity lies in the processing of images such as facial recognition and position and movement analysis. Big data requires exceptional technologies to efficiently process large quantities of data within a specific time. Image recognition technology is used in branding, advertising, media, and entertainment to promote products and increase brand recognition among end users. Thus, the branding, media, and entertainment verticals offer opportunities to the image recognition market.
Market Dynamics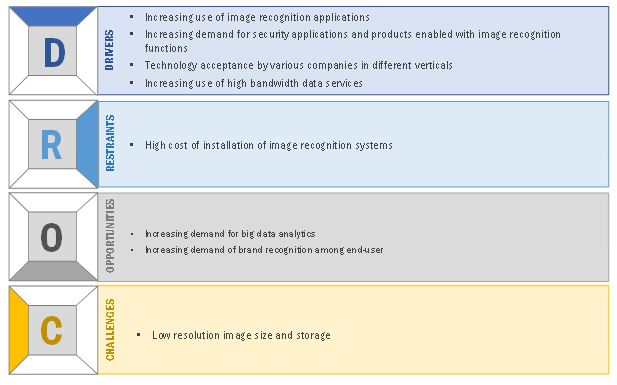 The image recognition market is estimated to grow from USD 15.95 Billion in 2016 to USD 38.92 Billion by 2021, at the CAGR of 19.5% during the forecast period. The growth of the market can be attributed to the rising use of high bandwidth data services in retail and BFSI sector. Smartphones and devices with cameras are attracting vendors to invest in the market. Increasing demand for security applications and products enabled with image recognition functions is also influencing the growth of this market. Various companies in different sectors, such as retail, automotive, healthcare, and defense, are significantly adopting image recognition technology. Low-resolution image size and storage act as a challenge for the growth of the market.
Based on component, the image recognition market is divided into hardware, software, and services. The hardware segment is projected to lead the market during the forecast period. This growth is characterized by the increasing use of devices enabled with image recognition capabilities, such as smartphones and scanners.
Based on application, the security and surveillance segment is projected to register the highest CAGR during the forecast period. The growth of this segment is attributed to the increasing need of security applications and products with integration of innovative technologies such as surveillance cameras and face recognition technology.
Based on deployment type, the on-premises segment is projected to lead the global image recognition market during the forecast period. Components based on image recognition and its derivative technologies such as facial and pattern recognition are broadly deployed on-premises. This is the key influencing factor for the growth of this segment.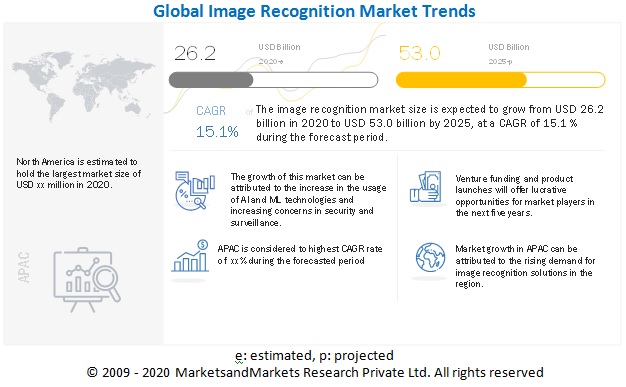 At present, North America holds the largest share of the global market. Higher adoption of new and advanced technologies such as mobile application security solutions is driving the growth of this regional market. The image recognition market in Asia-Pacific is projected to grow at the highest CAGR during the forecast period. This high growth can be attributed to the high adoption of cloud, mobility, and infrastructure management solutions to address information security.
Most vendors have adopted new product launches as the key strategy to enhance their product portfolio and customer experience. Existing players in this market are constantly innovating and upgrading their products to enhance their market share. Furthermore, owing to the technological advancements in image recognition, key vendors are focusing on launching next generation solutions and services.
The global image recognition market is expected to witness healthy growth considering the Increasing use of high bandwidth data services. Furthermore, the technology acceptance by various companies in different verticals has contributed to the growth of market. Moreover, increasing demand for security applications and products enabled with image recognition functions has encouraged vendors to develop image recognition solutions.
The image recognition market report categorizes the image recognition applications into 5 categories, namely, security & surveillance, scanning & imaging, marketing & advertising, augmented reality, as well as image search. All these applications have their own significance.
The increased need for image recognition solutions to streamline business processes is driving enterprises to introduce image recognition technologies for security and consumer management.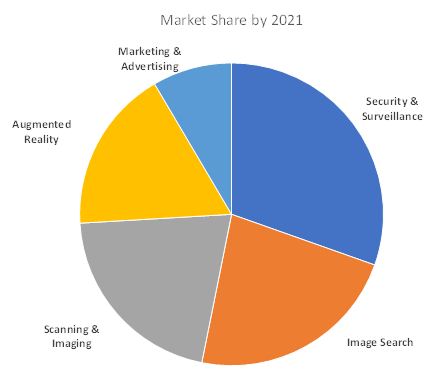 Scanning & Imaging
The image recognition technology is gaining high prominence in the retail industry due to its use in product scanning and billing and acquiring other details at the counter in supermarkets or departmental stores. Retailers such as Walmart, Kroger Company, and Tesco PLC use image recognition technology for billing purposes. Object recognition scanners can identify grocery items based on their appearance. These scanners have a built-in camera that filters out background noise in the picture by focusing only on the object closest to its lens.
Security & Surveillance
Increasing demand for security & surveillance is driving the integration of various innovative technologies such as surveillance cameras and face recognition technology with existing solutions to offer a more effective and efficient solution. The technology mimics the human visual system and is effective in perimeter security even in the absence of any physical boundary. Eurotech, ISS, and NEC Corporation are the key players involved in delivering high-end, reliable, and effective recognition and data processing services for security & surveillance.
Identity & access management enhances security and authorized access at critical defense installations, police stations, border control, airports, and commercial facilities, among others. The deployment of biometric scanning equipment, such as facial recognition devices, at such facilities ensures secure and convenient access to all authorized personnel. ANPR reads vehicle number plates under any weather condition. Animetrics, Aoptix, and 3M Cogent are the key players in the biometric identification solutions market.
Image Search
Image recognition enables consumers to search objects with the help of pictures taken from smartphones. Image recognition apps generate a link from an image enabling users to search the object on the Internet. During the image search process, users can extract information, such as related sites that include the image, various sizes, and similar or related images.
Augmented Reality
Augmented reality (AR) is the integration of digital information with the user's environment in real time. Unlike virtual reality, which creates an artificial environment, augmented reality uses the existing real life environment, and adds graphics and sound to real images. AR works on two approaches: marker-based and location-based. It is mostly used in K-12 and higher education; however, only a few schools have implemented this technology due to lack of awareness and financial support from governments.
Marketing & Advertising
Advertisers and marketers are deploying image recognition technology to engage customers. The technology is being used to scan brand logos on pictures posted on social media websites, such as Instagram, Pinterest, Twitter, and Tumblr. Some marketing agencies, such as LJ Hooker, have already adopted image recognition technology to give customers the ability to identify a property from more than 500,000 pre-scanned photos/images and link them to more comprehensive information.
Key questions
Which are the substitute solutions and how big is the threat from them?
Which are the top use cases where image recognition can be implemented for revenue generation while leveraging new technologies like Big Data and analytics?
What are the potential opportunities in the adjacent markets, such emotion detection and recognition, as well as facial recognition?
What should be your go-to-market strategy to expand the reach into developing countries across Asia Pacific, Middle East & Africa, and Latin America?
To speak to our analyst for a discussion on the above findings, click Speak to Analyst