The plywood market is projected to reach USD 73.3 billion by 2027, at a CAGR of 6.2%. Due to its many beneficial qualities, plywood is a material that is utilized in construction on a large scale. It is an economical sheet of wood that is manufactured in a factory and has accurate measurements that does not warp or crack when in atmospheric moisture. Plywood can be categorized in several ways, and these classifications are typically based on the different characteristics of plywood, such as the type of wood used, the number of plies it has, whether it is suitable for use indoors and outdoors, how well it meets quality standards, and the purposes for which it is intended.
Attractive Opportunities in Plywood Market
Source: Interviews with Experts, Secondary Research, and MarketsandMarkets Analysis
To know about the assumptions considered for the study, Request for Free Sample Report
Plywood Market Dynamics
Driver: Capacity expansion for increasing demand
Capacity expansion is one of the strategies used by many manufacturers to increase business volume. Increasing demand always necessitates elevated production capacity, but it should also be understood in terms of a critical zone of the value chain, which is an investment. As a result, capacity must be defined in terms of process machinery and manpower. Manufacturers generally pursue a "lead capacity strategy," looking for developing countries that will serve as future industrial hubs. Most developing countries have a lot of room for development, construction, and new industrial setup, and plywood is in high demand due to its cost-effectiveness and durable nature. Though the initial setup cost is quite high, many manufacturers are opting for production capacity expansion after observing immense market potential and long-term ROI.
Strategic Partnership + Planned Execution = Meeting Rising Demand
Restraint: Increase in use of multiple by-products at economical cost
Over the years, the price of plywood fluctuates a lot which affects both distributors and consumers. The end-use industry is demanding more reliable, high-quality, and price-centric products and MDF is one of them. Medium-density fiberboard (MDF) is a type of engineered wood. MDF board is created by slicing softwood and hardwood into tiny pieces and combining them with wax and a resin binder under high temperature and pressure. With the assistance of a panel, it is given the appearance of a board. MDF is generally less expensive than other types of plywood and is probably one of the prominent factors for the tremendous growth in Asia Pacific market. MDF has a relatively flat surface, which makes it ideal for painting. Because MDF is fairly uniform throughout, cut edges will be smooth and free of voids and splinters. Because of the clean edges, you may make ornamental edges using a router and these are some attributes that hinder the growth of plywood over the forecasted period.
Opportunity: Recycling and reuse offer opportunities for growth
Currently, the plastics market has been affected due to the rise in the cost of feedstock prices. The high cost of feedstock will increase the cost of intermediate and finished goods. The plastic value chain is more circular, and recycled plastics can be more price competitive. Financial incentives to limit the use and promote circularity can be created by policies like plastics fees and recycled content targets. Several countries have lately reinforced regulations to simultaneously push supply and pull demand through recycled content targets in order to support secondary plastics markets. Positive indicators that these measures are assisting in bolstering secondary markets include the recent decoupling of prices for primary and secondary polyethylene terephthalate (PET) in Europe and rising innovation in recycling technology. The use of recycled plastic will bring down the price of finished goods, which will make the end product more economical and preferable.
Challenge: Increase in public-private partnerships in operational markets of end-use industries to offer future revenue growth opportunities
The covid-19 pandemic has created a lot of uncertainty for stakeholders in the construction and infrastructure development industries. To survive in such a situation, businesses can form a public-private partnership which would enable them to win new contracts, generating huge demand for new vehicles and propelling the plywood market forward. This method is widely used in numerous countries, and it is gaining popularity in the United States as a result of its application in large-scale projects. Furthermore, coordination between government and business sector partners can save millions of dollars and this is being followed in developing countries such as India. In the previous decade and a half, India has seen a significant increase in PPPs. Due to many policies and institutional measures implemented by central as well as many state governments, it has emerged as one of the world's major PPP markets. This in turn trickles down to plywood demand growth as well, as they find application in almost all major end-use industries namely packaging, building & construction, and housing to name a few.
The rehabilitation segment is expected to register the highest CAGR during the forecast period.
The rehabilitation use type segment is expected to register the highest CAGR during the forecast period. Rehabilitation and sustainability complement each other in the sense that new uses are created for existing structures, avoiding disposal and the associated environmental effect. According to research undertaken in Rio de Janeiro and So Paulo, the culture of new construction still dominates, despite the relevant inventory of existing structures. Knowledge dissemination on rehabilitation procedures might support the development of strategies for implementing these practices in the worldwide market.
The rehabilitation of buildings is one of the areas with a growing market in multifarious countries, especially in large urban centers where there is a low inventory of land available for new construction. The building rehabilitation and maintenance market are one of the most important economic sectors in construction, especially in the most developed societies. For instance, Europe is one of the prominent rehabilitation and maintenance markets due to its old infrastructural design.
The hardwood segment is expected to be the fastest-growing segment, by type, in the plywood market during the forecast period.
Hardwoods are angiosperm trees that reproduce with a flowering plant, such as oak, walnut, and maple. Hardwood trees, which can be found in temperate and tropical forests all over the world, are usually deciduous, with wide leaves that change colour and fall off in the autumn and winter. Each of these leaves has a network of tiny veins. A hardwood's structure is often more complicated than that of a softwood. Hardwood trees develop more slowly than softwood ones. Hardwood might take many years to mature before it is suitable for harvest, resulting in more thick, heavy, and long-lasting lumber.
While hardwood flooring is the most typical application, it may also be used for cladding, paneling, cabinets, fences, boats, and outdoor decking. Hardwoods are more difficult to work with and perform best in high-traffic applications like flooring and furniture.
The plywood market in Asia Pacific is expected to register the highest CAGR during the forecast period.
The Asia Pacific region is the largest market for plywood across the globe. Asia Pacific is the largest market for plywood, and this dominance is expected to continue during the forecast period. High economic growth rate, growing manufacturing industries, cheap labour, and global shift of consumption and production capacity from the developed markets to the emerging markets in the region are the factors leading to the growth of the plywood market in Asia Pacific. The demand for high-quality products, the rising population, and the growing end-use industries have led to a surge in demand for consumer wood.
Asia Pacific is the fastest-growing plywood market, which is driven by high economic growth and heavy investments in building & construction, industrial, and housing development. Its growing middle-class population plays an important role in driving various industries, which has led to industrialization in the region. Asia Pacific shows tremendous growth over the period in multifarious end-use industries like automotive, healthcare, building & construction, and packaging to name a few. Prime manufacturers in this region concentrate more on accelerated growth and penetration of online sales to open newer avenues of revenue generation in untapped markets. Companies are constantly investing in disruptive techniques to make more beneficiary and cost-effective supply chain systems and market leaders introducing enterprise risk management systems in their manufacturing ecosystem which enables an organization to identify, assess, quantify, and manage risk in one centralized platform.
To know about the assumptions considered for the study, download the pdf brochure
North America shows tremendous growth during the forecast period.
North America is a diversified market and has many plywoods manufacturing companies. These companies primarily focus on new product developments to cater to the increasing demand from end-users. The North American plywood market is driven by technological advancements in manufacturing and high-quality end product in multifarious residential and commercial applications.
For decades, plywood has been one of the most well-known and trusted wood building materials in the region. Plywood panels have superior dimensional stability and an excellent strength-to-weight ratio, and are highly resistant to impacts, chemicals, and changes in environmental temperature and humidity. They are made from thin sheets of cross-laminated veneer and bonded under heat and pressure with strong adhesives. Plywood is offered in a broad range of aesthetic grades, from smooth, natural surfaces appropriate for finish work to more affordable sheathing qualities. Plywood is well-suited to a wide range of demanding applications, with over a dozen typical thicknesses and over twenty various grades. Although many manufacturing plants for plywood have shifted to Asia Pacific to benefit from low-cost labour, North America remains one of the largest consumers of plywood.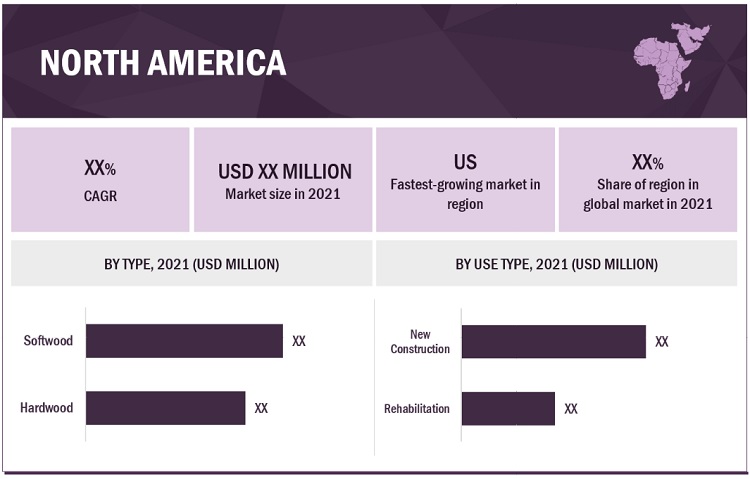 Key Market Players in Plywood Market
Boise Cascade Company (US), Weyerhaeuser Company Ltd (US), Upm-Kymmene Oyj (Finland), Sveza Forest Ltd (Russia), Austral Plywoods Pty Ltd (Australia), Potlatchdeltic Corporation (US), Greenply Industries (India), Metsä Wood (Metsäliitto Cooperative) (Finland), Centuryply (India), Austin Plywood (India) are the key players operating in the global market.
Plywood Market Report Scope
Report Metric

Details

Years considered for the study

2017-2027

Base year

2021

Forecast period

2022-2027

Units considered

Value (USD Billion)

Segments

Type, Application, and Use Type

Regions

Asia Pacific, North America, Europe, the Middle East & Africa, and South America

Companies

Boise Cascade Company (US), Weyerhaeuser Company Ltd (US), Upm-Kymmene Oyj (Finland), Sveza Forest Ltd (Russia), Austral Plywoods Pty Ltd (Australia), Potlatchdeltic Corporation (US), Greenply Industries (India), Metsä Wood (Metsäliitto Cooperative) (Finland), Centuryply (India), Austin Plywood (India)
A total of 25 players are covered.
This research report categorizes the plywood market based on type, application, use type, and region.
Based on type, the plywood market has been segmented as follows:
Based on application, the plywood market has been segmented as follows:
Construction
Industrial

Material Handling Products
Transport Equipment
Other Industrial Applications
Based on use type, the plywood market has been segmented as follows:
New Construction
Rehabilitation
Based on the region, the plywood market has been segmented as follows:
North America
Europe
Asia Pacific
Middle East & Africa
South America
Recent Developments in Plywood Market
In September 2022, PotlatchDeltic Corporation, a major integrated timber REIT was formed as a result of the previously disclosed merger between PotlatchDeltic Corporation and CatchMark Timber Trust, Inc. in an all-stock deal. The merger unites two top-notch timberland REITs, giving rise to PotlatchDeltic, which now owns almost 2.2 million acres of diverse timberlands, comprising 626,000 acres in Idaho and more than 1.5 million acres in growing markets in the United States South. With 1.1 billion board feet of lumber capacity, PotlatchDeltic continues to be the timber REIT with the greatest leverage over lumber prices. Additionally, the purchase unites two profitable and related real estate enterprises.
In July 2022, Boise Cascade Company, the production facilities of Coastal Plywood Company in Chapman, Alabama, and Havana, Florida were acquired by Boise Cascade Company. In the eastern United States, Coastal is a supplier of plywood, lumber, and treated wood products.
In May 2019, Boise Cascade Company, the Birmingham, Alabama-based American Lumber Distributors was purchased by Boise Cascade Company (Boise Cascade). American Lumber is a wholesaler of James Hardie Siding, engineered wood products, plywood, oriented strand board, and premium-grade lumber.
In March 2018, Sveza acquired the Tyumen Plywood Mill business. The Russian Federal Anti-Monopoly Service (FAS) authorized the agreement. One of Russia's most cutting-edge businesses to produce plywood is the Tyumen Plywood Mill. The mill specializes in producing plywood that is very huge. 16 varying sizes of plywood are among its product offerings.
Frequently Asked Questions (FAQ):
What is the estimated industry size of plywood market?
The plywood market attained $54.2 billion in 2022 and is projected to reach $73.3 billion by 2031, growing at a CAGR of 6.2% from 2022 to 2027.
What is the leading application segment in the plywood market?
The construction segment is the leading application in the plywood market.
Who are the key players in the global market of plywood?
Georgia Pacific LLC (US), Boise Cascade Company (US), Weyerhaeuser Company Ltd (US), UPM-Kymmene Oyj (Finland), Svezza Forest Ltd (Russia), PotlatchDeltic Corporation (US), Greenply Industries Ltd (India), Century Plyboards India Ltd. (India), Austral Plywoods (Australia), and others are identified as the key manufacturers in the plywood market.
Which is the largest regional market for plywood?
Asia-Pacific is the largest regional market for plywood.
Does this report covers the new applications of plywood market?
Yes the report covers the new applications of plywood.
Does this report covers different type of plywood?
Yes the report covers different types of plywood.
Does report covers the volume tables in addition to value tables?
Yes the report covers the market both in terms of volume as well as value.
What is the current competitive landscape in the plywood market in terms of new applications, production, and sales?
The market has various large, medium, and small-scale players operating across the globe. Many players are constantly innovating and developing new products and expanding to developing countries where the demand is constantly growing; thereby boosting sales.
Which all countries are considered in the report?
US, China, Japan, Germany, UK and France are major countries considered in the report. .
To speak to our analyst for a discussion on the above findings, click Speak to Analyst