Smart Lockers Market
Smart Lockers Market by Product Type (Generic Lockers, Staff Lockers, Asset Management Lockers, and Others), Component (Hardware, Software, and Services), End-use Industry, Technology Type and Region - Global forecast to 2027
Report Code: UC 6173
Mar, 2023, by marketsandmarkets.com
Smart lockers are secure delivery and storage devices that have in-built computers and sensor networks that can automate package selection, alerting, and delivery. Hardware and software sensors are used to control access to and manage the items inside the locker, as well as to detect the existence and integrity of assets, persons, and goods. This helps customers who have automated package lockers simplify the package collection process, improving the customer experience. The commonly used smart locker types are employee, parcel, and asset lockers.
Smart lockers are extremely useful in common places having access to large numbers of people. Smart lockers offer dynamic personal storage for hybrid workspaces, automated device management in warehouses, retail locations, and secure parcel delivery to any location. Smart lockers automate all administrative work related to managing a lot of equipment. Every transaction is logged automatically, maintenance schedules are managed, and any discrepancies are instantly reported so that the necessary action can be taken instantaneously.
The global smart locker market size is expected to grow from USD XX million in 2022 to USD XX million by 2027, at a CAGR of XX%. Increasing adoption of smart parcel systems and rising adoption of e-commerce are the key factor driving the market growth.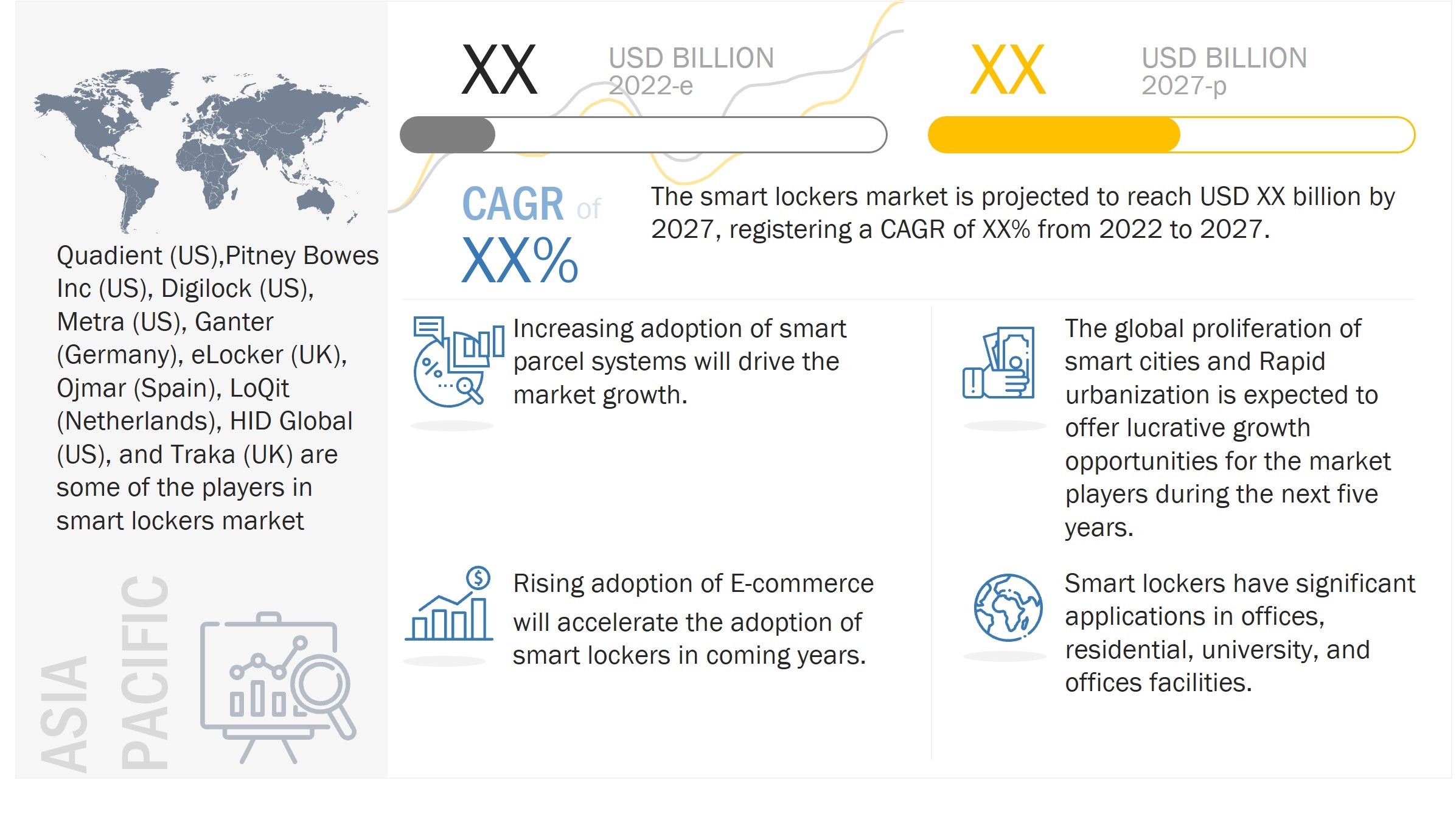 To know about the assumptions considered for the study, Request for Free Sample Report
Drivers: Increasing adoption of smart parcel systems
Smart Parcel Lockers are a fully automated, electronic locker system that safely stores parcels for easy consumer access. Smart parcel lockers offer better higher and reduce the possibility of packages going missing. It provides complete accountability, tracking, and a record of every parcel pickup and delivery. Delivering packages to smart lockers saves time and resources because it eliminates the need to leave them at every station, workplace, etc. It also eliminates repeated delivery attempts and re-delivery attempts providing contactless delivery. There is 24/7 access for easy parcel pickup. Users have the option of receiving the retrieval pin code by text message or email. Rising instances of porch pirates in the US are resulting in the increasing adoption of smart lockers. More than 5,600 Parcel by Quadient smart locker systems have been deployed in the multifamily property management industry in the U.S. in North America bringing its global footprint of parcel lockers to over 15,100 units.
Drivers: Rising adoption of E-commerce is boosting the market growth
The growth of E-commerce has forced investment in E-commerce and digital platforms by traditional brick-and-mortar retail establishments to distribute goods to customers. There has been a significant increase in the volume of packages delivered to businesses selling consumer electronics, clothing, and personal care products. Due to the rise in business-to-customer parcel deliveries, the number of parcel shops or parcel locker outlets significantly increased. According to a report from the European Regulators Group for Postal Services (ERGP) published in 2021, the total number of parcel deliveries increased from 5.07 billion to 7.15 billion or an average of 9.2% annually between 2015 and 2021, which in turn is driving the market growth for smart lockers in Condominium and other public places.
Challenges: Premium pricing associated with smart lockers
Smart lockers are more expensive than standard lockers, therefore price is a major hurdle hindering the market's growth. Additionally, consumers are hesitant from investing in smart lockers because of their high switching costs. Consumer perceptions of smart lockers' dependability are also hampered by the possibility of hackers. Smart lockers could develop hacking vulnerabilities if they are not frequently updated. Due to their electronic nature, smart lockers are susceptible to disruption by cyber attackers who can generate fake access codes using smartphones. Thus, inflated cost and security concerns is hindering the market growth.
Key Market Players:
Quadient (US), Pitney Bowes Inc (US), Digilock (US), Metra (US), Ganter (Germany), eLocker (UK), Ojmar (Spain), LoQit (Netherlands), HID Global (US), Traka (UK), Vecos (Netherlands), Yellowbox (Australia), Smartalock (NewZealand), Gallagher (US), Ricoh (Japan), Igloocompany Pte Ltd (Singapore), Mobiikey (India), and LockTec (Australia) are some of the players in smart locker market.
Recent Developments
In September 2022, Quadient and Spike Global, a provider of resident engagement and property management software partnered to speed up package delivery through the Spike Living platform.
In August 2022, Pitney Bowes and Narvar, the industry leader in post-purchase customer experience, partnered up to support retail business. The joint offering of physical and digital capabilities will make it simple for retailers to evaluate and create the most effective post-purchase experience for their customers.
In March 2022, Ricoh and Minosha form a strategic partnership to expand Ricohís Office Equipment and Digital Services business in India.
In October 2019, Traka partnered with Unilink to create a bespoke locker solution for distributing medications safely.
To speak to our analyst for a discussion on the above findings, click Speak to Analyst
TABLE OF CONTENTS
1 Introduction
1.1. Study Objectives
1.2. Definition
1.3. Study Scope
1.3.1. Markets Covered
1.3.2. Geographic Scope
1.3.3. Years Considered
1.4. Currency
1.5. Key Stakeholders
1.6. Summary of Changes
2 Research Methodology
2.1. Research Data
2.2. Secondary Data
2.2.1. Major Secondary Sources
2.2.2. Key Data from Secondary Sources
2.3. Primary Data
2.3.1. Key Data from Primary Sources
2.3.2. Key Participants in Primary Processes across Market Value Chain
2.3.3. Breakdown of Primary Interviews
2.3.4. Key Industry Insights
2.4. Market Size Estimation
2.5. Market Breakdown and Data Triangulation
2.6. Risk Analysis
2.7. Research Assumptions and Limitations
3 Executive Summary
3.1. Scenario Analysis
3.1.1. Optimistic (Post-COVID-19)
3.1.2. Realistic (Post-COVID-19)
3.1.3. Pessimistic (Post-COVID-19)
4 Premium Insights
5 Industry Trends and Market Overview
5.1. Introduction
5.2. Value Chain Analysis
5.3. Market Dynamics
5.3.1. Drivers
5.3.2. Restraints
5.3.3. Opportunities
5.3.4. Challenges
5.4. Revenue Shift and New Revenue Pockets for Market Players
5.5. Market Ecosystem/Market Map
5.6. Key Industry Trends
5.7. Pricing Analysis
5.8. Case Study Analysis
5.9. Patent Analysis
5.10. Trade Analysis
5.11. Porterís Five Forces Analysis
5.12. Key Stakeholders and Buying Criteria
5.13. Regulatory Landscape
6 Smart Lockers Market, by Product Type
6.1. Introduction
6.2. Generic Lockers
6.3. Staff Lockers
6.4. Asset Management Lockers
6.5. Others
7 Smart Lockers Market, by Component
7.1. Introduction
7.2. Hardware
7.3. Software
7.4. Services
8 Smart Lockers Market, by End-use Industry
8.1. Introduction
8.2. Retail
8.3. Residential
8.4. University
8.5. Office
8.6. Others
9 Smart Lockers Market, by Technology Type
9.1. Introduction
9.2. RFID
9.3. Mobile
9.4. Electronic
9.5. Mechanical
9.6. Touchpad
9.7. Others
10 Smart Lockers Market, by Region
10.1. Introduction
10.2. North America
10.2.1. US
10.2.2. Canada
10.2.3. Mexico
10.3. Europe
10.3.1. UK
10.3.2. Germany
10.3.3. France
10.3.4. Italy
10.3.5. Rest of Europe
10.4. APAC
10.4.1. China
10.4.2. Japan
10.4.3. India
10.4.4. Rest of APAC
10.5. RoW
10.5.1. South America
10.5.2. Middle East
10.5.3. Africa
11 Competitive Landscape
11.1. Overview
11.2. 5-Year Revenue Analysis- Top 5 Companies
11.3. Market Share Analysis: Smart Lockers Market (Top 5)
11.4. Company Evaluation Quadrant, 2021
11.4.1. Star
11.4.2. Pervasive
11.4.3. Participant
11.4.4. Emerging Leader
11.5. Competitive Benchmarking
11.6. Startup/SME Evaluation Quadrant, 2021
11.6.1. Progressive Companies
11.6.2. Responsive Companies
11.6.3. Dynamic Companies
11.6.4. Starting Blocks
11.6.5. Startup/ SME Data Table
11.6.6. Competitive Benchmarking of Key Startups/SMEs
11.7. Competitive Situations and Trends
12 Company Profiles
12.1. Introduction
12.2. Key Players
12.2.1. Digilock
12.2.1.1. Business Overview
12.2.1.2. Products Offered
12.2.1.3. Recent Developments
12.2.1.4. MNM View
12.2.1.4.1. Key Strengths/Right to Win
12.2.1.4.2. Strategic Choices Made
12.2.1.4.3. Weaknesses And Competitive Threats
Note: Similar Information Would Be Provided for Top 5 (Key Players)
12.2.2. Metra
12.2.3. Gantner
12.2.4. eLocker
12.2.5. Ojmar
12.2.6. LoQit
12.2.7. HID Global
12.2.8. Traka
12.2.9. Vecos
12.2.10. Yellowbox
12.2.11. Smartalock
12.2.12. Gallagher
12.2.13. Ricoh
12.2.14. Igloocompany Pte Ltd
12.2.15. Mobiikey
12.2.16. LockTec
Note: The above list of companies is tentative and might change during due course of research
13 Appendix
Request for detailed methodology, assumptions & how numbers were triangulated.