Smart Locker Market
Smart Locker Market by Offering (Hardware, Software, Services), Technology (RFID, Electronic, Mobile, Biometric, Cloud), Deployment (Indoor, Outdoor), Application (Day, Parcel, Staff, Asset Management), End-Use Industry, Region - Global Forecast to 2028
Report Code: SE 8856
Nov, 2023, by marketsandmarkets.com
[200 Pages Report] The global smart locker market was valued at USD 2.1 billion in 2023 and is estimated to reach USD 3.6 billion by 2028, registering a CAGR of 11.6% during the forecast period. The growth of the smart lockers market is propelled by the surge in e-commerce activities, increasing urbanization and population density, demand for contactless solutions, and advancements in technology such as IoT and RFID integration. These factors collectively drive the adoption of smart lockers, offering secure and efficient parcel delivery solutions in response to last-mile delivery challenges and the need for streamlined package management.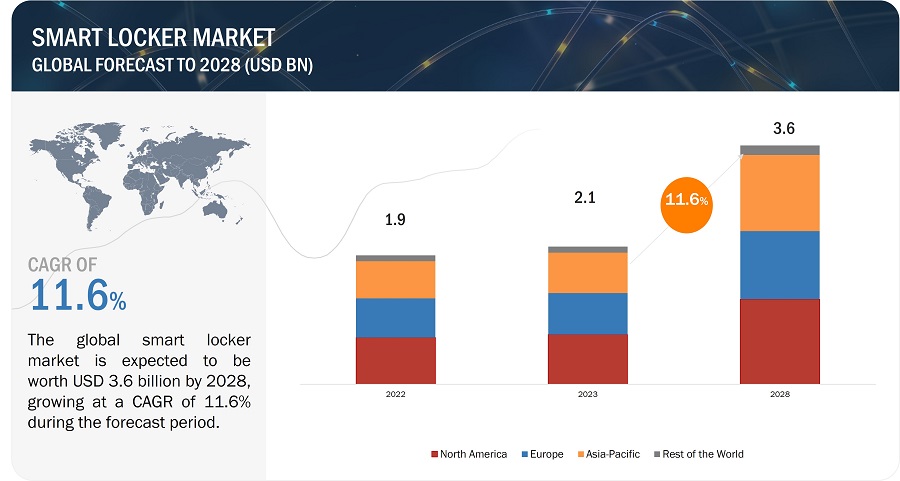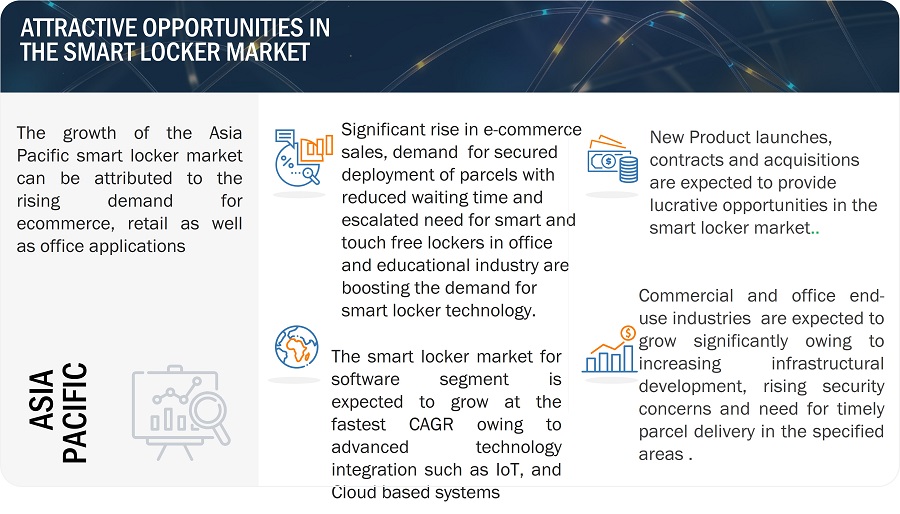 Smart Locker Market Forecast to 2028
To know about the assumptions considered for the study, Request for Free Sample Report
Market Dynamics:
Driver: Growth in e-commerce, retail, and logistics application for parcel management
The growth in e-commerce, retail, and logistics applications is a significant driver propelling the smart locker market. With the ever-increasing popularity of online shopping, there is a growing need for efficient, secure, and convenient package management solutions. Smart lockers have become an indispensable tool for e-commerce companies, ensuring that packages are securely delivered to customers, even in their absence. For instance, Amazon Locker, operated by Amazon, utilizes smart lockers to enable customers to pick up their online purchases at convenient locations, providing a prime example of the retail sector embracing this technology. In the logistics industry, companies like UPS and FedEx have adopted smart locker systems for parcel drop-off and pickup, streamlining the last-mile delivery process. Moreover, the retail sector is also reaping the benefits of smart lockers, as they provide an efficient way for customers to collect online or in-store products, enhancing the overall shopping experience. Companies like Luxer One and Cleveron offer smart locker solutions tailored to these applications, addressing the growing demands of e-commerce, retail, and logistics for secure and convenient package management.
Restraint: High initial investment costs
High initial investment costs are a significant restraint in the smart locker market, comprising various financial considerations that can deter potential adopters. The expense encompasses acquiring hardware components such as lockers, electronic locks, and sensors, with costs increasing as the system's size and complexity grow. Software development and integration add another expenditure layer, especially if customization is needed to meet specific requirements. Setting up the necessary infrastructure, including power supply and internet connectivity, presents further financial challenges. Installation, configuration, and training require specialized skills and can incur additional costs. Moreover, ongoing operational expenses, such as maintenance and software updates, must be factored in. Scalability considerations and return on investment (ROI) calculations are essential but can be impacted by high upfront costs, potentially delaying the realization of benefits. Smaller businesses may need more money to invest in smart locker technology. However, as the market evolves and competition increases, there's a growing trend toward cost reductions and more accessible pricing models, which may alleviate some of these financial constraints over time.
Opportunity: Rapid urbanization in emerging nations
As per the report of United Nations that is published in 2018, the global urban population is expected to increase to 4.46 billion in 2021 and is expected to reach 6.68 billion by 2050. The smart lockers market is expected to experience significant growth due to rapid urbanization in emerging countries. As urban areas expand and populations concentrate in cities, the demand for efficient and secure parcel delivery solutions is on the rise. Smart lockers, with their ability to streamline package management, provide a convenient and technologically advanced solution for urban dwellers. The expansion of e-commerce, coupled with the challenges of last-mile delivery in densely populated urban environments, further amplifies the need for smart lockers. These lockers offer a practical and space-efficient way to address the evolving demands of urban lifestyles, making them a key driver in the growing market for smart locker particularly in technologically advancing countries such as the US, Germany, the UK, and China.
Challenge: Space and Installation Challenges
Installing smart locker systems requires sufficient physical space to accommodate the lockers and related infrastructure. Space constraints can be a significant issue in some settings, particularly in densely populated urban environments, small businesses, or residential buildings with limited common areas. The availability of space for locker placement may be restricted, making it challenging to implement smart locker systems. In cases where space is limited or not initially designed for smart locker installation, retrofitting existing spaces can be costly and complex. This process may involve modifying the physical layout, electrical wiring, and internet connectivity, which can disrupt operations and add to the overall cost of deployment. Installing smart lockers requires access to essential utilities such as power and the internet. Ensuring these utilities are readily available in the chosen location is crucial for successfully deploying smart lockers. In remote or underserved areas, this can be a significant challenge. The installation process, including securing lockers, wiring, and configuring software, can be technically complex. It often requires specialized expertise; errors can lead to operational issues or security vulnerabilities.
Smart Locker Market Ecosystem
The Smart locker market is competitive, with major companies such as Ricoh, Pitney Bowes, Inc., ASSA ABLOY, Quadient, Gibraltar Industries, Hollman Inc., Bell and Howell, LLC, and Cleveron among others, are the significant manufacturers of smart locker, and numerous small- and medium-sized vital enterprises. Many players offer smart locker and their components, while many players and details offer integration services. These integration services are widely required in commercial, logistics, office, residential, and education.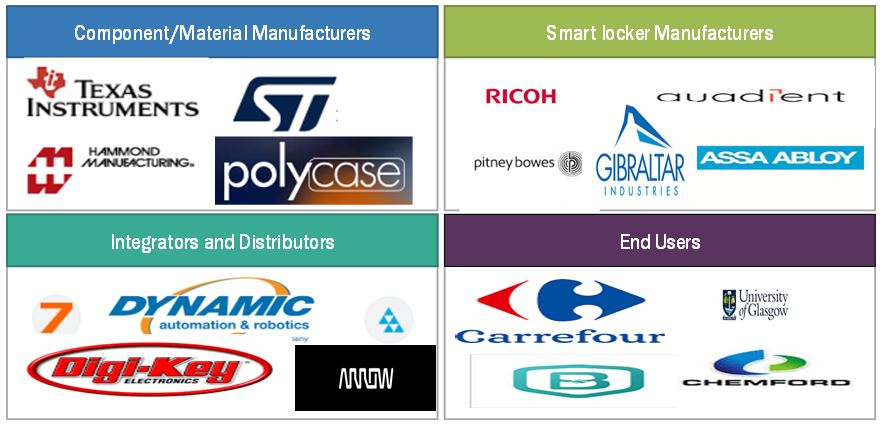 Based on the offering, the hardware segment is expected to account for the largest market share during the forecast period.
The hardware segment will account for a significant market share in 2028. The hardware market is propelled by a constellation of factors, such as increased usage of smart lockers due to increasing demand for contactless solutions, particularly in a post-pandemic world, where touchless interactions are highly valued. The surge in e-commerce and online shopping has also played a pivotal role, as smart lockers offer a secure and convenient way to receive packages. The rising proliferation of mobile devices and other electronic devices is also a driving factor for growth in smart locker storage solutions. As a result, Smart lockers are also finding a place in modern workplaces, providing employees with secure storage for their personal belongings and contributing to the flexibility of contemporary work environments. Efficiency gains in last-mile delivery, security benefits, cost savings, and alignment with sustainability initiatives further fuel the demand for smart locker hardware.
Based on technology, the electronic segment is projected to contribute the largest market share during the forecast period.
The electronics technology segment will account for a significant market share in 2028. This is propelled by various factors such as the integration of electronic features (Pin Code, QR Codes, Bar codes, and other electronic keys) into smart locker technology that enhances the overall functionality, security, and user experience. It enables convenient and secure access for users while providing efficient management and oversight for administrators. Additionally, these features can be combined to create multi-layered security measures, ensuring that smart lockers are a dependable solution for various applications, including package delivery, personal storage, and more.
Based on region, Asia Pacific is projected to grow fastest for the smart locker market
The scope of the smart locker market in Asia Pacific includes China, Japan, South Korea, and the Rest of Asia Pacific. The smart locker market in Asia Pacific is expected to record the highest CAGR during the forecast period. China, Japan, and South Korea are among the major countries driving the smart locker market in the region. The increasing population, the need for investments in automation, and smart city initiatives are expected to drive the market.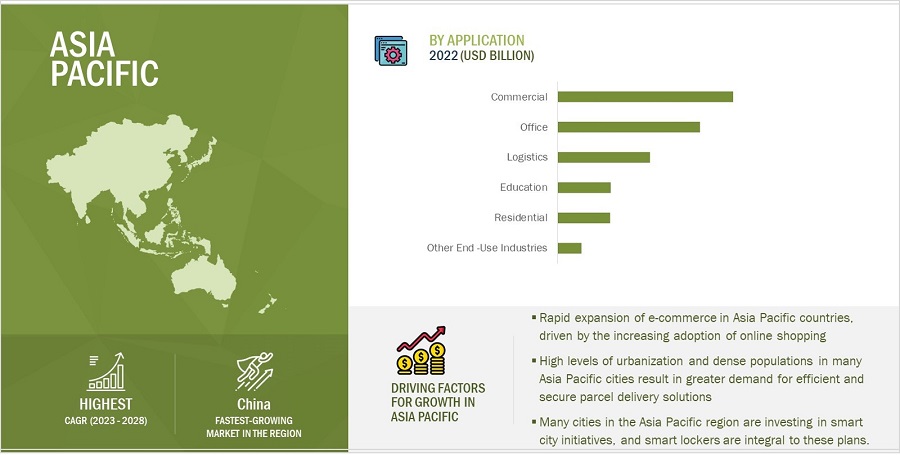 Smart Locker Market by Region
To know about the assumptions considered for the study, download the pdf brochure
Key Market Players
The smart locker companies is dominated by a few globally established players such as Ricoh, Pitney Bowes, Inc., ASSA ABLOY, Quadient, Gibraltar Industries, Bell and Howell, LLC, Cleveron, etc.
Get online access to the report on the World's First Market Intelligence Cloud

Easy to Download Historical Data & Forecast Numbers
Company Analysis Dashboard for high growth potential opportunities
Research Analyst Access for customization & queries
Competitor Analysis with Interactive dashboard
Latest News, Updates & Trend analysis

Request Sample

Click on image to enlarge

Scope of the Report
Report Metric

Details

Market Size Availability for Years

2019–2028

Base Year

2022

Forecast Period

2023–2028

Forecast Units

Value (USD)

Segments Covered

Offering, Deployment, Application, End-Use and Region.

Geographies Covered

North America, Europe, Asia Pacific, and Rest of the world

Companies Covered

Ricoh, Pitney Bowes, Inc, ASSA ABLOY, Quadient, Gibraltar Industries, Hollman Inc, Bell and Howell, LLC, Cleveron,InPost SA etc
Smart Locker Market Highlights
This research report categorizes the smart locker market based on offering, deployment,technology,application, end-use industry, and region
Segment

Subsegment

Based on Offering:

Software
Hardware
Services

Based on Technology:

RFID
Electronics
Mobile
Biometrics
Cloud-based

Based on Deployment

Based on Application

Day Lockers/Generic Lockers,
Parcel Lockers
Staff/Employee Lockers,
Asset Management Lockers

Based on Application

Commercial
Office
Logistics
Residential
Education
Other end-use industries (Healthcare and Industrial)

Based on Region:

North America
Europe

Germany
UK
France
Rest of Europe

Asia Pacific (APAC)

China
Japan
South Korea
Rest of APAC

Rest of the world (RoW)

South America
Middle East and Africa
Recent Developments
In June 2023, Bell and Howell announced that a Tier 1 grocery chain in the United States has installed Bell and Howell's industry-leading BH QuickCollect GO! Pod to elevate customer experience and deliver exceptional last-mile efficiency
In September 2022, Quadient announced that DHL Parcel UK is joining its growing parcel locker network in the United Kingdom. DHL Parcel UK announced a new partnership with Quadient to offer smart lockers for parcel pick-up throughout the UK. The contactless, secure locker stations will give recipients more choice and flexibility to receive their parcels at a time and location that suits them
In June 2022, Luxer One announced that it would sponsor and exhibit its suite of smart lockers designed for multifamily facilities at the National Apartment Association's annual user group and conference, Apartmentalize, in San Diego.
Frequently Asked Questions (FAQs):
Which are the major companies in the smart locker market? What are their significant strategies to strengthen their market presence?
The major companies in the smart locker market are – Ricoh, Pitney Bowes, Inc., ASSA ABLOY, Quadient, Gibraltar Industries, Bell and Howell, LLC, Cleveron, and so on. The significant strategies these players adopt are product launches and developments, contracts, collaborations, acquisitions, and expansions.
What is the potential market for smart locker in the region?
The North American region is expected to dominate the smart locker market
What are the opportunities for new market entrants?
Opportunities in the smart locker market arise from the growth of commercial, office, and education, as well as logistics end-use industries.
What are the drivers and opportunities for the smart locker market?
Factors such as increasing demand for e-commerce and rising urbanization to fuel the need to grow the smart locker market.
Who are the major end users of the smart locker expected to drive the market's growth in the next 5 years?
The significant consumers for the smart locker are commercial sectors, office, logistics, and healthcare and education, which all show effective growth rates.
To speak to our analyst for a discussion on the above findings, click Speak to Analyst
TABLE OF CONTENTS
1 Introduction
1.1. Study Objectives
1.2. Market Definition and Scope
1.2.1. Inclusions and Exclusions
1.3. Study Scope
1.3.1. Markets Covered
1.3.2. Geographic Segmentation
1.3.3. Years Considered for the study
1.4. Currency
1.5. Limitations
1.6. Stakeholders
1.7. Recession Impact on Smart Locker Market
2 Research Methodology
2.1. Research Data
2.1.1. Secondary Data
2.1.1.1. Major Secondary Sources
2.1.1.2. Key Data from Secondary Sources
2.1.2. Primary Data
2.1.2.1. Primary Interviews with Experts
2.1.2.2. Key Data from Primary Sources
2.1.2.3. Key Industry Insights
2.1.2.4. Breakdown of Primaries
2.2. Market Size Estimation
2.2.1. Bottom-Up Approach
2.2.1.1. Approach for Capturing Market Share by Bottom-Up Analysis (Demand Side)
2.2.2. Top-Down Approach
2.2.2.1. Approach for Capturing Market Share by Top-Down Analysis (Supply Side)
2.3. Market Breakdown and Data Triangulation
2.4. Research Assumptions
2.5. Risk Assessment
2.6. Assumptions of Recession
2.7. Limitations of Research
3 Executive Summary
4 Premium Insights
5 Market Overview
5.1. Introduction
5.2. Market Dynamics
5.3. Trends/Disruptions Impacting Customer's Business
5.4. Pricing Analysis
5.4.1. Average Selling Price Trend of Key Players, By Product Type
5.4.2. Average Selling Price Trend, By Region
5.5. Value Chain Analysis
5.6. Ecosystem Analysis
5.7. Technology Analysis
5.8. Patent Analysis
5.9. Trade Analysis
5.10. Key Conferences and Events (2023-2024)
5.11. Case Study Analysis
5.12. Tariff and Regulatory Landscape
5.12.1. Regulatory Bodies, Government Agencies, and Other Organizations
5.13. Porters Five Force Analysis
5.13.1. Threat from New Entrants
5.13.2. Threat of Substitutes
5.13.3. Bargaining Power of Suppliers
5.13.4. Bargaining Power of Buyers
5.13.5. Intensity of Competitive Rivalry
5.14. Key Stakeholders and Buying Criteria
5.14.1. Key Stakeholders in Buying Process
5.14.2. Buying Criteria
6 Smart Locker Market, By Offering
6.1. Introduction
6.2. Hardware
6.3. Software
6.4. Services
7 Smart Locker Market, By Technology
7.1. Introduction
7.2. RFID
7.3. Mobile
7.4. Electronic
7.5. Biometric
7.6. Cloud-Based
8 Smart Locker Market, By Deployment
8.1. Introduction
8.2. Indoor
8.3. Outdoor
9 Smart Locker Market, By Application
9.1. Introduction
9.2. Day Lockers/Generic Lockers
9.3. Parcel Lockers
9.4. Staff/Employee Lockers
9.5. Asset Management Lockers
10 Smart Locker Market, By End-user
10.1. Introduction
10.2. Commercial
10.3. Office
10.4. Logistics
10.5. Residential
10.6. Education
10.7. Other end-use industries
11 Smart Locker Market, By Region
11.1. Introduction
11.2. North America
11.2.1. Impact of Recession
11.2.2. US
11.2.3. Canada
11.2.4. Mexico
11.3. Europe
11.3.1. Impact of Recession
11.3.2. UK
11.3.3. Germany
11.3.4. France
11.3.5. Rest of Europe
11.4. Asia Pacific
11.4.1. Impact of Recession
11.4.2. China
11.4.3. Japan
11.4.4. South Korea
11.4.5. Rest of Asia Pacific
11.5. RoW
11.5.1. Impact of Recession
11.5.2. Middle East & Africa
11.5.3. South America
12 Smart Locker Market, Competitive Landscape
12.1. Key Player Strategies/Right to Win
12.2. Revenue Analysis
12.3. Market Share Analysis
12.4. Company Evaluation Matrix
12.4.1. Stars
12.4.2. Emerging Leaders
12.4.3. Pervasive Players
12.4.4. Participants
12.4.5. Company Footprint
12.5. Startup/SME Evaluation Matrix
12.5.1. Progressive Companies
12.5.2. Responsive Companies
12.5.3. Dynamic Companies
12.5.4. Starting Blocks
12.5.5. Competitive Benchmarking
12.6. Competitive Situation and Trends
13 Smart Locker Market, Company Profiles
13.1. Key Players
13.1.1. Digilock
13.1.2. Metra
13.1.3. Gantner
13.1.4. eLocker
13.1.5. Ojmar
13.1.6. LoQit
13.1.7. HID Global
13.1.8. Traka
13.1.9. Vecos
13.1.10. Yellowbox
13.2. Other Players
13.2.1. Gallangher
13.2.2. Ricoh
13.2.3. Igloocompany Pte Ltd
13.2.4. Mobiikey
13.2.5. LockTec
13.2.6. Parcel Pending LLC
13.2.7. LUXER ONE
13.2.8. Snaile Inc
13.2.9. Package Concierge
13.2.10. Florence Corporation
13.2.11. Smartalock
13.2.12. RoboVault
13.2.13. TZ Limited
13.2.14. Bell and Howell
13.2.15. Cleveron
14 Appendix
14.1. Discussion Guide
14.2. Knowledge Store: MarketsandMarkets' Subscription Portal
14.3. Available Customizations
14.4. Related Reports
14.5. Author Details
To estimate the size of the smart locker market, the study utilized four major activities. Exhaustive secondary research was conducted to gather information on the market, as well as its peer and parent markets. The next step was to validate these findings, assumptions, and sizing with industry experts across the value chain through primary research. Both top-down and bottom-up approaches were employed to estimate the total market size. Finally, market breakdown and data triangulation methods were utilized to estimate the market size for different segments and subsegments.
Secondary Research
In the secondary research process, various sources have been referred to for identifying and collecting information for this study on the smart locker market. Secondary sources for this research study include corporate filings (such as annual reports, investor presentations, and financial statements); trade, business, and professional associations; white papers; certified publications; articles by recognized authors; directories; and databases. The secondary data was collected and analyzed to determine the overall market size, further validated through primary research.
List of key secondary sources
| | |
| --- | --- |
| Source | Web Link |
| International Trade Centre (ITC) | |
| World Economic Forum | |
| World Trade Organization | |
| Custom Electronic Design & Installation Association | |
| The Continental Automated Buildings Association | |
| European Building Automation and Controls Association | |
| The International Society of Automation | |
Primary Research
To gather insights on market statistics, revenue data, market breakdowns, size estimations, and forecasting, primary interviews were conducted. Additionally, primary research was used to comprehend the various technology, application, vertical, and regional trends. Interviews with stakeholders from the demand side, including CIOs, CTOs, CSOs, and customer/end-user installation teams using smart locker, were also conducted to understand their perspective on suppliers, products, component providers, and their current and future use of smart locker, which will impact the overall market. Several primary interviews were conducted across major countries of North America, Europe, Asia Pacific, the Middle East & Africa, and Latin America.

To know about the assumptions considered for the study, download the pdf brochure
Market Size Estimation
To estimate and validate the size of the smart locker market and its submarkets, both top-down and bottom-up approaches were utilized. Secondary research was conducted to identify the key players in the market, and primary and secondary research was used to determine their market share in specific regions. The entire process involved studying top players' annual and financial reports and conducting extensive interviews with industry leaders such as CEOs, VPs, directors, and marketing executives. Secondary sources were used to determine all percentage shares and breakdowns, which were then verified through primary sources. All parameters that could impact the markets covered in this research study were accounted for, analyzed in detail, verified through primary research, and consolidated to obtain the final quantitative and qualitative data.
Global Smart Locker Market Size: Botton Up Approach
Identifying various smart locker manufacturers
Analyzing the penetration of each component through secondary and primary research
Analyzing integration of smart locker in different applications through secondary and primary research
Conducting multiple discussions with key opinion leaders to understand the detailed working of smart lockers and their implementation in multiple industries; this helped analyze the break-up of the scope of work carried out by each major company
Verifying and cross-checking the estimates at every level with key opinion leaders, including CEOs, directors, operation managers, and finally with the domain experts at MarketsandMarkets
Studying various paid and unpaid sources of information, such as annual reports, press releases, white papers, and databases

Global Smart locker Market Size: Top Down Approach
The top-down approach has been used to estimate and validate the total size of the smart locker market.
Focusing initially on the R&D investments and expenditures being made in the ecosystem of the smart locker market, further splitting the market on the basis of offering, technology, deployment, application, end-use industry, and region, and listing the key developments
Identifying leading players in the smart locker market through secondary research and verifying them through brief discussions with industry experts
Analyzing revenue, product mix, geographic presence, and key applications for which products are served by all identified players to estimate and arrive at percentage splits for all key segments
Discussing splits with industry experts to validate the information and identify key growth pockets across all key segments
Breaking down the total market based on verified splits and key growth pockets across all segments

Data Triangulation
Once the overall size of the smart locker market was determined using the methods described above, it was divided into multiple segments and subsegments. Market engineering was performed for each segment and subsegment using market breakdown and data triangulation methods, as applicable, to obtain accurate statistics. To triangulate the data, various factors and trends from the demand and supply sides were studied. The market was validated using both top-down and bottom-up approaches.
Market Definition
Smart lockers are storage containers that use Internet of Things (IoT) technology to connect to the Internet and provide people with a convenient way to store their belongings or to protect assets in factory and warehouse environments. The ultimate purpose of smart lockers is the usage of smart locker software. These smart locker systems are especially popular in offices, warehouses, retail chains, accounting firms, solicitor's offices, and public service headquarters. Two main advantages include keeping items safe and secure, but more so, for the administrators gathering insightful data on usage and security via the provided software by these smart locker solutions.
Key Stakeholders
Smart locker Manufacturers
Smart locker Suppliers
Smart locker Integrators
Smart locker distributors
Smart locker software solution providers
Technology investors
Research organizations
Analysts and strategic business planners
Venture capitalists, private equity firms, and startups
Educational Institutes and Universities
Component Suppliers and Distributors
Logistics and shipment companies
Report Objectives
To define, describe, and forecast the smart locker market based on offering, technology, deployment, application, end-use industry and region
To forecast the size of the market segments for four major regions—North America, Europe, Asia Pacific (APAC), and the Rest of the World (RoW)
To provide detailed information regarding the major factors influencing the growth of the market (drivers, restraints, opportunities, and challenges)
To strategically analyze micromarkets1 with respect to individual growth trends, prospects, and contributions to the total market
To study the complete value chain and allied industry segments and perform a market value chain analysis.
To provide ecosystem analysis, case study analysis, patent analysis, technology analysis, pricing analysis, porter's five forces analysis, key stakeholders and buying criteria, key conferences and events, and regulatory bodies, government agencies, and regulations pertaining to the market
To strategically profile the key players and comprehensively analyze their market shares and core competencies2.
To analyze the opportunities in the market for stakeholders and describe the competitive landscape of the market.
To analyze competitive developments such as collaborations, agreements, contracts, partnerships, mergers & acquisitions, product launches, and research & development (R&D) in the market
To analyze the impact of the recession on the smart locker market
Available customizations:
With the given market data, MarketsandMarkets offers customizations according to the specific requirements of companies. The following customization options are available for the report:
Detailed analysis and profiling of additional market players (up to 5)
Additional country-level analysis of the smart locker market
Product Analysis
Product matrix, which provides a detailed comparison of the product portfolio of each company in the smart locker market.