Home › News Updates › Nikkei cites MarketsandMarkets in their recent article on Submarine Cable
Nikkei cites | November 2, 2021
Nikkei cites MarketsandMarkets in their recent article on Submarine Cable
Nikkei recently cited MarketsandMarkets as a major source of reference for Submarine Cable System market in their article.
The global submarine cable system market is expected to reach a value of USD 22.0 billion by 2025 from USD 13.0 billion in 2020, growing at a CAGR of 11.1%. The surge in global bandwidth demand, increasing internet connection worldwide, rising new offshore wind capacity additions, and growing demand for inter-country & island connections are the major factors driving the growth of this market.
Press Release :
https://www.marketsandmarkets.com/PressReleases/submarine-cable-system.asp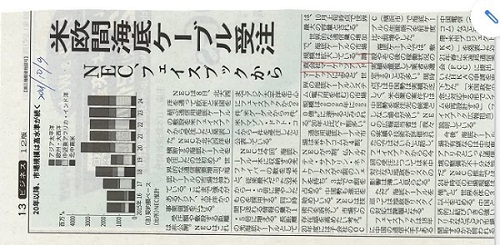 Share this story
How can we help you?
To discuss how our team can help you and your business achieve true results,
Get in touch with us