WhatsApp Announces Fresh Text Editor and HD Video Support - Impact on Businesses
August 23, 2023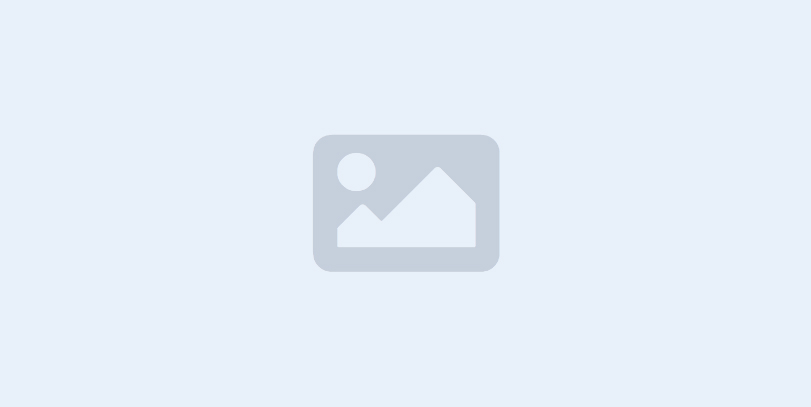 This News Covers
WhatsApp, had already been undergoing significant changes in its interface, aligning with Google's latest Material Design guidelines, known as Material Design 3. This design shift is evident in the introduction of new text formatting options and the HD video support.
Its' focus on improving it's UI and UX is evident with the introduction of new text formatting tools, such as code block, quote block, and bulleted list formatting. These tools not only enhance the visual appeal but also improve the readability and emphasis of the text.
The MarketsandMarkets news on its' adoption of Material 3 published recently, highlights the introduction of rounded menus, a revamped bottom navigation bar, and a new floating action button in line with Material Design 3 guidelines.These changes reflect a modern design aesthetic, emphasizing rounded elements and a streamlined interface. The use of rounded alerts, redesigned toggles, and the transformation of the chats tab and floating action button to resemble incoming message bubbles further accentuates the app's visual transformation.
This development from WhatsApp signifies a deeper commitment to enhancing the user experience. The introduction of new text formatting options provides users with more tools to express themselves effectively. The code block, quote block, and bulleted list formatting options cater to diverse messaging needs, from citing specific portions of a linked article to creating organized lists.
MarketsandMarkets welcomes this development and we take a look at what it means in this news.
How WhatsApp is Revamping its Video Player
WhatsApp is introducing an enhancement that enables users to share HD photos on the platform, as revealed by Meta CEO Mark Zuckerberg on his Instagram and Facebook. This feature, which retains the high-definition quality of shared photos, underwent beta testing with a limited user group. The HD photo-sharing option was identified earlier this summer in the Android beta version of WhatsApp and the TestFlight app on iOS, hinting at an imminent public release.
After updating to the most recent version of the app, users will spot a new "HD" button on the photo-sharing interface. Clicking this button presents a pop-up allowing users to choose the image quality. By default, it's set to Standard Quality to maintain quick and dependable photo sharing. However, users can now select HD quality to keep the photo's high-definition version. Once an HD photo is sent, recipients will notice an "HD" label on the image, indicating its enhanced quality. All images remain safeguarded by WhatsApp's end-to-end encryption. If users receive an HD photo with limited bandwidth, they can decide whether to retain the standard version or upgrade to HD. This HD photo feature will be available to global users in the coming weeks, with HD video support to follow, as stated by the company.
Benefits of HD Video Support:

Higher Quality: HD videos offer clearer visuals, making it easier for viewers to discern details.
Better User Experience: Sharing and viewing videos in high definition can enhance the overall user experience.
Professional Use: For users who use WhatsApp for professional purposes, sharing HD videos can be crucial for presentations, demonstrations, or showcasing products.
Competitive Edge: Offering HD video support can give an app a competitive advantage over other platforms that don't support high-quality video sharing.
Limitations of HD Video Support:

Larger File Sizes: HD videos have larger file sizes, which might take longer to upload and download.
Data Consumption: Sharing and downloading HD videos can consume more data, which might be a concern for users with limited data plans.
Storage Issues: HD videos can take up more storage space on devices.
Compatibility Issues: Not all devices might support HD playback, leading to potential compatibility issues.
Potential Delays: Depending on the server's capacity and the user's internet speed, sending HD videos might experience delays.
How WhatsApp is Revamping its Text Editor
WhatsApp, a leading communication app, is enhancing its text formatting features, addressing a gap that has been largely untouched since 2017. In 2016, the platform introduced text formatting tools like bold, italics, strikethrough, and monospace. However, since then, competitors like Telegram, Discord, and Slack have advanced, leaving WhatsApp behind in this domain. Recently, WhatsApp has been observed testing new text formatting options, including support for code block, quote block, and bulleted list formatting. These features were identified in the latest beta for WhatsApp Desktop, hinting at a potential rollout to Android and iOS versions.
The code block formatting displays text within a distinct color window, similar to Slack. Quote blocks allow users to reference specific parts of a linked article or message, enhancing context clarity. Bulleted lists cater to users who utilize WhatsApp for note-taking. Despite these additions, WhatsApp still lacks features like numbered lists and spoiler text formatting, which are present in rival apps. Additionally, WhatsApp has introduced the capability to edit captions for attachments on both Android and iOS, allowing users to modify captions within 15 minutes of sending media. While WhatsApp has been trailing its competitors, it continues to receive updates and improvements.
How WhatsApp's Upgrades Impact Businesses and Consultants - WhatsApp Business had ~200 million MAUs
Economic Value of WhatsApp
WhatsApp's economic value is undeniable. Its vast user base, coupled with its integration into the business world, makes it a formidable force in the global economic landscape.
WhatsApp, a cross-platform instant messaging service, has become an integral part of the global communication landscape. As of 2023, it stands as the most popular mobile messenger app worldwide, boasting approximately two billion monthly active users. This figure places it ahead of other prominent messaging platforms like WeChat, which has 1.3 billion users, and Facebook Messenger with 930 million global users. Such vast reach makes WhatsApp the third most popular social network globally, following Facebook and YouTube.
This immense user base is not just a testament to WhatsApp's popularity but also its economic value. From its inception in January 2009 to its acquisition by Facebook in 2014 for a staggering 19 billion U.S. dollars, WhatsApp's journey has been meteoric. The acquisition was not just a business move but aligned with Facebook's vision of providing more affordable and efficient internet access worldwide through Internet.org.
The global reach of WhatsApp is further emphasized by its user statistics. From the beginning of 2020 to mid-2023, the number of unique WhatsApp users surged by 26%, reaching an estimated 2.79 billion by June 2023. This growth trajectory was evident in its download statistics as well. In June 2023 alone, WhatsApp was the most downloaded chat and messaging app worldwide, accumulating around 45.85 million downloads across major app stores.
Impact
However, the economic implications of WhatsApp go beyond just user numbers. The platform has seen a shift in usage patterns, especially after the global upheavals caused by the COVID-19 pandemic. While there was a slight decrease in time spent on the app in 2022 compared to 2020, users still averaged 17 hours per month on the platform. Markets like Indonesia, Brazil, and Argentina recorded the highest usage durations.
Monetization and Business Integration
WhatsApp's integration into the business world has been transformative. The introduction of WhatsApp Business in 2018 was a game-changer. This feature allowed companies, especially small businesses, to connect with users seamlessly. By July 2023, WhatsApp Business had around 200 million monthly active users, marking a growth of over 300% from its 50 million users in June 2020. This business integration translated to substantial economic gains, with small businesses and users generating over 333 million U.S. dollars in 2022. The Asia-Pacific region accounted for almost 40% of this total, highlighting the platform's global economic impact.
Editor's Pick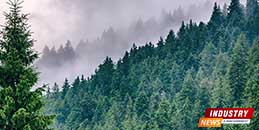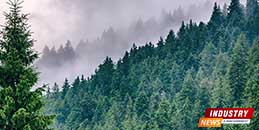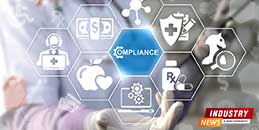 PODCASTS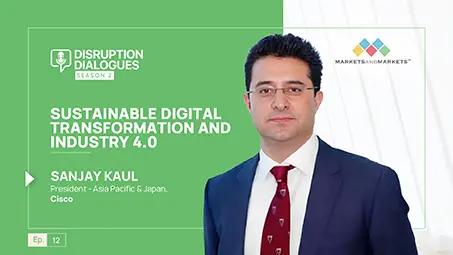 Sustainable Digital Transformation & Industry 4.0
Sanjay Kaul, President-Asia Pacific & Japan, Cisco, and host Aashish Mehra, Chief Research Officer, MarketsandMarkets, in conversation on unraveling 'Sustainable Digital Transformation and Industry 4.0'
11 July 2023|S2E12|Listen Now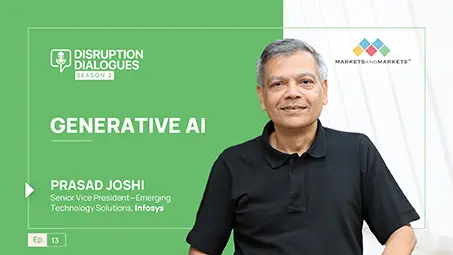 Generative AI
Prasad Joshi, Senior Vice President-Emerging Technology Solutions, Infosys, and host, Vinod Chikkareddy, CCO, MarketsandMarkets, in exploring the recent advances in AI and the generative AI space.
7 Nov 2023|S2E13|Listen Now