HOME
›
Top Market Reports
›
Human Liver Models Market by Drug Discovery Platform (Non-alcoholic Fatty Liver Organoids, Liver-on-a-chip, 2D Models, Animal Models, 3D Bioprinting), and Region (North America, Europe, Asia Pacific, Rest of the World) - Global Forecast to 2022
Human Liver Models Market by Drug Discovery Platform (Non-alcoholic Fatty Liver Organoids, Liver-on-a-chip, 2D Models, Animal Models, 3D Bioprinting), and Region (North America, Europe, Asia Pacific, Rest of the World) - Global Forecast to 2022
By: marketsandmarkets.com
Publishing Date: April 2018
Report Code: BT 6218
The global human liver models market was valued at USD 1.23 Billion in 2016 and is projected to reach USD 2.56 Billion by 2022, at a CAGR of 13.6% during the forecast period. Base year considered for the report is 2016 and the forecast period considered for this report is 2017–2022.
Objectives of the Study
To define, measure, and describe the global human liver model market by type and region
To provide detailed information about the major factors influencing market growth (drivers, restraints, challenges, and opportunities)
To analyze micromarkets with respect to individual growth trends, prospects, and contributions to the overall market
To analyze market opportunities for stakeholders and provide details of the competitive landscape for key players
To forecast the size of market segments in North America, Europe, Asia Pacific, and RoW
Research Methodology
Top-down and bottom-up approaches were used to validate the size of the global human liver model market and estimate the size of other dependent submarkets. Various secondary sources such as the Food and Drug Administration, Centers for Disease Control and Prevention, National Institute of Environmental Health Sciences, American Association for Clinical Chemistry, American Society for Biochemistry and Molecular Biology, American Society for Microbiology, International Federation of Pharmaceutical Manufacturers & Associations, Scientific Group on Methodologies for the Safety Evaluation of Chemicals, International Mouse Phenotyping Consortium (IMPC), Association for Assessment and Accreditation of Laboratory Animal Care (AAALAC) International, Society for In Vitro Biology, European Society for Animal Cell Technology, The British Association of Aesthetic Plastic Surgeons, UK Society for Cell Culture Biotechnology, directories, industry journals, databases, press releases, and annual reports of the companies have been used to identify and collect information useful for the study of this market.
Primary sources such as experts from both supply and demand sides have been interviewed to obtain and validate information as well as to assess dynamics of this market. The breakdown of profiles of primaries is shown in the figure below: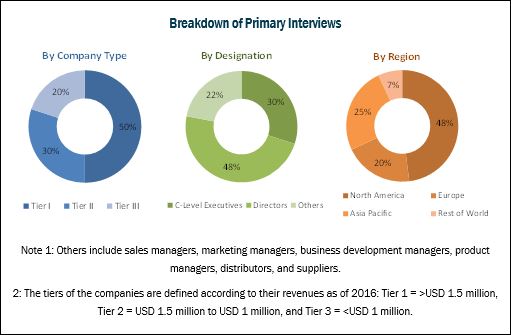 To know about the assumptions considered for the study, download the pdf brochure
The major players in the global human liver model market are Emulate (US), Ascendance Bio (US), HěREL (US), CN Bio (UK), Organovo (US), and Cyfuse Biomedical (Japan).
Target Audience:
Pharmaceutical and biotechnology companies
Chemical companies
Cosmetic product manufacturers, suppliers, and distributors
Healthcare providers and diagnostic laboratories
Manufacturers of 3D cell culture products
Food & beverage manufacturers
Contract research organizations (CROs)
Research institutes/universities
Research and consulting firms
Venture capitalists
Scope of the Report:
The research report categorizes the human liver model market into the following segments and subsegments:
Human Liver Model Market, by Type
Liver Organoids
Liver-on-a-chip
2D Models
Animal Models
3D Bioprinting
Human Liver Model Market, by Region
North America
Europe
Asia Pacific
Rest of the World
Available Customizations
With the given market data, MarketsandMarkets offers customizations as per the company's specific needs. The following customization options are available for the report:
Product Analysis
Product matrix, which gives a detailed comparison of the product portfolios of each company
Company Information
Detailed analysis and profiling of additional market players (up to 3)
Table of Contents
1 Market Overview for Human Liver Models (Page No. - 8)
1.1 Introduction
1.2 Market Dynamics
1.2.1 Drivers
1.2.1.1 Growing Focus on Developing Alternatives for Animal Testing Models
1.2.1.2 Significant Increase in Research Funding and Venture Capital Investments for the Development of Liver Organoids
1.2.1.3 Growing Initiatives to Increase Awareness About Liver Organoids
1.2.1.4 Increasing Research Activities on Liver Organoids
1.2.1.5 Increasing Prevalence of Non-Alcoholic Fatty Liver Disease
1.2.1.6 Growing Need for the Early Detection of Drug Toxicity to Minimize Financial Losses Due to Late-Stage Drug Failure
1.2.2 Restraints
1.2.2.1 Issues Related to the Incorporation of Organoids Into Existing Workflows
1.2.3 Opportunities
1.2.3.1 Increasing Focus on Drug Discovery Activities
1.2.3.2 Rising Demand for Liver Transplantation
1.2.3.3 Growing Healthcare Market in the Asia Pacific and Latin America
1.2.4 Challenges
1.2.4.1 Dearth of Skilled Professionals
2 Industry Speaks – In Vitro Liver Models (Page No. - 17)
3 Human Liver Model Market, By Drug Discovery Platform (Page No. - 20)
3.1 Introduction
3.1.1 Liver Organoids
3.1.2 Liver-On-A-Chip
3.1.3 2D Models
3.1.4 Animal Models
3.1.5 3D Bioprinting
4 Geographic Assessment (Page No. - 27)
4.1 Introduction
4.2 North America
4.2.1 US
4.2.2 Canada
4.3 Europe
4.4 Asia Pacific
4.4.1 China
4.4.2 Japan
4.4.3 India
4.4.4 Rest of Asia Pacific
4.5 Rest of the World
4.6 Author Details

List of Tables (7 Tables)
Table 1 Research Projects and Activities
Table 2 Limitations of Existing Cell Model Systems
Table 3 Scientific and Ethical Comparison of Animal Models, Human Embryo Tissues, and Organoid Models
Table 4 Global Human Liver Model Market, By Type, 2015-2022 (USD Million)
Table 5 Liver-On-A-Chip Market, By Region, 2015-2022 (USD Thousand)
Table 6 Animal Models Market, By Region, 2015-2022 (USD Million)
Table 7 3D Bioprinting Market, By Region, 2015-2022 (USD Million)

List of Figures (2 Figures)
Figure 1 Human Liver Models Market: Drivers, Restraints, Opportunities, & Challenges
Figure 2 Number of Registered Clinical Trial Studies (2005–2017)
The global human liver models market is projected to reach USD 2.56 Billion by 2022 from USD 1.35 Billion in 2017, at a CAGR of 13.6%. The growth of this market is primarily driven by factors such as the growing focus on developing alternatives for animal testing models, significant increase in research funding and venture capital investments for the development of liver models, growing initiatives to increase awareness about liver organoids, increasing research activities on liver organoids, increasing prevalence of non-alcoholic fatty liver disease, and growing need for the early detection of drug toxicity to minimize financial losses due to late-stage drug failure.
The human liver model market is segmented on the basis of type and region. Based on type, the market is segmented into liver organoids, liver-on-a-chip, 2D models, animal models, and 3D bioprinting.
In 2017, the animal models segment accounted for the largest share of the global market. The growth in the biosimilars market is expected to boost the preclinical market as the development of biosimilars and biopharmaceuticals requires an understanding of the mechanism of action, quantification of pharmacological effects, and interpretation of toxicological data. As animal models are indispensable for learning the disease pathogenesis and progression in humans, the rising demand for preclinical services is expected to drive the demand for animal models. However, the liver-on-a-chip segment is expected to grow at the highest CAGR during the forecast period. This can be attributed to the simplicity of this model and the ability of on-chip hepatic tissues to maintain metabolic activity and phenotype similar to that of the in vivo environment.
Geographic segments in this report include North America, Europe, Asia Pacific, and the RoW. Of these, the North American segment accounted for the largest share of the market in 2017. The human liver market for North America is driven by the presence of a well-established life sciences industry, growing awareness about the organoids technology, increasing government funding, growing incidence of NAFLD, and unavailability of livers for transplantation, increasing investments on research, rising focus on tissue culture-based clinical diagnostics, and the availability of skilled professionals.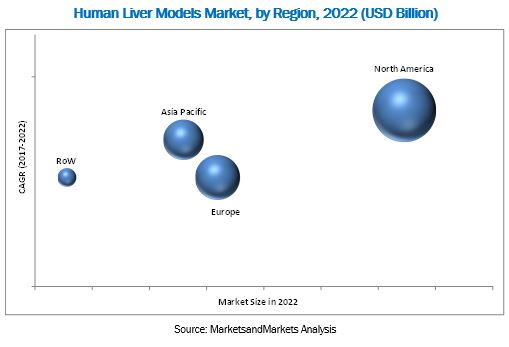 Issues related to the incorporation of organoids into existing workflows are expected to restrain the growth of this market during the forecast period to a certain extent. The key players in the global human liver model market are Emulate (US), Ascendance Bio (US), HěREL (US), CN Bio (UK), Organovo (US), and Cyfuse Biomedical (Japan).
To speak to our analyst for a discussion on the above findings, click Speak to Analyst
Custom Market Research Services
We will customize the research for you, in case the report listed above does not meet with your exact requirements. Our custom research will comprehensively cover the business information you require to help you arrive at strategic and profitable business decisions.

Please visit https://www.marketsandmarkets.com/knowledge-process-outsourcing-services.asp to specify your custom Research Requirement
US : 1-888-600-6441
UK : 44-800-368-9399
Search reports
-

Request for FREE Sample of this report
Send Request