Microfluidics Market
Microfluidics Market by Product (Device, Component (Chip, Sensor, Microneedle, Pump, Valve), Application (IVD (POC, Clinical, Vet), Research (Proteomic, Genomic, Cell-based, Capillary), Manufacturing), End User (Pharma, Hospital) - Global Forecast to 2028
Report Code: AST 7541
Sep, 2023, by marketsandmarkets.com
The global microfluidics market in terms of revenue was estimated to be worth $22.3 billion in 2023 and is poised to reach $41.1 billion by 2028, growing at a CAGR of 13.0% from 2023 to 2028. The new research study consists of an industry trend analysis of the market. The new research study consists of industry trends, pricing analysis, patent analysis, conference and webinar materials, key stakeholders, and buying behaviour in the market. Faster testing and analysis, minimum quantity of reagent consumption, precision in results, improved process of drug development, and reduction in overall cost of the development of drug are expected to boost the market. The constant rise in demand for point-of-care test kits for use at home is expected to boost the market growth.
Attractive opportunities in the microfluidics market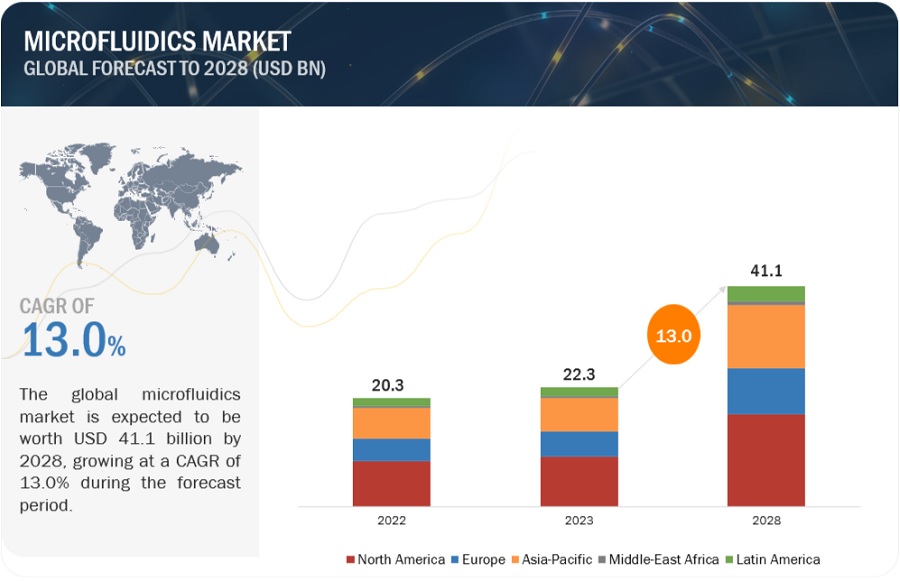 To know about the assumptions considered for the study, Request for Free Sample Report
Microfluidics Market Dynamics
Driver: Rising technological advancement
The goal of technological developments in microfluidic components is to improve and simplify operating procedures in the healthcare sector. For more than 20 years, integrated microfluidic components have been used in research labs. The development of soft lithography and large-scale microfluidic integration has considerably enhanced their use in the life sciences and medical research during the past ten years. Researchers have been able to expand the complexity and sophistication of experiments that may be carried out on a microfluidic chip because of these technological improvements, which have also boosted rapid development efforts. Microfluidic components are swiftly emerging as a crucial technology in an expanding number of industries, including medicines, biosensing, bioactuation, and chemical synthesis. This is an indication of how microfluidics has transformed from a potential R&D technology to one used in clinical studies to collect data using AI. Microfluidics, in particular, in lab-on-a-chip technology, is an effective tool for the development and application of AI in a large-scale, economical, high-throughput, automated, and diversified manner.
Restraint: Incorporation of microfluidics into existing workflows
The first microfluidic screening equipment entered the market less than a decade ago. Currently, microfluidics technology presents significant opportunities for the further miniaturization and integration of instruments and exhibits the potential for greater automation and cost reduction in the drug discovery and development processes. However, even though microfluidics adds value to the process and instruments, it is likely to take about 10 to 15 years before this technology will completely replace conventional macro-scale research instrumentation. Until such a scenario presents itself, the market will witness irregular installments of microfluidic devices, owing to which manufacturers will be sidelined by conventional technology providers to some extent.
Opportunity: Expanding applications of drug delivery technologies using microfluidics
Implantable drug delivery systems are one example of a technologically advanced system that can offer considerable opportunities for expansion for players in the market. This is because microfluidics technology supports the manufacturing of portable and wearable products that can assure accurate and reliable drug delivery. Insulin pumps are the most widespread microfluidics-based drug delivery devices, and several related micro-pumping techniques are currently being developed. Over the next two to three years, more of these devices are expected to be accessible.
The key advantages of microfluidics, including the regulated release of medications and biocompatibility, are anticipated to open up a lot of possibilities for technology adoption. In addition to developing portable, wearable, and implantable gadgets, experts are currently focusing on the development of intelligent medications and subcutaneous patches for controlled release. The release can be more effectively controlled through the establishment of diffusion barriers utilizing microtechnologies. Pharmaceutical and medical device businesses are making substantial investments in their development of novel drug delivery systems utilizing microfluidics technologies in order to take benefit from the fast growth in this industry.
Challenge: Standardization/ commercialization of microfluidic devices
Commercialisation of any equipment is impacted by customer acceptance. Numerous research prove the concept of microfluidics technology-based devices and provide numerous assurance on the results obtained by it. However, incorporation by end users is limited due to the standardization of this technology into commercial space, and scalability is questionable. Although this technology shows promising results in research, it will take a few years to be completely adopted in each and every space of the industries. Investors tend to invest in more promising technologies. Thus, researchers are likely to shift their focus on microfluidics technologies to other industries like the environment or food industry.
Microfluidics Market Ecosystem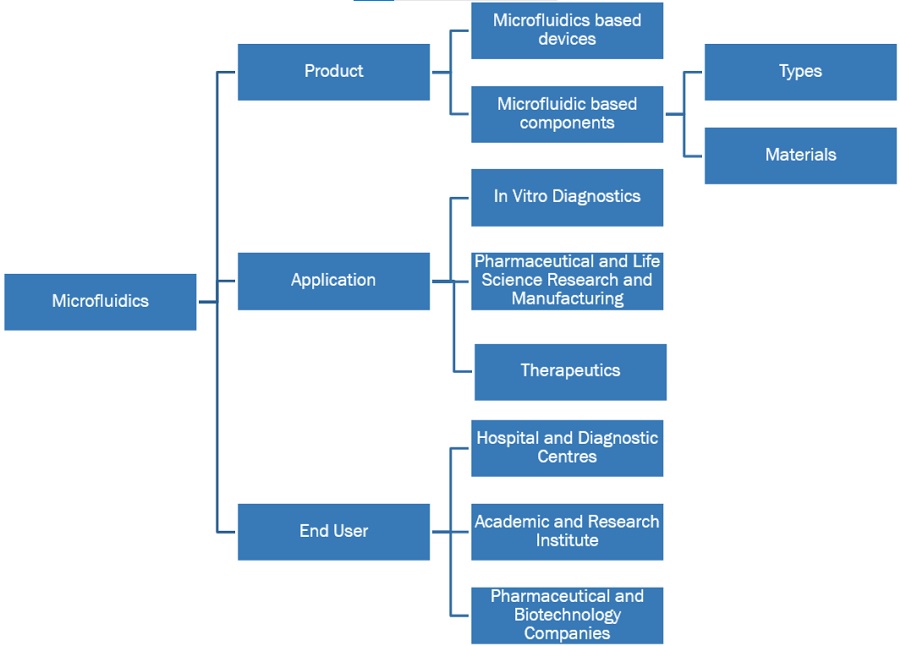 Prominent companies in this market include Thermofisher Scientific (US), Perkin Elmer (US), Beckton Dickinson and Company (US), Agilent Technologies, Inc. (US), Bio-Rad (US), F. Hoffmann La-Roche, Ltd. (Switzerland), Danaher Corporation (Japan), Illumina, Inc. (US), Fluidigm Corporation (Switzerland), Abbott Laboratories (US), Biomérieux SA (France), Hologic (US), and Quidel Corporation (US).
The microfluidic devices segment of the accounted for the largest share of the microfluidics industry.
Integration of microfluidics in point-of-care testing devices is a major application of microfluidics technology. Microfluidic technology enables detection and fluid regulation in one single component, increasing sensitivity and specificity to detect target analytes at small volumes, thus overcoming several challenges associated with the use of traditional point-of-care testing (POCT) diagnostics. Microfluidic-based POCT devices are widely used for molecular biology and chemical & biochemical analysis. Some examples of microfluidic-based POCT devices are Revogene, a microfluidics cartridge-based real-time PCR device that can test for C. difficile, Stret B., and Streptococcus A and provide results in about 2 minutes.
The in vitro diagnostic segment accounted for the largest share in the microfluidics industry.
IVD embedded with microfluidic technologies, such as PoC diagnostics, PCR systems, analyzers, and electrophoretic systems, is increasingly being used in diagnostic, pharmaceutical, and biotechnology companies and forensic applications. These devices provide various advantages such as portability (due to their compact size), increased frequency of testing, less reagent and sample consumption, and accurate and quick analysis. The presence of low-cost consumables and the potential of PoC devices to significantly reduce costs and get faster test results with compact integrated systems are some of the other key factors supporting the greater utilization of microfluidics-based PoC technologies.
Hospitals and Diagnostic Centers accounted for the largest share and are expected to grow at the highest rate in the microfluidics industry.
Growing use of proteomics and genomics technologies in diagnostic procedures, quicker detection of viral load and antigens at diagnostic laboratories, ease and faster identification of high volume tests, and early-stage detection of numerous viral diseases are the factors responsible for the growth of the microfluidic market in hospitals and diagnostic laboratories.
North America is expected to account for the largest share of the microfluidics industry.
The microfluidics market is segmented into North America, Europe, Asia Pacific, Latin America, and the Middle East & and Africa. In 2022, the North American region accounted for the largest share of the market. Government initiative to boost the adoption of advanced technology like microfluidics, rise in cost-effective microfluidic components to develop microfluidic devices, increased healthcare expenditure, and rise in biotech research, is expected to boost the market in this region.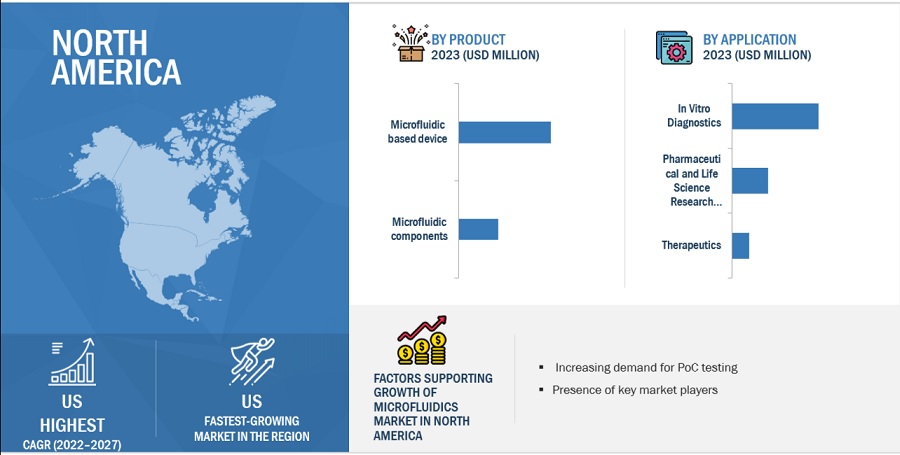 To know about the assumptions considered for the study, download the pdf brochure
The prominent players in the microfluidics market are Thermofisher Scientific (US), Perkin Elmer (US), Beckton Dickinson and Company (US), Agilent Technologies, Inc. (US), Bio-Rad (US), F. Hoffmann La-Roche, Ltd. (Switzerland), Danaher Corporation (Japan), Illumina, Inc. (US), Fluidigm Corporation (Switzerland), Abbott Laboratories (US), Biomérieux SA (France), Hologic (US), and Quidel Corporation (US). These players include high shares in the market due to strategic mergers, acquisitions, partnerships, and large distribution channels adopted by them. This also leads to an increase in their geographic reach.
Scope of the Microfluidics Industry:
| | |
| --- | --- |
| Report Metric | Details |
| Market Revenue in 2023 | $22.3 billion |
| Estimated Value by 2028 | $41.1 billion |
| Revenue Rate | Poised to grow at a CAGR of 13.0% |
| Market Driver | Rising technological advancement |
| Market Opportunity | Expanding applications of drug delivery technologies using microfluidics |
The research report categorizes the microfluidics market to forecast revenue and analyze trends in each of the following submarkets:
By Product Type
Microfluidic-based devices
Microfluidic Components

Microfluidic Chips
Flow & Pressure Sensors
Flow & Pressure Controllers
Microfluidic Valves
Micropumps
Microneedles
Other Components

Material
By Application
In-vitro Diagnostics

Clinical Diagnostics
Point-of-care Testing
Veterinary Diagnostics

Pharmaceutical & Life Science Research and Manufacturing

Lab Analytics

Proteomics
Genomics
Cell-based Assays
Capillary Electrophoresis

Microdispensing
Microreaction

Therapeutics

Drug delivery
Wearable devices
By End User
Hospitals & Diagnostic Centers
Academic & Research Institutes
Pharmaceutical and biotechnology Companies
By Region
North America
Europe

Germany
France
UK
Italy
Spain
Rest of Europe

Asia Pacific

Japan
China
India
Australia
South Korea
Rest of APAC

Latin America

Brazil
Mexico
Rest of LATAM

Middle East and Africa
Recent Developments of Microfluidics Industry
In July 2021, Abbott launched the Panbio COVID-19 Antigen Self-Test in India for the detection of the SARS-CoV-2 virus in adults and children with or without symptoms.
In June 2021, Danaher's Life science segment acquired Precision Nanosystems (PNI) to complement the former vaccines and therapeutics development business.
In February 2021, Thermofisher acquired the point-of-care molecular diagnostic company Mesa Biotech, Inc. This is expected to raise Thermofisher's revenue by approximately USD 200 million.
Frequently Asked Questions (FAQ):
What is the projected market revenue value of the global microfluidics market?
The global microfluidics market boasts a total revenue value of $41.1 billion by 2028.
What is the estimated growth rate (CAGR) of the global microfluidics market?
The global microfluidics market has an estimated compound annual growth rate (CAGR) of 13.0% and a revenue size in the region of $22.3 billion in 2023.
To speak to our analyst for a discussion on the above findings, click Speak to Analyst
TABLE OF CONTENTS
1 INTRODUCTION
1.1 OBJECTIVES OF THE STUDY
1.2 MARKET DEFINITION
1.2.1 INCLUSIONS & EXCLUSIONS
1.2.2 MARKETS COVERED
1.2.3 YEARS CONSIDERED FOR THE STUDY
1.3 CURRENCY
1.4 LIMITATIONS
1.5 STAKEHOLDERS
1.6 SUMMARY OF CHANGES
1.6.1 RECESSION IMPACT
2 RESEARCH METHODOLOGY
2.1 RESEARCH DATA
2.1.1 SECONDARY DATA
2.1.1.1 KEY DATA FROM SECONDARY SOURCES
2.1.2 PRIMARY DATA
2.1.2.1 KEY DATA FROM PRIMARY SOURCES
2.1.2.2 BREAKDOWN OF PRIMARIES
2.1.2.3 KEY INDUSTRY INSIGHTS
2.2 MARKET SIZE ESTIMATION
2.3 MARKET BREAKDOWN AND DATA TRIANGULATION
2.4 MARKET SHARE ESTIMATION
2.5 ASSUMPTIONS FOR THE STUDY
2.6 RISK ASSESSMENT
2.7 LIMITATIONS
2.7.1 SCOPE-RELATED LIMITATIONS
2.7.2 METHODOLOGY-RELATED LIMITATIONS
2.8 RECESSION IMPACT ANALYSIS
3 EXECUTIVE SUMMARY
4 PREMIUM INSIGHTS
4.1 MICROFLUIDICS MARKET: OVERVIEW
4.2 APAC: MICROFLUIDICS INDUSTRY, BY TYPE
4.3 MICROFLUIDICS MARKET: GEOGRAPHIC MIX
4.4 MICROFLUIDICS BARRIER MARKET, BY REGION (2023-2028)
4.5 MICROFLUIDICS MARKET: DEVELOPED VS. DEVELOPING MARKETS
5 MARKET OVERVIEW
5.1 INTRODUCTION
5.2 MARKET DYNAMICS
5.2.1 DRIVERS
5.2.2 RESTRAINTS
5.2.3 OPPORTUNITIES
5.2.4 CHALLENGES
5.3 INDUSTRY TRENDS
5.4 REGULATORY LANDSCAPE
5.4.1 REGULATORY BODIES, GOVERNMENT AGENCIES AND OTHER ORGANIZATIONS
5.4.2 REGULATORY ANALYSIS
5.5 KEY CONFERENCES & EVENTS IN 2023-2024
5.6 SUPPLY CHAIN ANALYSIS
5.7 VALUE CHAIN ANALYSIS
5.8 ECOSYSTEM MARKET MAP
5.9 PORTER'S FIVE FORCES ANALYSIS
5.10 PATENT ANALYSIS
5.11 TECHNOLOGY ANALYSIS
5.12 PRICING ANALYSIS
5.12.1 AVERAGE SELLING PRICE TREND OF KEY PLAYERS, BY PRODUCT
5.12.2 AVERAGE SELLING PRICE TREND, BY COMPONENT
5.13 KEY STAKEHOLDERS AND BUYING CRITERIA
5.13.1 KEY STAKEHOLDERS IN BUYING PROCESS
5.13.2 BUYING CRITERIA
5.14 TRADE ANALYSIS
5.15 CASE STUDY ANALYSIS
5.16 END USER PERSPECTIVE AND UNMET NEEDS
5.17 AI INTEGRATION IN MICROFLUIDICS MARKET
6 MICROFLUIDICS MARKET, BY PRODUCT, 2021-2028 (USD MILLION)
6.1 INTRODUCTION
6.2 MICROFLUIDICS-BASED DEVICE
6.3 MICROFLUIDIC COMPONENTS
6.3.1 MICROFLUIDIC CHIP
6.3.2 FLOW AND PRESSURE SENSORS
6.3.3 FLOW AND PRESSURE CONTROLLERS
6.3.4 MICROPUMPS
6.3.5 MICROFLUIDIC VALVES
6.3.6 MICRONEEDLES
6.3.7 OTHER COMPONENTS
7 MICROFLUIDICS MARKET, BY APPLICATION, 2021-2028 (USD MILLION)
7.1 INTRODUCTION
7.2 IN VITRO DIAGNOSTICS
7.2.1 CLINICAL DIAGNOSTICS
7.2.2 POINT OF CARE TESTING
7.2.3 VETERINARY DIAGNOSTICS
7.3 PHARMACEUTICAL & LIFE SCIENCE RESEARCH AND MANUFACTURING
7.3.1 LAB ANALYTICS
7.3.1.1 Proteomic analysis
7.3.1.2 Genomic analysis
7.3.1.3 Cell-based assays
7.3.1.4 Capillary electrophoresis
7.3.2 MICRODISPENSING
7.3.3 MICROREACTION
7.4 THERAPEUTICS
7.4.1 DRUG DELIVERY
7.4.2 WEARABLE DEVICES
8 MICROFLUIDICS MARKET, BY END-USER, 2021-2028 (USD MILLION)
8.1 INTRODUCTION
8.2 HOSPITAL AND DIAGNOSTIC CENTERS
8.3 ACADEMIC AND RESEARCH INSTITUTE
8.4 PHARMACEUTICAL & BIOTECHNOLOGY COMPANIES
9 MICROFLUIDICS MARKET, BY MATERIAL, 2021-2028 (USD MILLION)
9.1 GLASS
9.2 SILICON
9.3 POLYMER
9.4 OTHERS
10 MICROFLUIDICS MARKET, BY REGION, 2021-2028 (USD MILLION)
10.1 INTRODUCTION
10.2 NORTH AMERICA
10.2.1 RECESSION IMPACT
10.2.2 US
10.2.3 CANADA
10.3 EUROPE
10.3.1 RECESSION IMPACT
10.3.2 GERMANY
10.3.3 FRANCE
10.3.4 UK
10.3.5 ITALY
10.3.6 SPAIN
10.3.7 REST OF EUROPE
10.4 ASIA PACIFIC
10.4.1 RECESSION IMPACT
10.4.2 JAPAN
10.4.3 CHINA
10.4.4 INDIA
10.4.5 AUSTRALIA
10.4.6 SOUTH KOREA
10.4.7 REST OF ASIA PACIFIC
10.5 LATIN AMERICA
10.5.1 RECESSION IMPACT
10.5.2 BRAZIL
10.5.3 MEXICO
10.5.4 REST OF LATIN AMERICA
10.6 MIDDLE EAST & AFRICA
10.6.1 RECESSION IMPACT
11 COMPETITIVE LANDSCAPE
11.1 OVERVIEW
11.2 REVENUE SHARE ANALYSIS OF KEY PLAYERS (2022)
11.3 COMPANY EVALUATION MATRIX
11.3.1 STARS
11.3.2 EMERGING LEADERS
11.3.3 PERVASIVE PLAYERS
11.3.4 PARTICIPANTS
11.3.5 COMPANY FOOTPRINT ANALYSIS
11.4 START-UP/ SME EVALUATION MATRIX
11.4.1 PROGRESSIVE COMPANIES
11.4.2 RESPONSIVE COMPANIES
11.4.3 DYNAMIC COMPANIES
11.4.4 STARTING BLOCKS
11.4.5 COMPETITIVE BENCHMARKING
11.5 MARKET SHARE ANALYSIS, BY KEY PLAYERS (2022)
11.6 COMPETITIVE SITUATION & TRENDS
11.6.1 PRODUCT LAUNCHES & APPROVALS
11.6.2 DEALS
11.7 R&D EXPENDITURE
12 COMPANY PROFILES
(Business Overview, Financials, Recent Developments, MnM View)
12.1 KEY PLAYERS
12.1.1. THERMOFISHER
12.1.2 PERKINELMER
12.1.3 BECTON, DICKINSON, AND COMPANY
12.1.4 AGILENT
12.1.5 BIO-RAD
12.1.6 F. HOFFMANN LA-ROCHE
12.1.7 DANAHER CORPORATION
12.1.8 ILLUMINA INC
12.1.9 FLUIDIGM CORPORATION
12.1.10 ABBOTT LABORATORIES
12.1.12 BIOMÉRIEUX
12.1.12 HOLOGIC
12.1.13 QUIDEL CORPORATION
12.1.14 SMC CORPORATION
12.1.15 PARKER-HANNIFIN CORPORATION
12.1.16 IDEX CORPORATION
12.1.17 FORTIVE CORPORATION
12.1.18 AIGNEP S.P.A
12.1.19 DOLOMITE MICROFLUIDICS
12.1.20 ELVEFLOW
12.2 OTHER PLAYERS
12.2.1 UFLUIDIX
12.2.2 NANOSTRING
12.2.3 NORTIS INC.
12.2.4 INNOVATIVE BIOCHIPS, LLC
12.2.5 FLUIDIC ANALYTICS
13 APPENDIX
13.1 DISCUSSION GUIDE
13.2 KNOWLEDGE STORE: MARKETSANDMARKETS' SUBSCRIPTION PORTAL
13.3 AVAILABLE CUSTOMIZATIONS
13.4 RELATED REPORTS
13.5 AUTHOR DETAILS
The study involved four major activities in estimating the current size of the microfluidics market. Exhaustive secondary research was done to collect information on the market, peer market, and parent market. The next step was to validate these findings, assumptions, and sizing with industry experts across the value chain through primary research. Both top-down and bottom-up approaches were employed to estimate the complete market size. After that, market breakdown and data triangulation were used to estimate the market size of segments and subsegments.
Secondary Research
Secondary sources referred to for this research study include financial statements of companies offering microfluidics and information from various trade, business, and professional associations. The secondary data was collected and analyzed to arrive at the overall size of the microfluidics market, which was validated by primary respondents.
Primary Research
Extensive primary research was conducted after obtaining information regarding the microfluidics market scenario through secondary research. Several primary interviews were conducted with market experts from both the demand and supply sides across major countries of North America, Europe, Asia Pacific, Latin America, and the Middle East & Africa. Primary data was collected through questionnaires, emails, and telephonic interviews. The primary sources from the supply side included various industry experts, such as Chief X Officers (CXOs), Vice Presidents (VPs), Directors from business development, marketing, product development/innovation teams, and related key executives from microfluidics manufacturers; distributors; and key opinion leaders.
Primary interviews were conducted to gather insights such as market statistics, data on revenue collected from the products and services, market breakdowns, market size estimations, market forecasting, and data triangulation. Primary research also helped in understanding the various trends related to technology, application, vertical, and region. Stakeholders from the demand side customers/end users who are using microfluidics were interviewed to understand the buyer's perspective on the suppliers, products, and their current usage of microfluidics and the future outlook of their business, which will affect the overall market.
Breakdown of Primary Interviews : Supply-Side Participants, By Company Type, Designation, and Region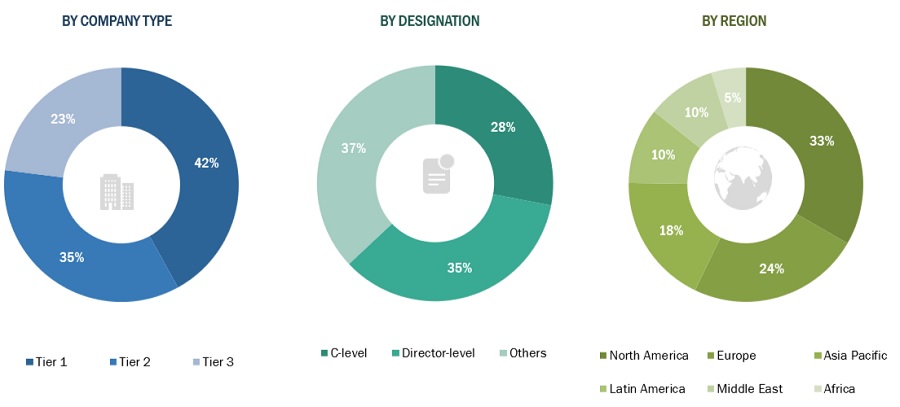 Note 1: C-level primaries include CEOs, COOs, CTOs, and VPs.
Note 2: Other primaries include sales managers, marketing managers, and product managers.
Note 3: Companies are classified into tiers based on their total revenue. As of 2020: Tier 1=>USD 1 billion, Tier 2 = USD 500 million to USD 1 billion, Tier 3=<USD 500 million.
To know about the assumptions considered for the study, download the pdf brochure
Market Size Estimation
The research methodology used to estimate the size of the microfluidics market includes the following details.
The market sizing of the market was undertaken from the global side.
Country-level Analysis: The size of the microfluidics market was obtained from the annual presentations of leading players and secondary data available in the public domain. The share of products and services in the overall microfluidics market was obtained from secondary data and validated by primary participants to arrive at the total microfluidics market. Primary participants further validated the numbers.
Geographic market assessment (by region & country): The geographic assessment was done using the following approaches:
Approach 1: Geographic revenue contributions/splits of leading players in the market (wherever available) and respective growth trends
Approach 2: Geographic adoption trends for individual product segments by end users and growth prospects for each of the segments (assumptions and indicative estimates validated from primary interviews)
At each point, the assumptions and approaches were validated through industry experts contacted during primary research. Considering the limitations of data available from secondary research, revenue estimates for individual companies (for the overall microfluidics market and geographic market assessment) were ascertained based on a detailed analysis of their respective product offerings, geographic reach/strength (direct or through distributors or suppliers), and the shares of the leading players in a particular region or country.
Global Microfluidics Market Size: Top-Down Approach

To know about the assumptions considered for the study, Request for Free Sample Report
Global Microfluidics Market Size: Bottom-Up Approach

Data Triangulation
After arriving at the overall size from the market size estimation process explained above, the total market was split into several segments and subsegments. The data triangulation and market breakdown procedures explained below were implemented, wherever applicable, to complete the overall market engineering process and arrive at the exact statistics for various market segments and subsegments. The data was triangulated by studying various factors and trends from the demand and supply sides. Along with this, the market size was validated using both the top-down and bottom-up approaches.
Market Definition
Microfluidics is defined as the science that studies the behavior of fluids flowing through technologically advanced microminiaturized devices containing chambers and tunnels. Microfluidics technology has evolved from MEMS (Micro-Electro-Mechanical Systems) devices and can replicate all the functions of its counterparts in various healthcare applications, such as drug delivery, point-of-care diagnostics, and clinical diagnostics.
Key Stakeholders
Senior Management
Lab Technicians/Doctors
Finance/Procurement Department
Report Objectives
To define, describe, and forecast the global microfluidics market on the basis of product, application, end user and region.
To provide detailed information regarding the major factors influencing the market growth (drivers, restraints, opportunities, and challenges)
To analyze micro markets with respect to individual growth trends, future prospects, and contributions to the overall market
To analyze the opportunities in the market for stakeholders and provide details of the competitive landscape for market leaders
To forecast the size of the microfluidics market with respect to six main regions (along with countries), namely, North America, Europe, Asia Pacific, Latin America and The Middle East and Africa
To profile the key players in the global microfluidics market and comprehensively analyze their core competencies and market shares
To track and analyze competitive developments such as acquisitions, product launches, regulatory approvals, and R&D activities of the leading players in the global microfluidics market
Available customizations
With the given market data, MarketsandMarkets offers customizations as per the company's specific needs. The following customization options are available for the report:
Geographic Analysis
Further breakdown of the Rest of Europe microfluidics market into the Netherlands, Austria, Belgium, and others
Further breakdown of the Rest of Asia Pacific microfluidics market into Singapore, Malaysia, and others
Company Information
Detailed analysis and profiling of additional market players