The global Automotive Paints Market is likely to witness a CAGR of over 6.0% from 2013 to 2018. Asia-Oceania represents the largest market for automotive OEM coating for this period, followed by North America, Europe, and ROW (South America, Africa, and Russia). In terms of vehicle types, the passenger car segment is leading the coatings market globally. This can be substantiated with reason that demand for passenger cars is much higher than that of commercial vehicles. Considering the coating technologies, the solvent-borne coatings are leading the market with volume; however, existing and upcoming environment regulations are anticipated to fuel the demand for eco-friendly waterborne and powder coats.
The automotive coating market includes few dominant global players and several small regional players. A few of the key players include PPG Industries (U.S.), BASF (Germany), Axalta Coating System/DuPont (U.S.), etc. The top five players that include the above accounted for about 75% of the market in 2012.
PPG Industries is a market leader and has a strong presence globally. It provides automotive OEM coatings through its 'industrial coatings' business segment. The segment is engaged in providing precoated finishes, electrocoat, primer surface, clearcoat, compact paint system, etc. to the automotive OEMs.
PPG's strong R&D and product line-up keeps it ahead in the automotive coating market. The company recently introduced a new Ultrapax coating system, which is a packaged system of pretreatment products and powder coating to meet the standards to protect metal substrates that are quite stringent. Along with the above-mentioned stronghold of the company, the company has 124 manufacturing facilities across 44 countries giving diversified revenue. The company is also very active in the expansion of its facilities; for instance, the company recently opened its new automotive OEM coatings development & application center in Tianjin (China). This facility will focus on the development of the automotive coatings in China. Also, in Tianjin (China), the company opened its new waterborne coatings manufacturing facility.
Automotive OEM Coating: Global Market Share, By Companies, 2012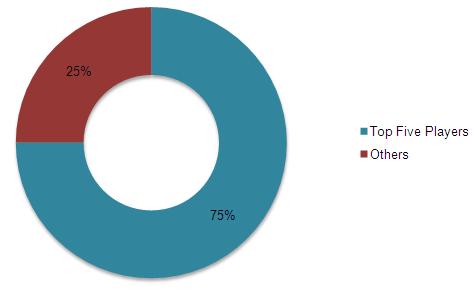 Source: Company Annual Reports, Press Releases, Expert Interviews, MarketsandMarkets Analysis
Contact:
Mr. Rohan
North - Dominion Plaza,
17304,Preston Road,
Suite 800, Dallas, TX 75252
Tel: +1-888-600-6441
Email: sales@marketsandmarkets.com