[253 Pages Report] The global automotive test equipment market size is projected to grow at a CAGR of 4.1% during the forecast period, to reach USD 3.7 billion by 2025 from an estimated USD 3.0 billion in 2020. The automobile industry has witnessed a continuous increase in the integration of electronics architecture in vehicles. The rising demand for safety and comfort features has led to huge innovations and R&D efforts from OEMs and automotive suppliers for the testing of electronics components and compliance with government regulations. Moreover, the overall weight of the vehicles has increased due to the integration of electronic features. The regulations about vehicular fuel consumption and emissions will boost the demand for market.
The COVID-19 pandemic has led to the suspension of vehicle production and supply disruptions, which have brought the automotive industry to a halt. Lower vehicle sales will be a major concern for automotive OEMs for the next few quarters. According to experts, there is a slim chance of vehicle sale recovery in 2020. However, the automotive test equipment might experience an increased growth rate, which can be attributed to the increasing regulations concerned with the GHG emission from the vehicles. The increasing energy conservation movement/regulations concerned with automobiles will also impact the automotive test equipment market positively.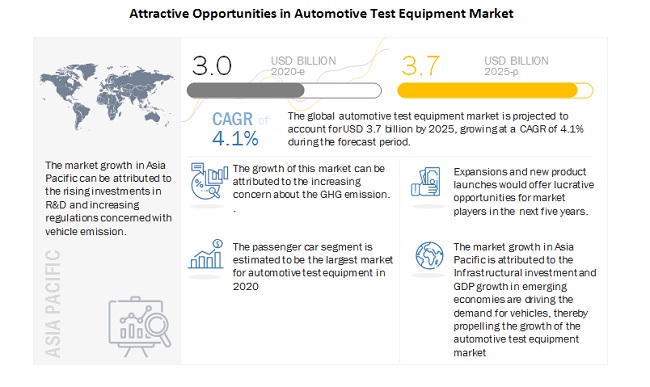 To know about the assumptions considered for the study, Request for Free Sample Report
COVID-19 impact on Automotive Test Equipment market:
Major automotive test equipment providers such as Bosch, Continental, etc. have announced the suspension of production due to the lowered demand, supply chain bottlenecks, and to protect the safety of their employees in France, Germany, Italy, and Spain during the COVID-19 pandemic. As a result, the demand for automotive testing equipment is expected to decline in 2020. Manufacturers are likely to adjust production to prevent bottlenecks and plan production according to demand from OEMs and tier 1 manufacturers.
Major automotive test equipment providers lost revenue in Q1 2020. As the resumption of vehicle production is not likely in the immediate future due to the severity of the pandemic, especially in the US and major European countries, tier 1 players suspect a further decline in revenue in the remaining quarters of 2020. For instance, Continental has witnessed a decrease in operations due to the COVID-19 pandemic. As of April 2020, the increased outbreak of the virus has forced the company to temporarily cease production in more than 40 percent of its 249 production locations across the world. For the first quarter of 2020, Continental had estimated sales at USD 4.5 billion compared to USD 5.3 billion in 2019 during the same period. The impact of COVID-19, along with other factors, has resulted in a loss of approximately USD 800 million for the company. As per the IMF report, the year-on-year decline in the GDP of the US is estimated to be 5.9%, while 6.2% and 6.6% for Canada and Mexico respectively for the year 2020. This decline in GDP is expected to affect the future performance of the company significantly, as the North America region contributes to 26% of the company revenue. The major countries in Asia, such as China and India, are also expected to experience a year-on-year decline in GDP of 1.2% and 1.9%. As Asia contributes to 22% of the company's sales, the impact of COVID-19 on Continental AG is expected to continue for the coming years, and its impact expected to be significantly large.
Market Dynamics:
Driver: Rise in stringent emissions norms to prevent environmental impact
The trend is to develop test equipment and its implementation to detect the emission levels in accordance with the law. The permissible NOx emissions from a diesel vehicle have dipped 10 times through 6 legislations (Euro 1 to Euro 6). There are emission standards that every vehicle must follow. The vehicle emission test system is used to test whether the vehicle follows the required standards of the industry. Moreover, test equipment and related software can help in detecting the emission level of passenger cars and improve fuel efficiency at the same time.
Also, the US Department of Transportation's National Highway Traffic Safety Administration (NHSA) established a national program comprising new standards intended to reduce Greenhouse Gas (GHG) emissions and improve the fuel economy. The Environmental Protection Agency (EPA) has also set GHG emissions standards under the Clean Air Act to reduce the emission of greenhouse gases. The stringent Euro 6 norms, introduced by the European Union (EU), aim to make cars cleaner by lowering the exhaust emission of harmful gases such as nitrogen oxide (NOx), carbon monoxide (CO), and hydrocarbons. The new Euro 6 norms have different standards for petrol and diesel cars. These factors are fueling the growth of the automotive test equipment market, globally.
Restraint: Lack of R&D facilities for automotive test equipment
Numerous stringent emission norms and regulations mandated across the world have compelled OEMs to test their vehicles efficiently to ensure that they meet these norms. Modern vehicles such as hybrid cars with hybrid powertrains require different types of test equipment, such as mobile-based equipment and others. A limited number of companies, such as Ricardo (UK), Intertek (UK), and Horiba (Japan), provide testing solutions for hybrid cars. Various automobile manufacturers outsource these testing services, and this increases the overall price of the vehicle, which, in turn, affects vehicle sales. The testing of hybrid cars requires advanced research, as these cars need different types of test equipment. The lack of R&D facilities for automotive testing would result in less advanced and innovative products and hamper the quality of testing the vehicle.
Opportunity: Growing demand for onboard diagnostic tools
The demand for OBD testing has increased in recent years, owing to the self-diagnostic capability of OBD equipment. OBD provides complete control over the engine. In addition to detecting vehicle faults, OBD tools also offer emission control by providing early warnings about potential component failure. The troubleshooting properties of OBD-II allow users or technicians to detect vehicle faults. With the help of OBD tools, the user can read the status of the engine and diagnose the problem himself, rather than going to the auto shop to detect the problem.
Consumers tend to prefer application-based wireless devices, such as smartphones. Testing tool developers have developed various applications to work with OBD-II systems. For instance, Actron (US), a company that provides repair and diagnostic equipment, has released an application called Torque Pro for mobile devices that will allow users to perform vehicle diagnostics using their mobile phones. This application works wirelessly by connecting to the OBD-II serial port using Bluetooth technology. Torque Pro is also used to monitor the performance of the vehicle.
Challenge: Maintaining a balance between high cost & performance of test equipment
The dilemma faced by the automotive industry is between technological innovation and cost reduction. Technologies such as advance test equipment used for electric or hybrid vehicle testing come with an additional price tag compared to the conventional test equipment. Any technology takes time to become popular for its manufacturers to experience economies of scale. In the emerging economies, entry-level passenger cars are in demand, and automotive manufacturers need to provide their product at competitive prices. In this case, offering costly test equipment can be a hindrance. There is always a tradeoff between the incurring cost on product innovation and cost reduction by manufacturing conventional products. The challenge, therefore, is to come up with such automotive test equipment that are efficient and economical at the same time.
Passenger cars estimated to account for the largest market size during the forecast period
The passenger car segment is estimated to be the largest market for automotive test equipment in 2020. The increasing purchasing power of customers and the growing demand for passenger vehicles in emerging and developed countries have contributed to the growth of the automotive test equipment market for passenger vehicles. Also, the increasing stringency of mandates related to emissions and vehicle safety performance in several countries has inflated the demand for automotive test equipment.
Authorized service centers estimated to account for the largest market size during the forecast period
The increase in vehicle sales has driven the growth of the automotive test equipment market in authorized service centers. Also, the market has witnessed a rising number of innovations due to the growing demand for driver safety and vehicle diagnosis features that increase the durability of the automobile. With increasing functions of electronics in vehicles, stringent emission standards, and less time taken for diagnosis, the demand for equipment, software, and repair data has witnessed an increasing trend.
PC/Laptop based equipment estimated to account for the largest market size during the forecast period
PC/Laptop based testing equipment is primarily a hardware and software bundle, covering all the necessary cables, hardware, and software. These PC-based systems have features such as the capability to plot and log sensor data, calculate fuel efficiency, and estimate horsepower and torque. Also, many technicians prefer using PC/laptop-based equipment for data extraction and analysis from vehicle components.
Asia Pacific region is estimated to account for the largest market size during the forecast period
The Asia Pacific region has emerged as a hub for automobile production and is estimated to be the largest market for automotive test equipment during the forecast period. The growing purchasing power of consumers has triggered the demand for automobiles in the region. Cost advantages for OEMs, low automobile penetration levels, and increased vehicle production offer attractive market opportunities for automobile manufacturers and automotive component suppliers. Also, due to the availability of cheap labor and low production cost, many major OEMs have launched production plants in the region or joined hands with major domestic vehicle manufacturers. The Asia Pacific region is home to key suppliers of automotive test equipment such as Horiba (Japan), Autel (China), and Sinfonia (Japan).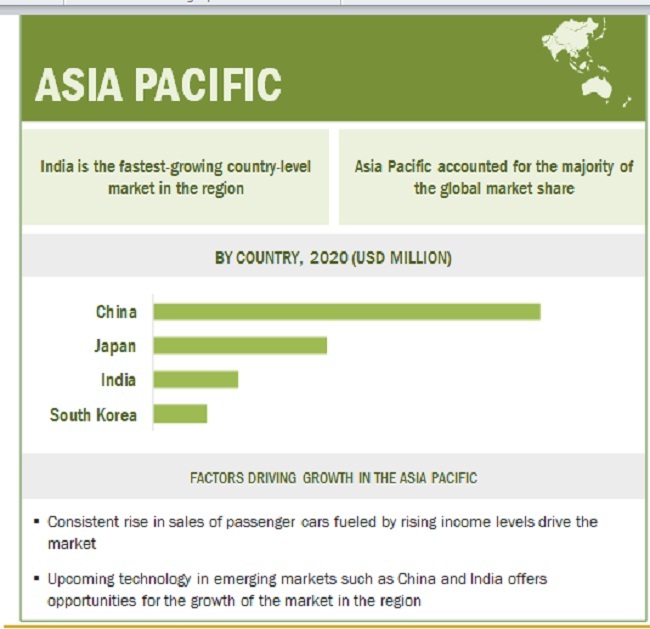 To know about the assumptions considered for the study, download the pdf brochure
Key market players
The global automotive test equipment market is dominated by major players such as ABB (Switzerland), Robert Bosch GmbH (Germany), Horiba Ltd(Japan), Honeywell (US), Siemens AG (Germany), and Delphi Technologies (UK). These companies have strong distribution networks at a global level. In addition, these companies offer an extensive range of products in the aftermarket. The key strategies adopted by these companies to sustain their market position are new product development, partnership, and expansion.
Get online access to the report on the World's First Market Intelligence Cloud

Easy to Download Historical Data & Forecast Numbers
Company Analysis Dashboard for high growth potential opportunities
Research Analyst Access for customization & queries
Competitor Analysis with Interactive dashboard
Latest News, Updates & Trend analysis

Request Sample

Click on image to enlarge

Scope of the Report
Report Metric

Details

Market size available for years

2016–2025

Base year considered

2019.

Forecast period

2020–2025.

Forecast units

Value (USD) and Volume (Units).

Segments covered

Product Type, Application Type, End Market Type, Advance Technology Type, Vehicle Type, and Region.

Geographies covered

North America, Asia Pacific, Europe, and RoW.

Companies covered

Bosch (Germany), Siemens (Germany), Honeywell (US), ABB (Switzerland), Delphi (UK), and Horiba (Japan)
A total of 31 major players covered.
This research report categorizes the automotive test equipment based on product type, application type, end market type, advance technology type, vehicle type, and region.
Based on vehicle type:
Passenger Car
Commercial Vehicle
Based on product type:
Chassis dynamometer
Engine dynamometer
Vehicle emission test system
Wheel alignment tester
Fuel injection pump tester
Transmission dynamometer
Based on application type:
Mobile device-based equipment
PC/laptop-based equipment
Based on end-market type:
OEM assembly plant
OEM R&D/ technical center
Authorized service center
Based on advance technology size:
ADAS testing
ECU testing
Data logger system
Simulation testing
EV testing
Based on the region:
Asia Pacific
China
India
Japan
South Korea
North America
Europe

France
Germany
Italy
Spain
UK

Rest of the World
Brazil
Russia
Recent developments
In March 2020, Actia established its vehicle inspection centers in the Philippines and Laos, with the test bench for heavy goods vehicles, light vehicles, and motorcycles. In the Philippines, the first 40 inspection centers were opened under the name QWIK. On the other hand, in Laos, Actia established two inspection lines for light and heavy goods vehicles.
In November 2019, Robert Bosch had technically enhanced the BEA 950 emission tester and Bosch FSA7 40 vehicle system analysis. The FSA 740 features the measurement option for the 48V system and ergonomic trolley. The BEA 950 device, which is used for emission analysis, is now fitted with a 24-inch large screen.
In November 2018, Bosch developed a diesel test bench, named, DCI 700. It allows accurate and reliable testing of all—Bosch and third-party manufacturers-common rail injectors for cars and commercial vehicles.
In June 2018, Siemens announced the latest release of Simcenter Testlab software, its suite of data collection, analytics, and modeling software for test-based performance engineering in the core fields of noise and vibration, acoustics, and durability. This software is likely to provide a testing platform for several automotive scanning tools.
In February 2017, Vector Informatik acquired US-based Vector Software, Inc. Vector Software specializes in automated embedded software testing in multiple industries such as automotive, aerospace, medical devices, industrial controls, rail, and other critical business sectors.
In May 2018, Horiba, a leading supplier of emission measurement and automotive test systems, launched its new SERVICE-ONE concept for the portable OBS-ONE emission measuring system that is designed for Real Driving Emission (RDE) testing of vehicles. With the broad range of service offers, Horiba significantly reduces costs and downtime while increasing flexibility for customers and the reliability of test systems.

In June 2018, Horiba, a leading supplier of emission measurement and automotive test systems, and TNO, a center for applied scientific research from the Netherlands, agreed to start a collaboration on the industrialization of Smart Emission Measurement Systems (SEMS). By combining the strengths of both the organizations, new possibilities for measuring real-world driving emissions would become available through industrialization and large-scale deployment of SEMS.
Frequently Asked Questions (FAQ):
Does this report cover volume tables in addition to the value tables?
Yes, volume tables are provided for each segment except advance technology.
Which countries are considered in the European region?
The report includes the following European countries
Germany
France
Italy
Spain
UK
We are interested in the regional automotive test equipment market for electric vehicles. Does this report cover electric vehicles?
Yes, the automotive test equipment market for electric vehicles is covered at a global level. However, regional level markets can be provided as separate customization.
Does this report include the impact of COVID-19 on various segments of the automotive test equipment market?
Yes, the market includes qualitative insights on the COVID-19 impact on various segments of automotive test equipment such as vehicles, products, etc.
Does this report contain the strategies adopted by various key players in the automotive test equipment market?
Yes, the market strategies adopted by major companies in the automotive test equipment market, between 2017 and 2020, were included. .
To speak to our analyst for a discussion on the above findings, click Speak to Analyst