Post-COVID-19, the global display panel market is projected to grow from USD 107.0 billion in 2020 to USD 152.0 billion by 2025, at a CAGR of 7.3%. The estimation for 2020 is down by ~26% compared to the pre-COVID-19 estimate.
Factors that drive the growth of the post-COVID-19 display panel market include the growing acceptance of the work-from-home norm, rising focus of regional financial institutions to design fiscal policies for keeping the display market floating during the COVID-19 crisis, shifting manufacturing units to less affected regions, increasing demand for 4K and 8K displays with the availability of UHD content, surging adoption of OLED displays in smartphones and rising demand for flexible display panels, and increasing investments for the construction of new OLED and LCD panel manufacturing facilities. The booming automotive display industry and rising focus on the development of energy-efficient, attractive, and high-end-specification display products using advanced technologies such as OLED, AMOLED are some other key factors that are likely to foster the market growth.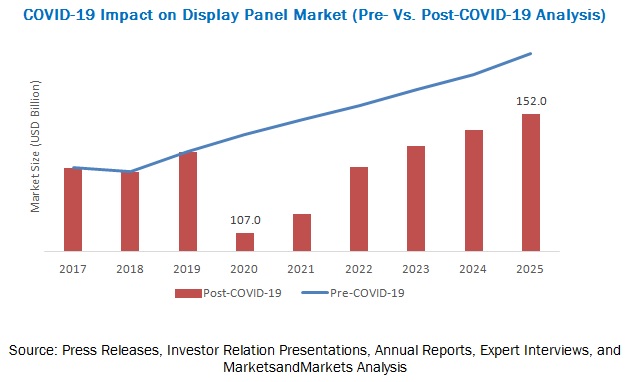 Lower capacity utilization may adversely impact demand for display panel products
The lockdown, which has resulted in bringing the economic activity to a standstill, is expected to have a greater impact in the coming 2 months with more stringent measures being adopted by the governments across the world. A prolonged lockdown could lead to the temporary shutting down of factories, which will hamper the production and shipments of goods. In the display industry, manufacturers anticipate product shipments to be delayed by more than 8 weeks. However, utilization rates have dropped significantly because of factory closures. Lower capacity utilization is a short-term impact of COVID. The normalcy is likely to rely on the directives enforced by governments as the health of citizens is of utmost importance.
Shifting manufacturing units to less affected regions is expected to propel growth of display panel market
Another short-term strategy that companies are currently undertaking is the shift in manufacturing priorities. For instance, Samsung Electronics and LG Display are shifting their manufacturing units to low-cost areas, such as Vietnam, Korea, Mexico, and other Southeast Asian countries. Automakers and consumer electronics companies have started manufacturing ventilators, masks, and preventive kits to combat the virus, as well as to minimize losses. For example, Ford has entered into a partnership agreement with 3M and GE Healthcare to manufacture respirators and ventilators to fight coronavirus.
Around 200 US companies are focusing on shifting their manufacturing base from China to India to avoid overdependency on China for raw materials. For instance, Apple, an iPhone manufacturer, plans to move some of its manufacturing units to India from China for uninterrupted production. Taipei-listed Wistron is targeting India, along with Vietnam and Mexico. Another iPhone assembler—Pegatron—has also announced its plans to kick-start manufacturing operations in Vietnam by 2021 after setting up a new plant in Indonesia. This strategy leads to higher performance and lowers supply chain risks by making supply chains more resilient.
Potential opportunities for new vendors due to localization of components in long run can mitigate risks of demand-supply
In most cases, as the factories are shut down and logistics taking time, there is a shortage in supply of display components. It is hard to presume to regularize supply until the situation comes back to normal. The whole value chain has gone for a toss. However, in some cases, factories are open but not running at their full capacity; neither they have enough resources. This would take another 3 to 4 months to normalize. Taking all these factors into consideration, display manufacturers are looking at other destinations, such as Vietnam and India, for importing components, thereby providing huge opportunities for them. Additionally, most of the companies are taking COVID-19 Impact on Display Panel Market as a wake-up call for the entire display industry to focus more on the localization of components in the long run. Again, this will generate ample opportunities for vendors to earn a significant market share in the local market. For instance, Samsung is setting up India's first smartphone display manufacturing unit on the outskirts of Delhi and has invested 3,500 crores, which would produce displays for mobile phones and IT displays. India can be considered as a preferable alternative for manufacturing low- and medium-end goods. Samsung Display is partnering with local players providing digital signage solutions to maintain its position and earn better revenue in the competitive market scenario.
Key Market Players
Samsung Display; LG Display; BOE Technology Group Co. Ltd.; AU Optronics Corp.; Innolux Corp.; Japan Display Inc.; Sharp Corp.; China Star Optoelectronics Technology; Tianma Microelectronics Co. Ltd.; and Truly International Holdings Ltd. are a few of the dominating players in the global COVID-19 Impact on Display Panel Market. Other companies involved in the development of display panels include Chunghwa Picture Tubes Ltd.; HannStar Display Corporation; Chengdu Panda Display Technology Co. Ltd; BOE Varitronix Limited; eMagin Corporation; and Kopin Corporation, Apple Inc.; Sony Corporation; E Ink Holdings Inc.; Universal Display Corporation; and JOLED Inc.
Samsung Display
Samsung Display (a subsidiary of Samsung Electronics) is primarily focused on developing display panels. The company has maintained its leading position among global display panel manufacturers and provides a wide variety of display panel products for various applications such as smartphones and TVs. The company's Display Panel division is engaged in the production of TFT-LCD and OLED panels for TVs, monitors, notebook PCs, mobile devices, and other smart display devices. The group has a widespread geographic presence in countries such as the US, Canada, Korea, and India and comprises 272 subsidiaries.
LG Display
Incorporated in 1985 and headquartered in Seoul, South Korea, LG Display is a part of LG Electronics. The company manufactures display panels for televisions, desktop monitors, notebook computers, tablet computers, mobiles, and other applications (industrial solutions, entertainment systems, automobiles, portable navigation devices, medical diagnostic equipment, etc.).
LG Display has expanded its manufacturing capabilities in recent years by installing new manufacturing plants for LCD and OLED panels. The company offers a wide range of display panels for devices such as television sets, smartphones, tablets, and notebooks, desktops, automobiles, and smart wearables.
Report Scope:
| | |
| --- | --- |
| Report Metric | Details |
| Years considered | 2017–2025 |
| Base year | 2019 |
| Forecast period | 2020–2025 |
| Forecast units | Value (USD) in million/billion |
| Product segments covered | Consumer electronics; automotive; sports & entertainment; healthcare; education; retail, hospitality, & BFSI; defense and aviation; enterprise and industrial; and others |
| Regions covered | North America, APAC, Europe, and RoW |
| Companies covered | Samsung Display; LG Display; BOE Technology Group Co., Ltd.; AU Optronics Corp.; Innolux Corp.; Japan Display Inc.; Sharp Corp.; China Star Optoelectronics Technology; Tianma Microelectronics Co., Ltd.; and Truly International Holdings Ltd. |
In this report, the global display panel market is segmented based on product and end-user industry
COVID-19 Impact on Display Panel Market ,by Product
PC, Monitors & Laptop
Tablets
Smartphones
Smart Wearables
Automotive Displays
Large Format Display
Televisions
COVID-19 Impact on Display Panel Market , by Industry
Consumer
Automotive
Sports & Entertainment
Transportation
Retail, Hospitality, & BFSI
Industrial & Enterprise
Education
Healthcare
Military, Defense, & Aerospace
Others (Telecommunications, Agriculture, and Construction)
COVID-19 Impact on Display Panel Market , by Region
North America
Europe

Germany
UK
France
Rest of Europe

Asia Pacific (APAC)

China
Japan
South Korea
Taiwan

Rest of the World (RoW)
Critical Questions:
What is the impact of COVID-19 on the display panel market and its product segments?
What are the opportunities for display panel providers?
Which end-user industry provides lucrative growth opportunities compared to others?
Will suppliers continue to explore new avenues for display panels?
Who are the top 5 players in the display panel market?
What would be the growth opportunities for the manufacturers of display panels that find applications in various industries?
What are the key industry trends in the display panel market?
To speak to our analyst for a discussion on the above findings, click Speak to Analyst