[125 Pages Report] The streaming analytics market size is expected to grow from USD 10.3 billion in 2019 to USD 35.3 billion by 2024, at a Compound Annual Growth Rate (CAGR) of 28.2% during the forecast period. Artificial Intelligence (AI), big data analysis, and the Internet of Things (IoT) are some of the emerging technologies creating possibilities for better interpretation and understanding of user behavior. The business strategic shift toward real-time, which accurately provides forecasts for faster decision making, is also expected to drive the market growth. However, inadequate system integrity is one of the factors hindering the market growth.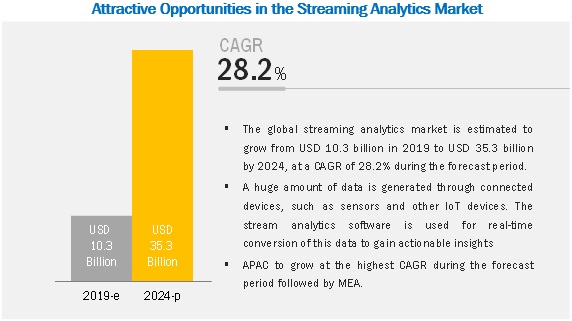 Selected Market Dynamics in Streaming Analytics Market
Emerging technologies such as big data, IoT, and AI to drive the market growth
Continuous developments in emerging technologies, such as AI, Internet of Things (IoT), big data, Machine-to-Machine (M2M) communication, and cloud technology, have created new possibilities for the investigation of information derived from streaming data. IoT devices generate a huge amount of data from various sources, such as sensors, cameras, and other connected devices. The data, however, does not provide any value by itself unless converted into actionable, contextual information. Big data and data visualization techniques enable users to gain new insights through batch processing and offline analysis. Real-time data analysis and decision-making are often done manually, but to make them scalable, it is preferred to be done automatically. Continuous analysis of data requires streaming analytics solutions that execute or update insights every few seconds or milliseconds. It processes each event, message, record, transaction, or log entry as per business priorities. AI and big data provide enterprises with frameworks and tools to analyze the real-time data and derive multiple use cases for IoT.
Lack of integrating legacy systems with big data solutions
Competitive pressures and new regulations entail organizations to handle increasing volumes and varieties of data efficiently, which is an expensive process. Therefore, storing, analyzing, and accessing data is a growing problem for organizations while implementing streaming analytics. The increasing demands of big data exceed the constraints of traditional relational databases, and thus for most organizations, evaluating legacy infrastructure and assessing new technology has become a necessity, not only to gain competitive advantage, but also for compliance purposes. Organizations find the integration of legacy infrastructure and big data challenging. The task that lies ahead of these organizations is how well they carry out the integration of legacy infrastructures with big data. Legacy systems contain significant and invaluable business logic of the organization. As the legacy systems are assets of the organizations, they cannot afford to throw away or replace this business logic. These invaluable assets of encoded "business logic" represent many years of coding, development, real-life experiences, enhancements, modifications, and debugging. Most of the legacy systems were developed without the process models or data models, and now it is needed to provide and support real-time operational intelligence with big data streaming analytics. To integrate big data into the organization's legacy system, modernization of this system is required. Legacy systems hold valuable data, which is too important to be lost in the process of modernization. However, addressing the issues and scope related to incorporating streaming analytics with legacy systems enables mature legacy systems to become a part of groundswell changes. Many areas are yet left unaddressed about the integration of big data into legacy systems. Incorporating data from new sources, specifically continuous data generating sources, into existing legacy systems is a technical drawback. Moreover, the sheer volume of big data can be daunting.
Software segment to account for a larger market size during the forecast period
The streaming analytics market, based on component, covers software and services. The software creates opportunities for organizations to better engage with their customers and clients. It further enables enterprises to identify the target audience and their preferences and choices, as well as learn about customer experience. The streaming analytics software provides enhanced functionalities, such as monitoring, customer profiling, campaign management, and demographic analysis, to improve the current policies for customer/client engagement. Moreover, streaming analytics software helps to enhance the customer experience and business profitability. The bundled software is being deployed in retail stores, hotels, restaurant, and other crowded places with footfall analytics, customer engagement, customer experience management, customer behavior analytics, and loyalty management, among others. Moreover, the advent of social streaming, which integrates real-time information from social media, is expected to help businesses deliver a seamless and personalized consumer experience via omnichannel sales approaches, to gain a competitive advantage.
Risk management to grow at the highest CAGR during the forecast period
By using advanced analytical frameworks, companies can avoid, address, or quickly recover from major risk events. The risk management application measures, quantifies, and predicts risks with the help of past data. It provides organizations with valuable insights to make better decisions and increase revenue, while reducing the risk costs. Organizations use streaming analytics solutions to enhance their risk intelligence capabilities in order to fight risk exposures. The stream processing includes identifying risks, categorizing them according to priority, and quantifying them based on historical data, information from firms, and third-party establishments. A risk management application in streaming analytics facilitates enterprises to establish a baseline for measuring risks across verticals such as banking and financial services, insurance, healthcare, and retail and consumer goods by incorporating all the facets of risks together into a single unified system that provides the key decision makers with adequate clarity in identifying, viewing, understanding, and managing the risks.
Telecommunication and IT to account for the largest market size during the forecast period
Enterprises in the telecommunications and Information Technology (IT) industry have shifted their approach to a customer-centric one and are focused on offering feature-rich customized products at competitive subscriptions and pricing. There is a tremendous increase in consumer-generated data comprising digital documents, social media content, and other digital data, such as location and activity logs, on a large scale. The telecommunication and IT industry leverages powerful cloud-based streaming analytics solutions and services to design enhanced marketing campaigns for customer acquisition and retention. Customer experience plays a vital role in the competitive business environment. It helps preserve customer loyalty and improves brand perception. Furthermore, the ever-changing customer preferences and the increasing smartphone and internet penetration are expected to further accelerate in coming years.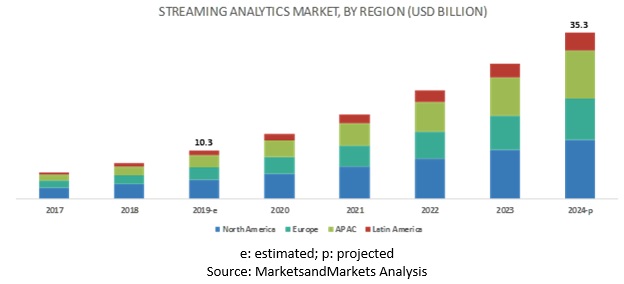 North America to account for the largest market size during the forecast period
North America is expected to account for the largest market size during the forecast period. Organizations are gradually turning customer centric, thus leading to the higher adoption of streaming analytics solutions and services, and the increasing adoption of digital business strategies are the major factors that are expected to drive the adoption of streaming analytics in North America. The streaming analytics market in North America is expected to grow steadily, as enterprises are adopting advanced analytics solutions and services at various levels as a part of their strategy to sustain in the market and achieve improved business functioning. Currently, Asia Pacific (APAC) is witnessing significant growth opportunities, owing to growing technology expenditures in major countries, such as Japan, China, and India, and the demand for cost-effective analytical software and services among Small and Medium-sized Enterprises (SMEs).
Key Streaming Analytics Market Players
The streaming analytics solution and service vendors have implemented various types of organic as well as inorganic growth strategies, such as new product launches, product upgradations, partnerships and agreements, business expansions, and mergers and acquisitions, to strengthen their offerings in the market. The major vendors offering streaming analytics solutions globally are IBM (US), Informatica (US), Microsoft (US), SAP (Germany), Software AG (Germany), SAS Institute (US), Oracle (US), Tibco (US), Impetus Technologies (US), Striim (US), WSO2 (US), Inetco (Canada), SQLStream (US), Axonize (Israel), and Espertech (US).
The study includes an in-depth competitive analysis of these key players in the streaming analytics market with their company profiles, recent developments, and key market strategies.
Scope of the Report
| | |
| --- | --- |
| Report Metrics | Details |
| Market size available for years | 2017–2024 |
| Base year considered | 2018 |
| Forecast period | 2019–2024 |
| Forecast unit | Billion (USD) |
| Segments covered | Component (Software, Services), Applications, Deployment Modes, Organization Sizes, Industry Verticals, and Regions |
| Geographies covered | North America, Europe, APAC, Latin America, and MEA |
| Companies covered | IBM (US), Oracle (US), Microsoft (US), SAP (Germany), Software AG (Germany), SAS (US), TIBCO (US), Impetus Technologies (US), Striim (US), WSO2 (US), Informatica (US), Inetco (Canada), SQLstream (US), EsperTech (US), and Axonize (Israel) |
This research report categorizes the streaming analytics market based on component, applications, deployment modes, organization sizes, industry verticals, and regions.
By Component, the Streaming Analytics Market is divided into the following segments:
Software
Services

Managed Services
Professional Services

Deployment and Integration
Support and Maintenance
By Application, the Streaming Analytics Market is divided into the following segments:
Fraud Detection
Sales and Marketing
Predictive Asset Management
Risk Management
Network Management and Optimization
Location Intelligence
Supply Chain Management
Others (Product Innovation and Customer Management)
By Deployment Mode, the Streaming Analytics Market is divided into the following segments:
By Vertical, the Streaming Analytics Market is divided into the following segments:
Banking, Financial Services, and Insurance (BFSI)
Telecommunication and Information Technology (IT)
Retail and eCommerce
Healthcare and Life Sciences
Manufacturing
Government
Energy and Utilities
Transportation and Logistics
Media and Entertainment
Others (Outsourcing Services, Travel and Hospitality, and Education)
By Region, the Streaming Analytics Market is divided into the following segments:
North America
Europe

UK
France
Germany
Spain
Rest of Europe

Asia Pacific (APAC)

China
India
Singapore
Japan
Rest of APAC

Latin America
Middle East and Africa (MEA)
Key Questions Addressed by the Report:
What are the opportunities in the streaming analytics market?
What is the competitive landscape in the market?
What are the emerging technologies impacting the overall market?
What are the key use cases existing in the market?
What are the key trends and dynamics existing in the market?
To speak to our analyst for a discussion on the above findings, click Speak to Analyst