Updated date -
[131 Pages Report] The bare metal cloud market size is estimated to grow from USD 0.87 Billion in 2016 to USD 4.71 Billion by 2021, at a CAGR of 40.1% from 2016 to 2021.
Objectives of the Study:
The main objective of the report is to define, describe, and forecast the global bare metal cloud market on the basis of components that include service types such as compute services, networking services, database services, identity & access management services, volume & object storage services, professional services, and managed services, along with organization size, verticals, and regions. The report provides detailed information regarding the major factors influencing the growth of the market (drivers, restraints, opportunities, and industry-specific challenges). The report attempts to forecast the market size with respect to the five main regions, namely, North America, Europe, Asia-Pacific (APAC), Middle East & Africa (MEA), and Latin America. The report strategically profiles key players and comprehensively analyzes their core competencies. This report also tracks and analyzes competitive developments such as joint ventures, mergers & acquisitions, and new product developments in the market.
Research Methodology:
The research methodology used to estimate and forecast the bare metal cloud market begins with the collection and analysis of data on key vendor revenues through secondary research such as annual reports & press releases, investor presentations of companies, conferences, and associations such as IEEE International Conference on High Performance and Smart Computing, NexGen Cloud Conference, and Cloud Foundry Summit, white papers such as IEEE conference paper on benchmarking bare metal cloud servers for High-Performance Computing (HPC) applications, technology journals, certified publications, and articles from recognized authors, directories, and databases. The vendor offerings have also been taken into consideration to determine the market segmentation. The bottom-up procedure was employed to arrive at the total market size of the global market from the revenue of the key bare metal cloud service providers and metal-as-a-service providers in the market. After arriving at the overall market size, the total market was split into several segments and subsegments, which were then verified through primary research by conducting extensive interviews with key people, such as CEOs, VPs, directors, and executives. The data triangulation and market breakdown procedures were employed to complete the overall market engineering process and to arrive at the exact statistics for all segments and subsegments. The breakdown of profiles of primary is depicted in the figure given below: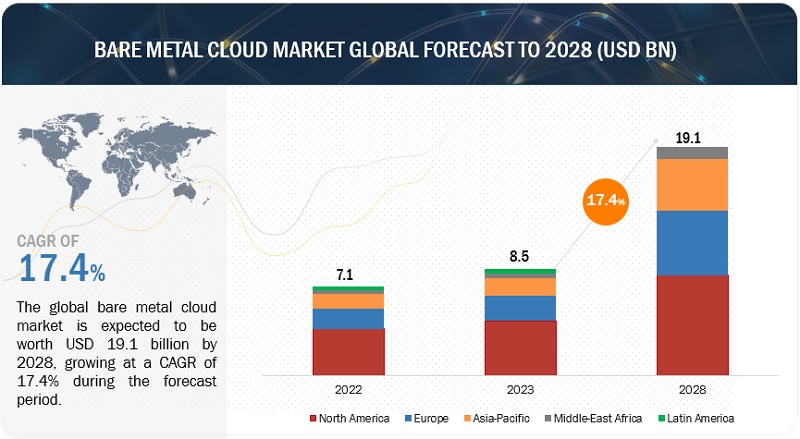 To know about the assumptions considered for the study, download the pdf brochure
The bare metal cloud market ecosystem comprises vendors providing bare metal cloud solutions and services to their commercial clients. Companies such as IBM Corporation (U.S.), Oracle Corporation (U.S.), CenturyLink, Inc. (U.S.), Internap Corporation (U.S.), and Rackspace Hosting, Inc. (U.S.) have adopted new partnerships, agreements, and collaborations as their key strategy to enhance their market reach. This strategy accounted for the largest share of the total strategies adopted by the market players.
Key Target Audience
Bare metal cloud providers
Application developers
Managed service providers
Third party system integrators
Metal-as-a-service providers
Bare metal hardware vendors
Regulatory agencies
Government
"Study answers several questions for the stakeholders, primarily which market segments to focus in next two to five years for prioritizing the efforts and investments".
Scope of the Report
| | |
| --- | --- |
| Report Metrics | Details |
| Market size available for years | 2016-2021 |
| Base year considered | 2016 |
| Forecast period | 2016-2021 |
| Forecast units | Value (USD) |
| Segments covered | Service Type, Professional Service Type, Organization Size, Vertical, and Region |
| Geographies covered | North America, Europe, Asia Pacific, Middle East & Africa, Latin America |
| Companies covered | IBM Corporation (U.S.), Oracle Corporation (U.S.), CenturyLink, Inc. (U.S.), Internap Corporation (U.S.), Rackspace Hosting, Inc. (U.S.), Packet (U.S.), Bigstep (U.K.), Dell Technologies, Inc. (U.S.), Scaleway Corporation (France), Spotinst (Israel) , Joyent Corporation (U.S.), and Strom (U.S.) |
The research report segments the bare metal cloud market into the following submarkets:
Market By Service Type
Compute services
Networking services
Database services
Identity and access management services
Volume and object storage services
Professional services
Managed services
Bare Metal Cloud Market By Professional Service Type:
Business consulting services
Implementation services
Training and support services
Market By Organization Size:
Small and medium-sized enterprises
Large enterprises
Market By Vertical:
Banking, financial services, and insurance
Government
IT and telecommunication
Healthcare
Retail
Manufacturing
Others
Bare Metal Cloud Market By Region:
North America
Europe
APAC
MEA
Latin America
Available Customizations
With the given market data, MarketsandMarkets offers customizations as per the company's specific needs. The following customization options are available for the report:
Geographic Analysis
Further breakdown of the MEA market
Further breakdown of the Latin America market
Company Information
Detailed analysis and profiling of additional market players
Critical need for reliable load balancing of data-intensive and latency-sensitive operations to drive the global bare metal cloud market to USD 4.71 billion by 2021
Bare metal cloud servers are non-virtualized cloud alternatives, primarily implemented to enhance the storage capacity, and data-intensive computing operations, and to deliver high performance workloads across heterogeneous platforms. These servers combine the elasticity and utility of public clouds with the accuracy in operations, enabling stringent control, along with security and predictability of the on-premises infrastructure. These servers are instrumental in delivering high performance, high availability, and cost-effective infrastructure services, along with operations of high degree of Platform-as-a-Service (PaaS) and Software-as-a-Service (SaaS) applications. A bare metal cloud server is dedicated to a or a single tenant, using a subscription model of pricing, depending upon the type of server configuration specified by the tenant and delivers it through Metal-as-a-Service (MaaS) model. In the bare metal cloud, workloads are deployed onto servers, which are pre-configured with a suitable Operating System (OS), matching to the specifications of the client inclusive of storage requirements in accordance with performance capacity. Bare metal cloud is primarily segregated into five different types of services, such as, compute services, networking services, Identity and Access Management (IAM) services, database services, and volume & object storage services. Compute services includes mission-critical applications, performs data-intensive computing operations, large Random Access Memory (RAM) & Non-Volatile Memory express (NVMe), and Solid State Drives (SSDs).
The rapid urbanization, technological advancements, upsurge in smart devices, and high use of complex customer data are driving the data-intensive and latency sensitive computing operations in commercial enterprises. These multifaceted operations create heavy load on traditional storage devices causing latency and thereby resulting in low throughput. Moreover, it becomes critical to manage and cope with the associated computing, networking, and database needs required for processing heavy workloads on a SaaS based model. Load balancing improves the distribution of additional workloads, across the bare metal cloud servers to enable smoother functioning and allocation of resources to multiple processes. Load balancing solutions allow ease in configurability and flexibility to manage traffic and resource usage across server nodes in the real-time end user environment. Hence, it becomes critical to deploy reliable load balancing operations, over cloud.
Rise in need for bare metal cloud for big data, DevOps, microservices, and batch processing creates major opportunities in the bare metal cloud market
Increase in importance of data capture, data curation, search, sharing, storage, transfer, visualization, and querying, enabled big data technology. These data sets are very large and complex, due to which traditional data processing applications and cloud infrastructure are not adequate to deal with. Higher degree of compute operations for large datasets requires significant processing power and storage, which cannot be offered by traditional virtualized cloud infrastructure. The advent of artificial intelligence will boost the deployments of bare metal servers across multitude of vertical markets attributed to the fact that AI requires large data sets ad significant processing and I/O power. DevOps, institutes an environment in which, building, testing, and releasing software can happen frequently, rapidly, securely, and reliably. DevOps also upholds a set of processes and methods for the communication and collaboration between development, QA, and IT operations. These DevOps can be effectively practiced with the help of specific software applications and Architecturally Significant Requirements (ASRs), such as, deployment ability, modifiability, testability, and monitoring ability. Adoption of bare metal infrastructure in DevOps can significantly reduce the time to develop and deploy an application and at the same time incorporating requisites for quality management and strategic business initiatives alignment.
Microservices is a specialized implementation approach for Service-Oriented Architectures (SOA), which are used to build flexible and independently deployable software systems. Specialized services in microservices communicate with each and over a network, to achieve a specific goal or objective. Adoption of bare metal servers in creating microservices will result in faster processing of applications and processes across heterogeneous platforms and OS by just installing single agent to do the latter without incurring a VM tax. Bare metal services can easily fulfill such high-performance needs. Additionally, batch processing applications such as Apache Hadoop was designed to handle the complex and critical processes pertaining to large datasets. Most of the bare metal vendors offer higher computing power and storage resources for processing of large datasets across applications and multiple heterogeneous platforms.
Bare Metal Cloud Market: Market Dynamics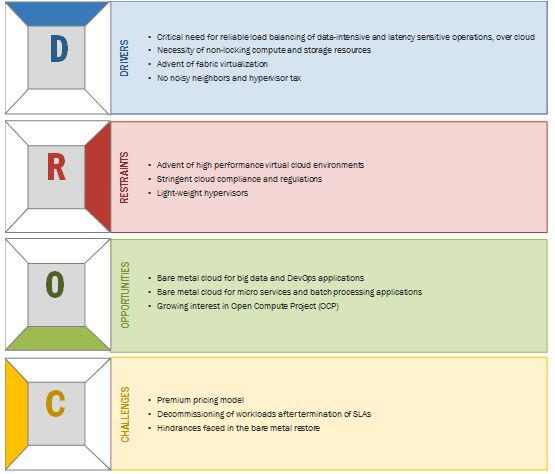 Bare metal cloud is emerging as a reliable Infrastructure-as-a-Service (IaaS) alternative, instrumental in combining the characteristics of both traditional hosting and IaaS for delivering high-performance workloads. Bare metal servers are dedicated to a specific tenant, which is implemented to reduce the capex required for IT infrastructure. There has been significant adoption of bare metal servers, which are attributed to the major driving factors such as critical need for reliable load balancing of data-intensive & latency-sensitive operations, necessity of non-locking compute & storage resources, and advent of fabric virtualization.
Bare metal cloud offers key characteristics, such as on-demand capacity, pay-as-per pricing, and self-automated service to the commercial customers. In addition, it offers major advantages, such as hyper-scalability & flexibility, majorly used for big data applications, artificial intelligence applications, and latency-sensitive high-data transaction workloads. Moreover, bare metal cloud offers on-demand access to high-performance-dedicated servers by deploying and provisioning bare metal cloud instance via a web portal or application programming interface, which is flexible in nature and easy to deploy & manage over the web.
This market is segmented on the basis of service type, professional service, user type, and vertical. The identity and access management service type is expected to dominate the bare metal cloud market, at the highest Compound Annual Growth Rate (CAGR) during the forecast period as it is a crucial service for bare metal cloud that majorly governs the IT resource access and optimizes the physical security of the bare metal cloud servers and storages.
The implementation services segment of market is estimated to grow at the highest rate during the forecast period as they are essential for the deployment of bare metal cloud services on the customer premises. The implementation services initiate with the process of critical examination of business requirements and end with the monitoring or maintaining of deployed solutions at the client locations. In implementing bare metal servers, it is mandatory for the service providers to meet the required service-level agreements to offer reliable services to their commercial clientele.
This study also includes the recent developments, new product launches, and acquisitions of major bare metal cloud market players. It also measures and evaluates the major offerings and key strategies of major vendors such as IBM Corporation, Oracle Corporation, CenturyLink, Inc., Internap Corporation, Rackspace Hosting, Inc., and Packet and key innovators such as Dell Technologies, Inc., Packet, Bigstep, Spotinst, Joyent, Inc., Scaleway Inc., and Strom.
North America is expected to hold the largest market share and would dominate the bare metal cloud market from 2016 to 2021. This region has the major dominance with sustainable and well-established economies, empowering them to strongly invest in the Research and Development (R&D) activities, thereby contributing to the development of new technologies such as Internet of Things (IoT), big data, DevOps, mobility, and social media. European market is growing at a fast pace, owing to the major cloud initiatives taken by various countries such as the U.K. (CloudFirst), Germany (Trusted Cloud), and Spain (Public Sector Cloud Initiatives).
Asia-Pacific is estimated to grow at the highest CAGR during the forecast period in the bare metal cloud market, which is attributed to the major cloud initiatives taken in the region by the Australian government to reduce the duplication and fragmentation of data and "G-Cloud" initiative taken by the Singapore government to provide software-as-a-service and IaaS along with the use of bare metal servers.
The stringent cloud regulations and easy availability of lightweight hypervisors in the market are the major restraining factors for the global market.
There are several established players in this bare metal cloud market such as IBM Corporation (U.S.), Oracle Corporation (U.S.), CenturyLink, Inc. (U.S.), Internap Corporation (U.S.), and Rackspace Hosting, Inc. (U.S.). To further strengthen their position in the market, the major vendors have opted partnerships, agreements, and collaborations to integrate their offerings and jointly develop products and services for the commercial clients in the market.
Critical need for reliable load balancing of data-intensive and latency sensitive operations, necessity of non-locking compute and storage resources, advent of fabric virtualization, and no noisy neighbors and hypervisor tax are the major factors driving the growth of bare metal cloud market.
Organizations across all the verticals have been deploying bare metal cloud services, which enable load balancing to improve the distribution of workloads, customize networks for extensive performance, ensure high security of data, provide multiple database homes on a single server, optimize IT resource access & physical security, and achieve strategic business initiatives.
Banking, financial services, and insurance
The BFSI vertical predominantly requires bare metal cloud services for critical need of high security and data protection during online banking, secure transactions, and access violations. In addition, banking solutions require high-end proactive processing, as managing banking operations is very different and critical.
In the BFSI vertical, analytics is one of the most important requirements which allows integration of customer data across banking silos to enable real-time insights and decision making. The solutions improve the institutional view of customers, enable better CRM, mitigate fraud and operational risks, and improve customer service and experience. Bare metal servers can meet all the banking needs. In addition, the BFSI sector requires scalable storage infrastructure to ensure high performance for real-time trading and enable policy-driven data archival to address compliance, while supporting growing storage needs for managing large data sets from multiple sources.
Banking organizations need access to worldwide, high performing, and resilient deployment of collaboration applications. To solve this impediment, bare metal cloud vendors provide bare-metal servers with high RAM and CPU, which deliver high-performing infrastructure on demand.
Government
The government sector is one of the early adopters of bare metal cloud because of its heavy requirement of storage and complex servers. Government IT environments are becoming exponentially more complex with growing volumes of transactions, virtualized infrastructures, and mobile applications. Therefore, the government sector requires new approaches that can help them to efficiently monitor and operate servers and storages. Bare metal cloud services empower government IT teams to work effectively even in the most complex and dynamic environments.
The content exchange in the government sector is highly classified and undisclosed. Government agencies handle highly secured and private data of individuals, departments, processes, and agencies. Government agencies are subject to strict security policies and regulations, owing to the critical and secret nature of data. Thus, the need for higher control and visibility is evident.
Government agencies need to collaborate in a better fashion to ensure the migration and preserve the integrity of data. Better management of IT infrastructure to support resource sharing ensures better security compliance controls and classified content security structure. The volume of data generated in government agencies is huge and subject to high scrutiny. Moreover, the government agencies are subject to stringent security standards and strict audit policies.
Healthcare
Healthcare is a highly-regulated industry, where new systems and regulations are strictly followed. Health related data of patients are highly secure and need to be handled with attention. In the healthcare, vertical, the safety and security standards such as Health Insurance Portability and Accountability Act (HIPPA) should be followed. The bare metal cloud providers create HIPAA-compliant environment for various bare metal services such as compute services, networking services, database services, and identity and access management services. In this way, bare metal cloud can provide the necessary control over data location and keep it segregated within a well-defined, secure physical environment.
Retail
The retail industry is driven by its flexible needs in back-end systems and front-end applications, such as mobile inventory tracking delivered on cloud-based platforms. Retail is also a relatively early adopter of social and mobile tools, which generate an enormous volume of customer data. The analytics technology required to analyze this big data and gain insights into customer behavior requires performance-oriented IT infrastructure and software. Retailers are more open to consider cloud services and they understand that analyzing big data requires significant computing power. Bare metal servers provide the required high computing and analyzing power, unlike hypervisors. On the contrary, retail organizations do not necessarily need such high levels of computing power all the time, hence bare metal cloud providers offer an innovative pricing structure that allows retailers to pay per hour.
Manufacturing
Compared to other verticals, the manufacturing vertical is not known for high investment in advanced IT Infrastructure services. Yet, despite close-fitting budgets, some manufacturers have been deploying bare metal cloud computing software because it can reduce capital expenditures and IT labor costs. Besides cost savings, cloud computing benefits typically include quicker deployment and superior ease of use. The effective use of high-level computing services can also improve the sales and marketing capabilities of manufacturers as well. Production handling software, supply chain, distribution, and services are few other important tasks of the manufacturing vertical, where high capability storages and fast processing servers are required.
IT and Telecom
Consumers of IT and telecommunication industries are increasingly using Information Communication Technology (ICT) services, from emails and word processing to online music and social networking. The heavy use of IT and telecommunication services generates substantial amount of digital data. In addition, the effective storage and management of such information requires high capacity and fast processing servers.
IT service providers handle the critical data from various industries such as BFSI, healthcare, education, and government & defense. The companies have to follow the security standards and regulations such as HIPPA standards in healthcare, PCI DSS standards for credit card related information, GLBA, SOX/J-SOX, NCUA, data privacy, and data residency laws. Companies require high security infrastructure to manage these standards. Hence, companies are adopting bare metal cloud in the IT industry.
Telecommunication companies are adopting bare metal cloud services to use its features such as advanced security and pay-per-use business model. Managing personal information of customers and telecommunication switching operations are few of the most demanding tasks that require high capacity servers, secure storages, and high capability data analytics. Adoption of bare metal cloud services fulfills all these requirements.
Others
Others segment includes media & entertainment, energy & utilities, automotive, transportation, logistics tracking, and education are the top contributors. The others vertical segment of the bare metal cloud market is expected to grow at a decent pace as compared to the rest of the verticals. After the advent of high-definition videos and advances in the way video content is delivered to consumers, the media and entertainment industry has to deal with heavy workloads. In addition, data-intensive operations are required to analyze the media content. Hence, this vertical is expected to grow at a significant pace. The organizations in the energy and utilities vertical of UAE, Saudi Arabia, and Turkey have taken a proactive approach in implementing and adopting bare metal cloud services to manage their data. Automotive, transportation, and logistics tracking vertical are also leading adopters of bare metal cloud services. Moreover, starting from the delivery of education to managing resources, students, and administration activities to online education, lead to greater overall adoption of the bare metal cloud compute services.
Key questions
Which are the substitute service for bare metal cloud and how big is the threat from them?
Which are the top use cases where bare metal cloud can be implemented for revenue generation through new advancements such as artificial intelligence, IoT, and cloud computing?
What should be your go-to-market strategy to expand the reach into developing countries across APAC, MEA, and Latin America?
To speak to our analyst for a discussion on the above findings, click Speak to Analyst