Particle Therapy Market
Particle Therapy Market by Type (Proton Therapy, Heavy Ion), Products (Cyclotron, Synchrotron, Synchrocyclotron), Services, System (Single-room, Multi-room), Cancer Type (Pediatric, Prostate), Application (Treatment, Research) - Global Forecast to 2028
Report Code: MD 6747
Nov, 2023, by marketsandmarkets.com
The global particle therapy market in terms of revenue was estimated to be worth $0.7 billion in 2023 and is poised to reach $1.1 billion by 2028, growing at a CAGR of 8.2% from 2023 to 2028. The new research study consists of an industry trend analysis of the market. The new research study consists of industry trends, pricing analysis, patent analysis, conference and webinar materials, key stakeholders, and buying behaviour in the market. The rise of particle therapy can be seen due to the following drivers -particle therapy can reduce the risk of long-term side effects. The ability to spare healthy tissues from unnecessary radiation exposure is especially important for improving the quality of life for cancer survivors; Technological advancements have made particle therapy more accessible and cost-effective. The development of compact and less expensive proton therapy systems has contributed to the expansion of particle therapy facilities, and increased availability of treatment centers among others.
Attractive Opportunities in the Particle Therapy Market
To know about the assumptions considered for the study, Request for Free Sample Report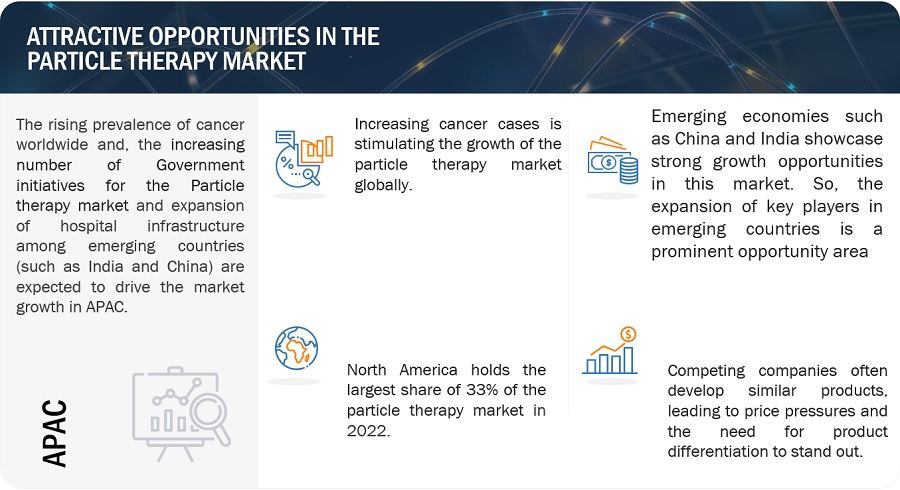 Particle therapy market: Market Dynamics
Driver: Growing global prevalence of cancer
Global demand for particle therapy (heavy-ion and proton therapy) is being driven largely by the rising incidence of cancer. The American Cancer Society estimates that there will be about 1.9 million new cancer cases diagnosed in the United States in 2021. According to estimates from the World Cancer Research Fund, there will be 19.3 million new cases of cancer worldwide in 2021; by 2035, this number is predicted to rise by 24 million. Consequently, the market for particle therapy will expand in tandem with the rising incidence of pediatric cancer.
Increasing number of particle therapy centers worldwide
The number of particle therapy centers is increasing globally. At the beginning of 2020, there were 37 proton therapy centers in the US alone and a total of 89 worldwide (Source: HealthPACT). From 2010 to 2016, 16 of a total of 23 proton treatment centers (70%) in the US began operations, showing an increase in the number of proton centers in the country.
Growing government initiatives toward establishing particle therapy centers across regions are also driving the adoption of particle therapy as an alternative to traditional radiation therapy for cancer. The second NHS center is currently being built at University College London Hospitals (UCLH), which will gradually ramp up proton beam therapy activity during 2021. When complete, the two centers will each treat up to 750 patients every year.
Restraint: Affordability and accessibility of treatments
Particle therapy demands sophisticated machinery in addition to additional services like dose management software, customized treatment planning, and patient positioning. The involvement of numerous healthcare professionals throughout the entire treatment cycle raises the procedure's overall cost. In addition to having extremely sophisticated features and functionalities for treating various cancers, particle systems are also highly expensive. It becomes challenging for small hospitals and institutions to make such a large capital investment in a particle therapy center, particularly in low- and middle-income nations. Consequently, despite the rising incidence of cancer, the adoption rate of these devices is low.
Unfavorable reimbursement policies and limited insurance coverage for particle therapy
Proton beam therapy and heavy-ion therapy are both increasingly gaining acceptance as either the first modes of treatment or combination therapies with other methods of cancer treatment, including chemotherapy, proton therapy, and surgery. However, particle therapy treatments lack proper reimbursements in developed and developing countries, which is a major factor restraining the growth of this market.
Opportunity: Rising healthcare expenditure across developing countries
In several developing nations, including China, India, Brazil, and Mexico, there is a likelihood that access to high-quality healthcare will increase due to their swift economic growth and rising healthcare spending. This is regarded as a sign of strength for the particle therapy industry. The need for different particle therapy tools and methods is increasing as a result of the increased cancer incidence in these nations. Furthermore, the governments of these nations are concentrated on expanding access to modern and cutting-edge healthcare services for greater segments of their populations and enhancing reimbursement coverage. The expansion of healthcare products (including oncology devices) across these nations is being driven by the quick increase in per-capita healthcare spending as well as the growing public demand for affordable healthcare services. The overall rise in healthcare spending serves as evidence of this. For instance, between 2019 and 2020, India's healthcare spending rose from 1.2% to 2.5% of GDP. Due to government spending increases in the healthcare sector during the COVID-19 pandemic, healthcare spending in China has increased by 12.6% to approximately USD 930 billion. [Source: Asia's Healthcare]
Challenge: Increasing risk of radiation exposure
The elevated risk of radiation exposure is one of the main obstacles to using particle therapy to treat cancer. The high radiation doses associated with therapeutic exposures carry the risk of harming not only the patients choosing the course of treatment, but also the medical staff and those in the immediate vicinity in the event of an unintentional radiation exposure. Nausea, vomiting, and diarrhea are just a few of the negative effects that could arise from this. Comparably, a high dose of radiation received all at once can result in radiation sickness and even death.
Particle Therapy Market Ecosystem
Major companies in this market include well-established and financially stable suppliers of particle therapy market. Prominent companies in this market include Varian Medical Systems, Inc.(US) IBA Worldwide(EU) and Hitachi (Japan), among several others.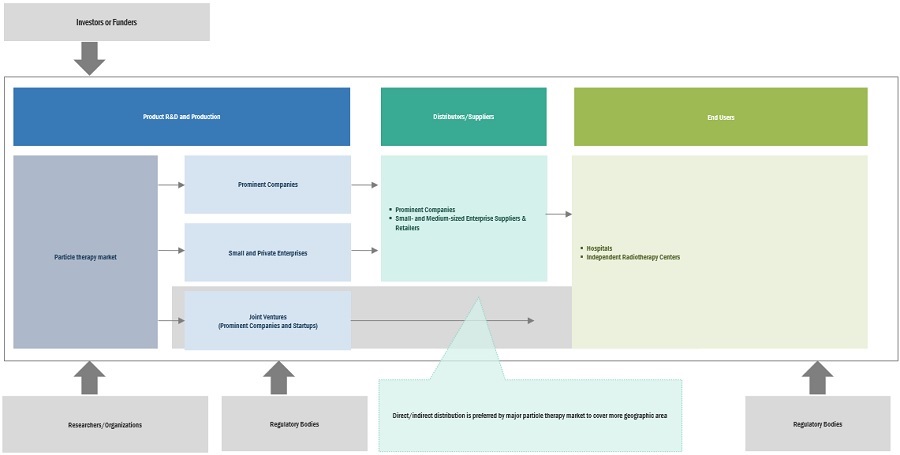 The Products segment of the particle therapy industry is witnessed to grow at the highest CAGR during the forecast periods 2022-2028.
By Product& Services, the Product segment accounted for the largest share of the particle therapy market in 2022. Particle therapy is one of the most popular alternative treatment procedures for radiation therapy. With particle therapy systems, the precise delivery of the radiation dose to the required tumor site is achieved. Particle therapy products include particle accelerators that are used to deliver proton therapy or heavy-ion therapy.
The Pediatric cancer-type segment accounted for the highest CAGR of the particle therapy industry in 2022-2028
Based on the cancer type, the particle therapy market is segmented into pediatric cancers, prostate, cancer, lung cancer, head and neck cancer, and other cancers. Pediatric cancer accounted for the largest share in 2022 due to reasons like genetic predisposition, and immature immune system. In children, normal healthy cells are more vulnerable to ionized particles owing to the high rate of mitosis. It is, therefore, crucial to aim radiation beams only at the tumor to lower the risk of side effects, such as cognitive impairments, radiation-induced tumors, cardiac damage, and other complications later in the lifetime. As protons can be controlled precisely, proton therapy is ideal for pediatric tumors located near growing tissues in the spinal cord, brain, eyes, ears, or mouth.
Treatment application for the highest growth rate of the particle therapy industry in 2022-2028
The application segment of the particle therapy market is divided into treatment application and research application. Treatment applications accounts for the largest share in the particle therapy market in 2022. The growing number of cancer patients, increasing government initiatives aimed at equipping or upgrading hospitals with newer and advanced radiotherapy systems, increasing availability of funding for the adoption of advanced cancer treatment technologies, and the rising adoption of particle therapy devices & procedures as a primary treatment option globally are factors driving the growth of this segment
North America is expected to be the largest market for the particle therapy industry during the forecast period.
In 2022, the US and Canada accounted for the majority of the particle therapy market in North America. North America offers the perfect environment for the adoption of cutting-edge treatment methodologies like particle therapy market due to its robust healthcare infrastructure and availability of cutting-edge medical technologies. In the healthcare industry, research and development are prioritized heavily in North America. Proton therapy is one of the many medical technologies being advanced by a plethora of research institutes, medical schools, and private businesses.Access to cutting-edge treatments is made easier in North America by the widespread availability of health insurance and coverage. For patients seeking proton therapy and other cutting-edge medical services, this lowers financial barriers.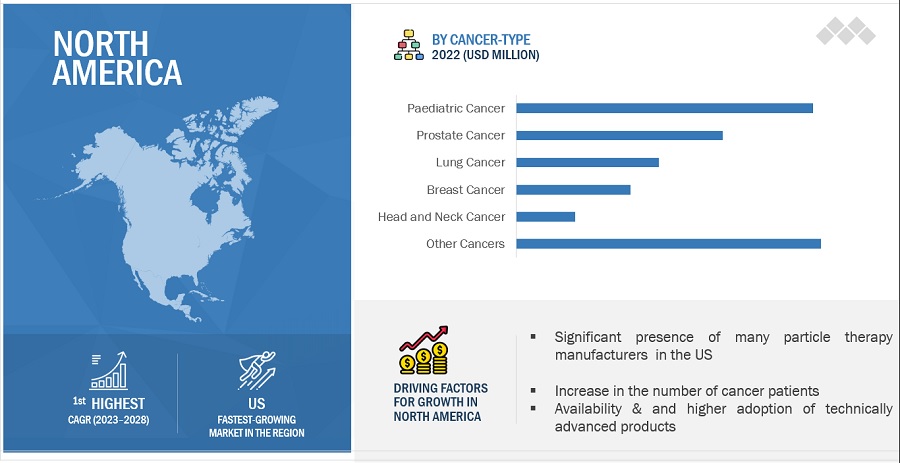 To know about the assumptions considered for the study, download the pdf brochure
As of 2022, prominent players in the market are IBA Worldwide (EU), Varian Medical Systems (US), and Hitachi (Japan), among others.
Scope of the Particle Therapy Industry
| | |
| --- | --- |
| Report Metric | Details |
| Market Revenue in 2023 | $0.7 billion |
| Projected Revenue by 2028 | $1.1 billion |
| Revenue Rate | Poised to Grow at a CAGR of 8.2% |
| Market Driver | Growing global prevalence of cancer |
| Market Opportunity | Rising healthcare expenditure across developing countries |
This report has segmented the global particle therapy market to forecast revenue and analyze trends in each of the following submarkets:
By Type
Proton therapy
Heavy-Ion therapy
By Product & Services
By System
Multi-room systems
Single-room systems
By Application
Treatment application
Research application
By Cancer-type
Paediatric Cancer
Lung Cancer
Breast cancer
Head and
Other cancers
By Region
North America
Europe

Germany
France
UK
Italy
Spain
Rest of Europe

Asia Pacific

Japan
China
India
Australia
South Korea
Rest of Asia Pacific

Latin America
MEA
Frequently Asked Questions (FAQ):
What is the projected market revenue value of the global particle therapy market?
The global particle therapy market boasts a total revenue value of $1.1 billion by 2028.
What is the estimated growth rate (CAGR) of the global particle therapy market?
The global particle therapy market has an estimated compound annual growth rate (CAGR) of 8.2% and a revenue size in the region of $0.7 billion in 2023.
To speak to our analyst for a discussion on the above findings, click Speak to Analyst
TABLE OF CONTENT
1 INTRODUCTION
1.1 OBJECTIVES OF THE STUDY
1.2 MARKET DEFINITION
1.2.1 KEY INCLUSIONS & EXCLUSIONS
1.3 RESEARCH SCOPE
1.3.1 SEGMENTS COVERED
1.3.2 GEOGRAPHIC SCOPE
1.3.3 YEARS CONSIDERED FOR THE STUDY
1.4 CURRENCY USED FOR THE STUDY
1.5 MAJOR MARKET STAKEHOLDERS
1.6 SUMMARY OF CHANGES
1.6.1 RECESSION IMPACT
2 RESEARCH METHODOLOGY
2.1 RESEARCH DATA SOURCES
2.1.1 SECONDARY DATA
2.1.2 PRIMARY DATA
2.2 MARKET SIZE ESTIMATION METHODOLOGY
2.3 MARKET SHARE ESTIMATION METHODOLOGY
2.4 MARKET BREAK DOWN AND DATA TRIANGULATION
2.5 RESEARCH ASSUMPTIONS
2.6 RESEARCH LIMITATIONS
2.6.1 SCOPE RELATED LIMITATIONS
2.6.2 METHODOLOGY RELATED LIMITATIONS
2.7 RISK ASSESSMENT
2.8 RECESSION IMPACT ASSESSMENT APPROACH
3 EXECUTIVE SUMMARY
4 PREMIUM INSIGHTS
5 MARKET OVERVIEW
5.1 MARKET DYNAMICS
5.1.1 MAJOR DRIVERS
5.1.2 KEY RESTRAINTS
5.1.3 KEY GROWTH OPPORTUNITIES
5.1.4 INDUSTRY-SPECIFIC CHALLENGES
5.2 REGULATORY LANDSCAPE
5.2.1 REGULATORY BODIES, GOVERNMENT AGENCIES AND OTHER ORGANIZATIONS
5.2.2 REGULATORY TRENDS
5.3 VALUE CHAIN ANALYSIS
5.4 SUPPLY CHAIN ANALYSIS
5.5 ECOSYSTEM MARKET MAP
5.6 TECHNOLOGY MAP
5.7 TRADE DATA
5.8 PATENT DATA
5.9 REIMBURSEMENT SCENARIO
5.10 CASE STUDY ANALYSIS
5.11 PORTER'S FIVE FORCE ANALYSIS
5.12 PRICING ANALYSIS
5.12.1 AVERAGE SELLING PRICE OF KEY PLAYERS BY PRODUCT
5.12.2 AVERAGE SELLING PRICE TRENDS, BY REGION
5.13 KEY CONFERENCES AND EVENTS IN 2023-24
5.14 KEY STAKEHOLDERS AND BUYING CRITERIA
5.14.1 KEY STAKEHOLDERS IN THE BUYING PROCESS
5.14..2 BUYING CRITERIA
6 PARTICLE THERAPY MARKET, BY PRODUCT & SERVICE (USD MILLION; 2021—2028)*
6.1 PRODUCTS
6.1.1 CYCLOTRONS
6.1.2 SYNCHROTRON
6.1.3 SYNCHROCYCLOTRONS
6.2 SERVICES
7 PARTICLE THERAPY MARKET, BY TYPE (USD MILLION; 2021—2028)*
7.1 PROTON THERAPY
7.2 HEAVY ION THERAPY
8 PARTICLE THERAPY MARKET, BY SYSTEM (USD MILLION; 2021—2028)*
8.1 MULTI-ROOM SYSTEMS
8.2 SINGLE-ROOM SYSTEMS
9 PARTICLE THERAPY MARKET, BY APPLICATION (USD MILLION; 2021—2028)*
9.1 TREATMENT APPLICATIONS
9.2 RESEARCH APPLICATIONS
10 PARTICLE THERAPY MARKET, BY CANCER TYPE (USD MILLION; 2021—2028)*
10.1 PEDIATRIC CANCER
10.2 PROSTATE CANCER
10.3 LUNG CANCER
10.4 BREAST CANCER
10.5 HEAD AND NECK CANCER
10.4 OTHER CANCER
11 PARTICLE THERAPY MARKET, BY REGION (USD MILLION; 2021—2028)*
11.1 NORTH AMERICA
11.1.1 RECESSION IMPACT
11.1.2 US
11.1.3 CANADA
11.2 EUROPE
11.2.1 RECESSION IMPACT
11.2.2 GERMANY
11.2.3 UK
11.2.4 FRANCE
11.2.5 ITALY
11.2.6 SPAIN
11.2.7 REST OF EUROPE
11.3 ASIA-PACIFIC
11.3.1 RECESSION IMPACT
11.3.2 JAPAN
11.3.3 CHINA
11.3.4 INDIA
11.3.5 SOUTH KOREA
11.3.6 AUSTRALIA
11.3.7 REST OF ASIA-PACIFIC
11.4 LATIN AMERICA
11.4.1 RECESSION IMPACT
11.4.2 BRAZIL
11.4.3 MEXICO
11.4.4 REST OF LATIN AMERICA
11.5 MIDDLE EAST AND AFRICA
11.5.1 RECESSION IMPACT
12 COMPETITIVE LANDSCAPE
12.1 OVERVIEW
12.2 KEY PLAYER STRATEGIES/RIGHT TO WIN
12.3 REVENUE ANALYSIS OF KEY PLAYERS (2022)
12.4 MARKET SHARE ANALYSIS FOR TOP 5 GLOBAL PLAYERS (IN TERMS OF %REVENUE, IN 2022)
12.5 COMPANY EVALUATION MATRIX
12.5.1 STARS
12.5.2 EMERGING LEADERS
12.5.3 PERVASIVE PLAYERS
12.5.4 PARTICIPANTS
12.5.5 COMPANY FOOTPRINT
12.6 SME/START-UP EVALUATION MATRIX
12.6.1 PROGRESSIVE COMPANIES
12.6.2 RESPONSIVE COMPANIES
12.6.3 DYNAMIC COMPANIES
12.6.4 STARTING BLOCKS
12.6.5 COMPETITIVE BENCHMARKING
12.7 COMPETITIVE SITUATION AND TRENDS (2021-2023)
12.7.1 PRODUCT LAUNCHES
12.7.2 AGREEMENTS, PARTNERSHIPS, AND COLLABORATIONS
12.7.3 MERGERS & ACQUISITIONS
12.7.4 EXPANSIONS
13 COMPANY PROFILES**
(Business Overview, Products Offered, Industry-specific Developments for 2021-2023)***
13.1 KEY COMPANIES
13.1.1 VARIAN MEDICAL SYSTEMS,INC. (US)
13.1.2 MEVION MEDICAL SYSTEMS (US)
13.1.3 IBA WORLDWIDE(US)
13.1.4 SUMITOMO HEAVY INDUSTRIES LTD.(JAPAN).
13.1.5 BIOSIG TECHNOLOGIES, INC..
13.1.6 HITACHI, LTD.(JAPAN)
13.1.7 TOSHIBA MEDICAL SYSTEMS CORPORATION (JAPAN)
13.1.8 PROVISION HEALTHCARE, LLC (US )
13.1.9 OPTIVUS PROTON THERAPY INC. (US)..
13.1.10 PROTOM INTERNATIONAL(US)
13.1.11 ADVANCED ONCOTHERAPY (UK)
13.1.12 DANFYSIK A/S (Germany).
13.1.13 P-CUREA (US/ISRAEL).
13.1.14 ELKETA..
13.2 OTHER PLAYERS
14 APPENDIX
This study involved the extensive use of both primary and secondary sources. The research process involved the study of various factors affecting the industry to identify the segmentation types, industry trends, key players, competitive landscape, key market dynamics, and key player strategies.
Secondary Research
The secondary research process involves the widespread use of secondary sources, directories, databases (such as Bloomberg Businessweek, Factiva, and D&B Hoovers), white papers, annual reports, company house documents, investor presentations, and SEC filings of companies. Secondary research was used to identify and collect information useful for the extensive, technical, market-oriented, and commercial study of the particle therapy market. It was also used to obtain important information about the key players and market classification & segmentation according to industry trends to the bottom-most level and key developments related to market and technology perspectives. A database of the key industry leaders was also prepared using secondary research.
Primary Research
In the primary research process, various sources from both the supply and demand sides were interviewed to obtain qualitative and quantitative information for this report. The primary sources from the supply side include industry experts such as CEOs, vice presidents, marketing and sales directors, technology & innovation directors, and related key executives from various key companies and organizations in product therapy markets. The primary sources from the demand side include medical OEMs, Analytical instrument OEMs, CDMOs, and service providers, among others. Primary research was conducted to validate the market segmentation, identify key players in the market, and gather insights on key industry trends & key market dynamics.
A breakdown of the primary respondents is provided below: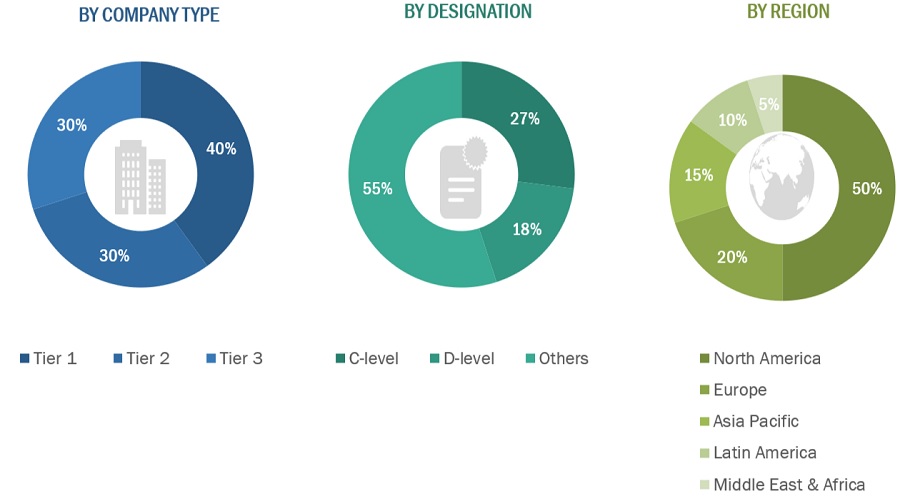 *Others include sales managers, marketing managers, business development managers, product managers, distributors, and suppliers.
Note: Companies are classified into tiers based on their total revenue. As of 2021, Tier 1 = >USD 2 billion, Tier 2 = USD 50 million to USD 2 billion, and Tier 3 = <USD 50 million.
To know about the assumptions considered for the study, download the pdf brochure
Market Estimation Methodology
In this report, the global particle therapy market size was arrived at by using the revenue share analysis of leading players. For this purpose, key players in the market were identified, and their revenues from the particle therapy market business were determined through various insights gathered during the primary and secondary research phases. Secondary research included the study of the annual and financial reports of the top market players. In contrast, primary research included extensive interviews with key opinion leaders, such as CEOs, directors, and key marketing executives.
To calculate the global market value, segmental revenues were calculated based on the revenue mapping of major solution/service providers. This process involved the following steps:
Generating a list of major global players operating in the particle therapy market.
Mapping annual revenues generated by major global players from the global particle therapy market (or nearest reported business unit/product category)
Revenue mapping of key players to cover a major share of the global market, as of 2022
Extrapolating the global value of the particle therapy market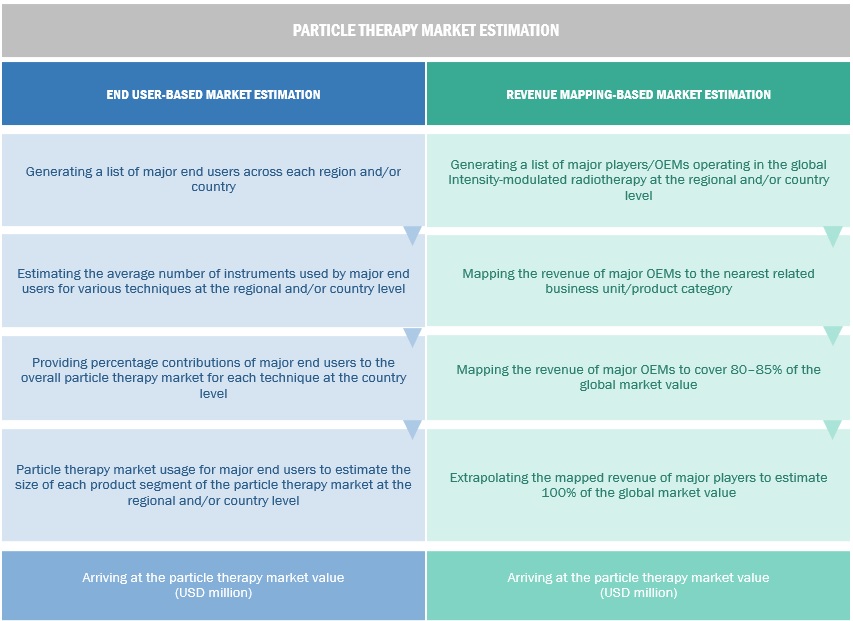 To know about the assumptions considered for the study, Request for Free Sample Report
Data Triangulation
After arriving at the overall market size from the market size estimation process explained above, the global particle therapy market was split into segments and subsegments. Data triangulation and market breakdown procedures were employed to complete the overall market engineering process and arrive at the exact statistics for all segments and subsegments. The data was triangulated by studying various factors and trends from both the demand and supply sides. Additionally, the particle therapy market was validated using both top-down and bottom-up approaches.
Market Definition
Particle therapy is an advanced modality of external beam radiotherapy that uses positively charged particles such as protons or heavy ions for cancer treatment. Particle therapy offers a more precise and effective mode of radiation, which accurately targets tumors and minimizes damage to healthy tissues.
Key Stakeholders
Radiotherapy product manufacturers
Distributors, suppliers, and commercial service providers
Healthcare service providers
Clinical research organizations (CROs)
Radiotherapy service providers
Radiotherapy product distributors
Medical research laboratories
Cancer care centers
Cancer research organizations
Academic medical centers and universities
Market research and consulting firms
Objectives of the Study
To define, describe, and forecast the particle therapy market based on product,type, system, application, cancer type and region.
To provide detailed information regarding the major factors influencing the market growth (such as drivers, restraints, opportunities, and challenges)
To strategically analyze the micro markets with respect to individual growth trends, prospects, and contributions to the total market.
To analyze the opportunities in the market for stakeholders and provide details of the competitive landscape for market leaders.
To profile the key market players and comprehensively analyze their market shares and core competencies.
To forecast the revenue of the market segments with respect to five main regions, namely, North America (US and Canada), Europe (Germany, France, the UK, Italy, Spain, and Rest of Europe), the Asia Pacific (China, Japan, India, South Korea, Australia, and Rest of Asia Pacific), Latin America (Brazil, Mexico, and Rest of Latin America), and the Middle East & Africa.
To track and analyze competitive developments such as new product launches and approvals; agreements, partnerships, expansions, acquisitions; and collaborations in the particle therapy market.
Available Customizations
With the given market data, MarketsandMarkets offers customizations as per the company's specific needs. The following customization options are available for the present global particle therapy market
Product Analysis
Product matrix, which gives a detailed comparison of the product portfolios of the top thirteen companies.
Company Information
Detailed analysis and profiling of additional market players (up to 13)
Geographic Analysis
Further breakdown of the Rest of Europe's particle therapy market into Russia, Belgium, the Netherlands, Switzerland, Austria, Finland, Sweden, Poland, and Portugal among other
Further breakdown of the Rest of Asia Pacific particle therapy market into Singapore, Taiwan, New Zealand, Philippines, Malaysia, and other APAC countries
Further breakdown of the Rest of the world particle therapy market into Latin America, MEA, and Africa