Regenerative Medicine Market
Regenerative Medicine Market by Product (Cell Therapy (Autologous, Allogenic), Gene Therapy, Tissue Engineering (Scaffold, Hydrogels), Application (Musculoskeletal, Oncology, Cardiovascular, Ophthalmology, Wound Care) & Region - Global Forecast to 2027
Report Code: BT 4419
Dec, 2022, by marketsandmarkets.com
Updated on : May 04, 2023
The global regenerative medicine market in terms of revenue was estimated to be worth $12.2 Billion in 2022 and is poised to reach $40.6 Billion by 2027, growing at a CAGR of 27.2% from 2022 to 2027. The new research study consists of an industry trend analysis of the market. The new research study consists of industry trends, pricing analysis, patent analysis, conference and webinar materials, key stakeholders, and buying behaviour in the market. Market growth is driven by the availability of funding and rising investments in R&D, increasing clinical trials for stem cell and CAR-T cell therapies, and rising advancements in tissue-engineered products. However, the high treatment cost of RM therapies and issues associated with commercialization and regulatory compliance factors are expected to restrain the market growth during the forecast period.
Attractive Opportunities in the Regenerative Medicine Market
To know about the assumptions considered for the study, Request for Free Sample Report
Regenerative Medicine Market Dynamics
Driver: Availability of funding and rising investments in R&D
The rising need for improved therapies for cancer, diabetes, skin diseases, musculoskeletal diseases, chronic wounds, burns, and CVD has resulted in increased research activities. Additionally, this has caused a surge in the availability of funding for regenerative medicine research. The new cell therapies, gene therapy, and tissue-engineered products are expensive in manufacturing & development; therefore, there is a rising need for funding. According to the Alliance for Regenerative Medicine (ARM), in 2021, investments reached USD 22,700 million, with key investors like Amgen, Sanofi, and Gilead Sciences, easily surpassing USD 19,900 million in 2020.
Restraint: Shortage of skilled professionals
As regenerative medicine progresses, the skills required are also expected to evolve. Regenerative medicine biomanufacturing is experiencing rapid growth, leading to a gap between the skill sets required by laborers in the workplace and an inability to hire for those skills in the market. Despite robust funding in the cell and gene therapies (CGT) market space, manufacturing there therapies has become challenging due to the shortage of skilled personnel. A limited workforce and restricted knowledge associated with manufacturing novel and emerging therapies contribute to the slow commercialization of CGTs.
Cell therapy products segment accounted for the largest share of the regenerative medicine market, by product
Based on products, the global market is segmented into cell therapies, gene therapies, and tissue engineering products. The cell therapies products segment accounted for the largest share in the global market. The increasing GMP certification approvals for cell therapy production facilities is the major factor driving the growth of this segment.
Musculoskeletal disorders segment accounted for largest share in the regenerative medicine market, by application
Based on applications, the global market is segmented into musculoskeletal disorders, oncology, dermatology & wound care, ophthalmology, cardiovascular diseases, and other applications. The musculoskeletal disorders segment accounted for the largest market share. This can be attributed to the rising research on musculosketal regeneration and prevalence of orthopedic disorders.
North America is the largest regional market for the global regenerative medicine market
The global market is segmented into four major regions, namely, North America, Europe, Asia Pacific, Latin America and the Middle East and Africa. In 2022, North America accounted for the largest share in the global market. The growth in the North American market can be attributed to rising stem cell banking, tissue engineering, and drug discovery in the region; expansion of the healthcare sector; and the high adoption of stem cell therapy and cell immunotherapies for the treatment of cancer and chronic diseases.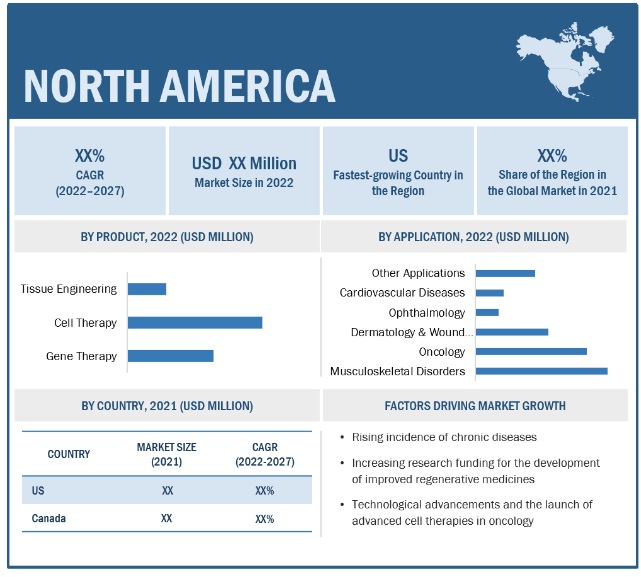 To know about the assumptions considered for the study, download the pdf brochure
Prominent players in the global market include Novartis AG (Switzerland), Biogen (US), Sarepta Therapeutics, Inc. (US), Gilead Sciences, Inc. (US), Amgen, Inc. (US), Smith & Nephew plc (UK), MEDIPOST Co., Ltd. (South Korea), JCR Pharmaceuticals Co., Ltd (Japan), Takeda Pharmaceutical Company (Japan), CORESTEM Inc (South Korea), Vericel Corporation (US), MiMedx (US), Organogenesis Inc. (US), Medtronic plc (US), Orthocell Ltd. (Australia), Mesoblast Ltd (Australia), BioRestorative Therapies, Inc (US), Pluri Inc. (Israel), Tegoscience (South Korea), Anterogen Co., Ltd. (South Korea), bluebird bio, Inc. (US), APAC Biotech (India), Shenzhen SiBiono Genetech Co., Ltd. (China), Aspect Biosystems (Canada), and Athersys, Inc. (US).
Regenerative Medicine Market Report Scope
| | |
| --- | --- |
| Report Metric | Details |
| Market Revenue in 2022 | $12.2 billion |
| Projected Revenue by 2027 | $40.6 billion |
| Revenue Rate | Poised to grow at a CAGR of 27.2% |
| Market Driver | Availability of funding and rising investments in R&D |
| Market Opportunity | Emerging markets |
This report categorizes the regenerative medicine market to forecast revenue and analyze trends in each of the following submarkets:
By Product
Cell Therapy
Stem Cell Therapy

Autologous Therapy
Allogenic Therapy

Cell-Based Immunotherapy Products
Cord Blood/Progenitor Cell Therapies
Tissue Engineering
Scaffolds
Hydrogels
Collagen
Others
By Application
Musculoskeletal
Oncology
Wound Care
Dental Indications
Retinal Indications
Other Applications
By Region
North America
Europe

Germany
France
UK
Rest of Europe (RoE)

Asia Pacific (APAC)

Japan
India
China
South Korea
Rest of Asia Pacific (RoAPAC)

Latin America
Middle East and Africa
Recent Developments
In 2022, Novartis announces collaboration with Alnylam to explore targeted therapy to restore liver function.
In 2020, AbbVie acquired Allergan to enhance its product portfolio in immunology, hematologic oncology, neuroscience, and Allergan aesthetics.
In 2022, MiMedx announced the launch of Axiofill, an Extracellular Matrix (ECM) Particulate product derived from human placental tissue. Axiofill is a human placental-derived particulate product available for surgical recovery procedures.
Frequently Asked Questions (FAQ):
What is the projected market revenue value of the regenerative medicine market?
The regenerative medicine market boasts a total revenue value of $40.6 Billion by 2027.
What is the estimated growth rate (CAGR) of the regenerative medicine market?
The global regenerative medicine market has an estimated compound annual growth rate (CAGR) of 27.2% and a revenue size in the region of $12.2 Billion in 2022.
To speak to our analyst for a discussion on the above findings, click Speak to Analyst
TABLE OF CONTENTS
1 INTRODUCTION
1.1 OBJECTIVES OF THE STUDY
1.2 MARKET DEFINITION
1.2.1 INCLUSIONS & EXCLUSIONS
1.3 MARKET SCOPE
1.3.1 MARKETS COVERED
1.3.2 YEARS CONSIDERED FOR THE STUDY
1.4 CURRENCY
1.5 LIMITATIONS
1.6 STAKEHOLDERS
1.7 SUMMARY OF CHANGES
2 RESEARCH METHODOLOGY
2.1 RESEARCH APPROACH
2.1.1 SECONDARY DATA
2.1.2 PRIMARY DATA
2.1.3 MARKET DATA ESTIMATION & TRIANGULATION
2.2 MARKET ESTIMATION METHODOLOGY
2.3 GROWTH RATE ASSUMPTIONS/GROWTH FORECAST
2.4 INSIGHTS FROM PRIMARIES
2.5 RESEARCH ASSUMPTIONS
2.6 RISK ASSESSMENT
3 EXECUTIVE SUMMARY
4 PREMIUM INSIGHTS
5 MARKET OVERVIEW
5.1 INTRODUCTION
5.2 MARKET DYNAMICS
5.2.1 DRIVERS
5.2.2 RESTRAINTS
5.2.3 OPPORTUNITIES
5.2.4 CHALLENGES
5.3 TECHNOLOGY ANALYSIS
5.4 TRENDS/DISRUPTIONS IMPACTING CUSTOMER'S BUSINESS
5.5 SUPPLY/VALUE CHAIN ANALYSIS
5.6 ECOSYSTEM/MARKET MAP
5.7 PORTERS FIVE FORCES ANALYSIS
5.7.1 THREAT OF NEW ENTRANTS
5.7.2 THREAT OF SUBSTITUTES
5.7.3 BARGAINING POWER OF SUPPLIERS
5.7.4 BARGAINING POWER OF BUYERS
5.7.5 INTENSITY OF COMPETITION RIVALRY
5.8 REGULATORY LANDSCAPE
5.8.1 REGULATORY BODIES, GOVERNMENT AGENCIES AND OTHER ORGANIZATIONS
5.9 PRICING ANALYSIS
5.9.1 AVERAGE SELLING PRICES OF KEY PLAYERS, BY SOURCE
5.9.2 AVERAGE SELLING PRICE TREND
5.10 PIPELINE ANALYSIS
5.11 KEY CONFERENCES & EVENTS IN 2022-2023
5.12 KEY STAKEHOLDERS & BUYING CRITERIA
6 REGENERATIVE MEDICINE MARKET, BY PRODUCT
6.1 INTRODUCTION
6.2 CELL THERAPY
6.2.1 STEM CELL THERAPY
6.2.1.1 AUTOLOGOUS THERAPY
6.2.1.2 ALLOGENIC THERAPY
6.2.2 CORD BLOOD/PROGENITOR CELL THERAPIES
6.2.3 CELL-BASED IMMUNOTHERAPY PRODUCTS
6.3 GENE THERAPY
6.4 TISSUE ENGINEERING
6.4.1 SCAFFOLDS
6.4.1 HYDROGELS
6.4.1 COLLAGEN
6.4.1 OTHERS
7 REGENERATIVE MEDICINE MARKET, BY APPLICATION
7.1 INTRODUCTION
7.2 MUSCULOSKELETAL
7.3 ONCOLOGY
7.4 DERMATOLOGY & WOUND CARE
7.5 CARDIOVASCULAR
7.6 OPHTHALMOLOGY
7.7 CELL TRANSPLANTATIONS
7.8 OTHER APPLICATIONS
8 REGENERATIVE MEDICINE MARKET, BY REGION
8.1 INTRODUCTION
8.2 NORTH AMERICA
8.2.1 US
8.2.2 CANADA
8.3 EUROPE
8.3.1 GERMANY
8.3.2 UK
8.3.3 FRANCE
8.3.4 ITALY
8.3.5 REST OF EUROPE
8.4 ASIA PACIFIC
8.4.1 JAPAN
8.4.2 CHINA
8.4.3 AUSTRALIA
8.4.4 INDIA
8.4.5 REST OF ASIA PACIFIC
8.5 LATIN AMERICA
8.6 MIDDLE EAST & AFRICA
9 COMPETITIVE LANDSCAPE
9.1 OVERVIEW
9.2 REVENUE SHARE ANALYSIS OF TOP MARKET PLAYERS (2020/2021)
9.3 MARKET SHARE ANALYSIS (2021)
9.4 COMPANY EVALUATION QUADRANT
9.4.1 STARS
9.4.2 EMERGING LEADERS
9.4.3 PERVASIVE PLAYERS
9.4.4 PARTICIPANTS
9.4.5 COMPETITIVE BENCHMARKING
9.5 START-UP/SME EVALUATION QUADRANT
9.5.1 PROGRESSIVE COMPANIES
9.5.2 STARTING BLOCKS
9.5.3 RESPONSIVE COMPANIES
9.5.4 DYNAMIC COMPANIES
9.6 COMPETITIVE SCENARIO
9.6.1 PRODUCT LAUNCHES
9.6.2 DEALS
9.6.3 OTHER DEVELOPMENTS
10 COMPANY PROFILES
* Company profiles of 25 players (Including MNC and local players) will be provided in this section. This section will include Business Overview, Products Offered, Recent Developments, MnM View. Kindly note that, the financial analysis might not be captured in case of unlisted companies
11 APPENDIX
11.1 DISCUSSION GUIDE
11.2 KNOWLEDGE STORE: MARKETSANDMARKETS' SUBSCRIPTION PORTAL
11.3 AVAILABLE CUSTOMIZATIONS
11.4 RELATED REPORTS
11.5 AUTHOR DETAILS
This study involved four major activities in estimating the current size of the regenerative medicine market. Exhaustive secondary research was carried out to collect information on the market, its peer markets, and its parent market. The next step was to validate these findings, assumptions, and sizing with industry experts across the value chain through primary research. Both top-down and bottom-up approaches were employed to estimate the complete market size. After that, market breakdown and data triangulation procedures were used to estimate the market size of segments.
Secondary Research
Secondary research was used mainly to identify and collect information for the extensive, technical, market-oriented, and commercial study of the market. The secondary sources used for this study include Some of the key secondary sources referred to for this study include publications from government sources World Health Organization (WHO), Centers for Disease Control and Prevention (CDC), US Food and Drug Administration (FDA), Alliance for Regenerative Medicine (ARM), International Society for Cell & Gene Therapy (ISCT), International Society for Stem Cell Research (ISSCR), American Society of Gene & Cell Therapy (ASGCT), International Cell Research Organization (ICRO), European Society of Gene and Cell Therapy (ESGCT), Annual Reports, SEC Filings, Investor Presentations, and Expert Interviews. These sources were also used to obtain key information about major players, market classification, and segmentation according to industry trends, regional/country-level markets, market developments, and technology perspectives.
Primary Research
In-depth interviews were conducted with various primary respondents, including key industry participants, subject-matter experts (SMEs), C-level executives of key market players, and industry consultants, among other experts, to obtain and verify the critical qualitative and quantitative information as well as assess prospects of the market. Various primary sources from both the supply and demand sides of the market were interviewed to obtain qualitative and quantitative information.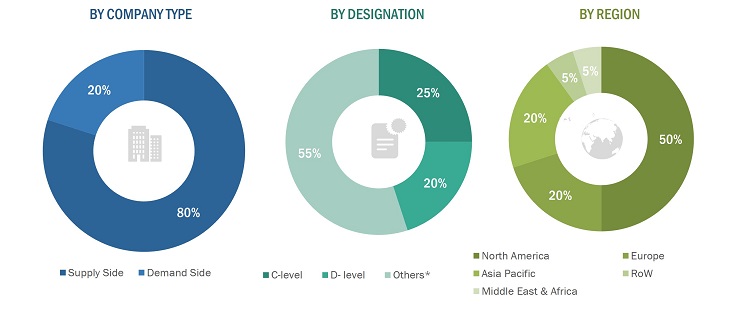 To know about the assumptions considered for the study, download the pdf brochure
Market Size Estimation
Both top-down and bottom-up approaches were used to estimate and validate the total size of the market. These methods were also used extensively to estimate the size of various subsegments in the market. The research methodology used to estimate the market size includes the following:
The key players in the industry and market have been identified through extensive secondary research
The revenues generated from the regenerative medicine business of leading players have been determined through primary and secondary research
All percentage shares, splits, and breakdowns have been determined using secondary sources and verified through primary sources
Data Triangulation
After arriving at the overall market size from the market size estimation process, the total market was split into several segments. To complete the overall market engineering process and arrive at the exact statistics for all segments, data triangulation and market breakdown procedures were employed, wherever applicable. The data was triangulated by studying various factors and trends from both the demand and supply sides.
Report Objectives
To define, describe, and forecast the regenerative medicine market based on product, application, and region
To provide detailed information regarding the major factors influencing the growth of the market (such as drivers, restraints, challenges, opportunities, and trends)
To strategically analyse micromarkets with respect to individual growth trends, future prospects, and contributions to the overall market
To analyse opportunities in the market for stakeholders and provide details of the competitive landscape for market leaders
To forecast the size of the market segments with respect to five main regions, namely, North America, Europe, Asia Pacific, Latin America, and Middle East and Africa
To strategically profile the key players and comprehensively analyze their product portfolios, market positions, and core competencies
To track and analyze competitive developments such as acquisitions, product launches, expansions, agreements, partnerships, and R&D activities in the market.
Available Customizations
With the given market data, MarketsandMarkets offers customizations as per the company's specific needs. The following customization options are available for this report:
Company Information
An additional five company profiles
Regional Analysis
Breakdown of RoW into Latin America and Middle East & Africa