The aquafeed market is projected to grow at a CAGR of 9.9% from 2017, to reach USD 172.56 Billion by 2022. The increase in consumption of seafood and growing aquaculture industry are resulting in market growth for aquafeed, globally. Aquafeed is used to feed omnivorous fish (tilapia, catfish, common carp, and milkfish), carnivorous fish (salmon, trout, eel, seabass, seabream, and tuna), and crustacean species (marine & brackish-water shrimps, freshwater prawns, crabs, and lobsters).
On the basis of ingredient, the soybean segment accounted for the largest market in the aquafeed market in 2016. Soybean is an excellent source of protein for aquafeed and is rich in highly digestible amino acids and xanthophylls. It is therefore extensively used as a key protein source in the production of aquafeed.
On the basis of end user, the fish segment accounted for the highest consumption of aquafeed in 2016. Fish is the cheapest and most easily digestible animal proteins. The increase in fish farming activities and aquaculture has led to an increased demand for fish feed.
On the basis of additive, the amino acids segment is projected to grow at a higher growth rate in the global aquafeed market from 2017 to 2022. The utilization of modern feed management techniques and high awareness levels are the main factors responsible for the high consumption of feed amino acids in the growing markets.
The European region is projected to be the fastest-growing market for aquafeed between 2017 and 2022. The European market experiences the maximum consumption of aquafeed due to the increased consumption of seafood, flexibility in using secondary raw materials, and increasing income of the expanding middle class in developing nations. Key players focus on research & development to develop innovative aquafeed additives that provide nutrients such as proteins, minerals, and vitamins to aquatic animals through their feed.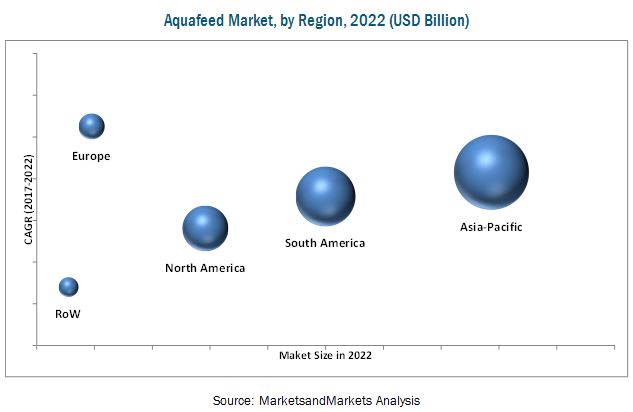 The major challenge for the aquafeed industry is the price volatility of the raw materials. The increase in feed impacted the farming of different fish species in several countries. Major consequences of the rising prices of ingredients are a shortage in the local supply of fish and unsecured future food supply.
Key players identified in the global aquafeed market include Ridley Corporation Limited (Australia), Cargill (U.S.), Nutreco N.V (The Netherlands), and Avanti Feeds Ltd. (India), which are among the key players of the aquafeed market as these are well-established and financially stable players that have been operating in the industry for several years. Most key participants have been exploring new regions through expansions, investments, new product launches, and acquisitions across the globe to avail a competitive advantage through combined synergies.
To speak to our analyst for a discussion on the above findings, click Speak to Analyst
#####
Table of Contents
1 Introduction (Page No. - 16)
1.1 Objectives of the Study
1.2 Market Definition
1.3 Study Scope
1.4 Periodization Considered for the Study
1.5 Currencyconsidered
1.6 Unit Considered
1.7 Stakeholders
2 Research Methodology (Page No. - 19)
2.1 Research Data
2.1.1 Secondary Data
2.1.2 Primary Data
2.1.2.1 Key Industry Insights
2.2 Macro Indicators
2.2.1 Rise in Population and Demand for Seafood
2.2.2 Growth in Aquaculture Production and Rise in Prices of Fish Feed
2.3 Market Size Estimation
2.3.1 Bottom-Up Approach
2.3.2 Top-Down Approach
2.4 Market Breakdown and Data Triangulation
2.5 Research Assumptions and Limitations
2.5.1 Assumptions
2.5.2 Limitations
3 Executive Summary (Page No. - 28)
4 Premium Insights (Page No. - 34)
4.1 Attractive Opportunities in the Aquafeed Market
4.2 Aquafeed Market, By Ingredient
4.3 Fish: Leading Consumer of Aquafeed
4.4 Asia-Pacific Aquafeed Market, By Country and Ingredient
4.5 Life Cycle Analysis, By Region
5 Market Overview (Page No. - 39)
5.1 Introduction
5.2 Market Dynamics
5.2.1 Drivers
5.2.1.1 Growing Seafood Trade
5.2.1.2 Growing Aquaculture Industry
5.2.1.3 Increasing Fish Farming Trend
5.2.2 Restraints
5.2.2.1 Price Volatility of Raw Materials
5.2.3 Opportunities
5.2.3.1 Increasing Government Initiatives to Support Aquaculture
5.2.4 Challenges
5.2.4.1 Harmful Impact on the Environment
5.2.4.2 Food Safety Concerns
6 Aquafeed Market, By End User (Page No. - 44)
6.1 Introduction
6.2 Fish
6.2.1 Tilapia Feed
6.2.2 Salmon Feed
6.2.3 Carp Feed
6.2.4 Catfish Feed
6.3 Mollusks
6.3.1 Oyster Feed
6.3.2 Mussel Feed
6.4 Crustaceans
6.4.1 Shrimp Feed
6.4.2 Crab Feed
6.5 Others
7 Aquafeed Market, By Ingredient (Page No. - 52)
7.1 Introduction
7.2 Soybean
7.3 Corn
7.4 Fish Meal
7.5 Fish Oil
7.6 Additives
7.7 Others
8 Aquafeed Market, By Additive (Page No. - 61)
8.1 Introduction
8.2 Antibiotics
8.3 Vitamins
8.4 Antioxidants
8.5 Amino Acids
8.6 Feed Enzymes
8.7 Feed Acidifiers
8.8 Other Additives
9 Aquafeed Market, By Region (Page No. - 70)
9.1 Introduction
9.2 North America
9.2.1 U.S.
9.2.2 Canada
9.2.3 Mexico
9.3 Europe
9.3.1 France
9.3.2 Norway
9.3.3 U.K.
9.3.4 Germany
9.3.5 Greece
9.3.6 Spain
9.3.7 Rest of Europe
9.4 Asia-Pacific
9.4.1 China
9.4.2 India
9.4.3 Japan
9.4.4 Indonesia
9.4.5 Thailand
9.4.6 Vietnam
9.4.7 Rest of Asia-Pacific
9.5 South America
9.5.1 Peru
9.5.2 Chile
9.5.3 Brazil
9.5.4 Rest of South America
9.6 Rest of the World (RoW)
9.6.1 South Africa
9.6.2 Nigeria
9.6.3 Others in RoW
10 Competitive Landscape (Page No. - 105)
10.1 Introduction
10.2 Vendor Dive
10.2.1 Vanguards
10.2.2 Dynamic
10.2.3 Innovators
10.2.4 Emerging
10.3 Competitive Benchmarking
10.3.1 Product Offering (For All 25 Companies)
10.3.2 Business Strategy (For All 25 Companies)
11 Company Profiles (Page No. - 110)
(Business overview, Services offered, Strength of service portfolio, Business strategy excellence, Recent developments)*
11.1 Archer Daniels Midland Company
11.2 Ridley Corporation Limited
11.3 Nutreco N.V
11.4 Avanti Feeds Limited
11.5 Cargill
11.6 Purina Animal Nutrition (Land O' Lakes Inc.)
11.7 Alltech.
11.8 Biostadt India Limited
11.9 Nutriad
11.10 Aller Aqua A/S
11.11 Biomar
11.12 Biomin Holding GmbH
11.13 Norel Animal Nutrition
11.14 Dibaq A.S
11.15 DE Heus Animal Nutrition
" * The companies listed are a representative sample of the market's ecosystem and in no particular order"
*Details on Business overview, Services offered, Strength of service portfolio, Business strategy excellence, Recent developments might not be captured in case of unlisted companies.
12 Appendix (Page No. - 163)
12.1 Discussion Guide
12.2 Knowledge Store: Marketsandmarkets' Subscription Portal
12.3 Introducing RT: Real-Time Market Intelligence
12.4 Available Customizations
12.5 Related Reports
12.6 Author Details

List of Tables (86 Tables)
Table 1 Aquafeed Market Size, By End User, 2015-2022 (USD Billion)
Table 2 Fish: Aquafeed Market Size, By Region, 2015-2022 (USD Billion)
Table 3 Mollusks: Aquafeed Market Size, By Region, 2015-2022 (USD Billion)
Table 4 Crustaceans: Market Size For Aquafeed, By Region, 2015-2022 (USD Billion)
Table 5 Others: Aquafeed Market Size, By Region, 2015-2022 (USD Billion)
Table 6 Aquafeed Market Size, By Ingredient, 2015-2022 (USD Billion)
Table 7 Soybean: Aquafeed Market Size, By Region, 2015-2022 (USD Billion)
Table 8 Corn: Market Size For Aquafeed, By Region, 2015-2022 (USD Billion)
Table 9 Fish Meal: Aquafeed Market Size, By Region, 2015-2022 (USD Billion)
Table 10 Fish Oil: Aquafeed Market Size, By Region, 2015-2022 (USD Billion)
Table 11 Additives: Market Size For Aquafeed, By Region, 2015-2022 (USD Million)
Table 12 Others: Aquafeed Market Size, By Region, 2015-2022 (USD Billion)
Table 13 Aquafeed Market Size, By Additives, 2015–2022(USD Million)
Table 14 Antibiotics: Market Size For Aquafeed, By Region, 2015–2022(USD Million)
Table 15 Vitamins: Aquafeed Market Size, By Region, 2015–2022 (USD Million)
Table 16 Antioxidants: Market Size For Aquafeed, By Region, 2015–2022 (USD Million)
Table 17 Amino Acids: Aquafeed Market Size, By Region, 2015–2022 (USD Million)
Table 18 Feed Enzymes: Market Size For Aquafeed, By Region, 2015–2022 (USD Million)
Table 19 Feed Acidifiers: Aqua Feed Market Size, By Region, 2015–2022 (USD Million)
Table 20 Other Additives: Aqua Feed Market Size, By Region, 2015–2022 (USD Million)
Table 21 Aquafeed Market Size, By Region, 2015–2022 (USD Billion)
Table 22 Aquafeed Market Size, By Region, 2015–2022 (KT)
Table 23 North America: Market Size For Aquafeed, By Country, 2015–2022 (USD Billion)
Table 24 North America: Aquafeed Market Size, By Country, 2015–2022 (KT)
Table 25 North America: Market Size For Aquafeed, By End User, 2015–2022 (USD Billion)
Table 26 North America: Aquafeed Market Size, By Ingredient, 2015–2022 (USD Billion)
Table 27 North America: Market Size For Aquafeed, By Additive, 2015–2022 (USD Million)
Table 28 U.S. Aquafeed Market Size, By End User, 2015–2022 (USD Billion)
Table 29 Canada: Market Size For Aquafeed, By End User, 2015–2022 (USD Billion)
Table 30 Mexico: Aquafeed Market Size, By End User, 2015–2022 (USD Billion)
Table 31 Europe: Market Size For Aquafeed, By Country, 2015–2022 (USD Billion)
Table 32 Europe: Aquafeed Market Size, By Country, 2015–2022 (KT)
Table 33 Europe: Market Size For Aquafeed, By End User, 2015–2022 (USD Billion)
Table 34 Europe: Aquafeed Market Size, By Ingredient, 2015–2022 (USD Billion)
Table 35 Europe: Market Size For Aquafeed, By Additive, 2015–2022 (USD Million)
Table 36 France: Aquafeed Market Size, By End User, 2015–2022 (USD Billion)
Table 37 Norway: Market Size For Aquafeed, By End User, 2015–2022 (USD Billion)
Table 38 U.K.: Aquafeed Market Size, By End User, 2015–2022 (USD Billion)
Table 39 Germany: Market Size For Aquafeed, By End User, 2015–2022 (USD Billion)
Table 40 Greece: Aquafeed Market Size, By End User, 2015–2022 (USD Billion)
Table 41 Spain: Market Size For Aquafeed, By End User, 2015–2022 (USD Billion)
Table 42 Rest of Europe: Aquafeed Market Size, By End User, 2015–2022 (USD Billion)
Table 43 Asia-Pacific: Market Size For Aquafeed, By Country, 2015–2022 (USD Billion)
Table 44 Asia-Pacific: Aquafeed Market Size, By Country, 2015–2022 (KT)
Table 45 Asia-Pacific: Market Size For Aquafeed, By End User, 2015–2022 (USD Billion)
Table 46 Asia-Pacific: Aquafeed Market Size, By Ingredient, 2015–2022 (USD Billion)
Table 47 Asia-Pacific: Market Size For Aquafeed, By Additive, 2015–2022 (USD Million)
Table 48 China: Aquafeed Market Size, By End User, 2015–2022 (USD Billion)
Table 49 India: Market Size For Aquafeed, By End User, 2015–2022 (USD Billion)
Table 50 Japan: Aquafeed Market Size, By End User, 2015–2022 (USD Billion)
Table 51 Indonesia: Market Size For Aquafeed, By End User, 2015–2022 (USD Billion)
Table 52 Thailand: Aquafeed Market Size, By End User, 2015–2022 (USD Billion)
Table 53 Vietnam: Market Size For Aquafeed, By End User, 2015–2022 (USD Billion)
Table 54 Rest of Asia-Pacific: Aquafeed Market Size, By End User, 2015–2022 (USD Billion)
Table 55 South America: Market Size For Aquafeed, By Country, 2015–2022 (USD Billion)
Table 56 South America: Aquafeed Market Size, By Country, 2015–2022 (KT)
Table 57 South America: Market Size For Aquafeed, By End-User, 2015–2022 (USD Billion)
Table 58 South America: Aquafeed Market Size, By Ingredients, 2015–2022 (USD Billion)
Table 59 South America: Market Size For Aquafeed, By Additives, 2015–2022 (USD Million)
Table 60 Peru: Aquafeed Market Size, By End User, 2015–2022 (USD Billion)
Table 61 Chile: Market Size For Aquafeed, By End User, 2015–2022 (USD Billion)
Table 62 Brazil: Aquafeed Market Size, By End-User, 2015–2022 (USD Billion)
Table 63 Rest of South America: Aquafeed Market Size, By End User, 2015–2022 (USD Billion)
Table 64 RoW: Market Size For Aquafeed, By Country, 2015–2022 (USD Billion)
Table 65 RoW: Aquafeed Market Size, By Country, 2015–2022 (KT)
Table 66 RoW: Market Size For Aquafeed, By End User, 2015–2022 (USD Billion)
Table 67 RoW: Aquafeed Market Size, By Ingredient, 2015–2022 (USD Billion)
Table 68 RoW: Market Size For Aquafeed, By Additive, 2015–2022 (USD Million)
Table 69 South Africa: Aquafeed Market Size, By End User, 2015–2022 (USD Billion)
Table 70 Nigeria: Market Size For Aquafeed, By End User, 2015–2022 (USD Billion)
Table 71 Others: Market Size For Aquafeed, By End User, 2015–2022 (USD Billion)
Table 72 Archer Daniels Midland Company: Products Offered
Table 73 Ridley Corporation Limited: Products Offered
Table 74 Nutreco N.V : Products Offered
Table 75 Avanti Feeds Limited: Products Offered
Table 76 Cargill: Products Offered
Table 77 Purina Animal Nutrition: Products Offered
Table 78 Alltech: Products Offered
Table 79 Biostadt India Limited: Products Offered
Table 80 Nutriad: Products Offered
Table 81 Aller Aqua A/S: Products Offered
Table 82 Biomar: Products Offered
Table 83 Biomin Holding GmbH: Products Offered
Table 84 Norel Animal Nutrition: Products Offered
Table 85 Dibaq A.S: Products Offered
Table 86 DE Heus Animal Nutrition: Products Offered

List of Figures (66 Figures)
Figure 1 Aquafeed Market Segmentation
Figure 2 Research Design for Aquafeed Market
Figure 3 Factors Considered for Market Breakdown
Figure 4 Breakdown of Primary Interviews, By Company Type, Designation, and Region
Figure 5 Global Fish Production: Data and Projections, 1984–2030
Figure 6 Market Size Estimation Methodology: Bottom-Up Approach
Figure 7 Market Size Estimation Methodology: Top-Down Approach
Figure 8 Data Triangulation
Figure 9 Aquafeed Market Snapshot, 2015–2022 (USD Billion)
Figure 10 Soybean Segment is Projected to Dominate the Aquafeed Market Through 2022
Figure 11 Amino Acids Segment is Projected to Dominate the Aquafeed Market Through 2022
Figure 12 Fish Segment is Projected to Grow at the Highest Rate From 2017 to 2022
Figure 13 Aquafeed Market Share (Value), By Region, 2016
Figure 14 Attractive Opportunities in the Aquafeed Market, 2017–2022
Figure 15 Soybean Segment Dominated the Aquafeed Market Across All Regions in 2016
Figure 16 Aquafeed Market Across All Regions
Figure 17 China Accounted for the Largest Share of the Aquafeed Market in 2016
Figure 18 Asia-Pacific Aquafeed Market is Mature
Figure 19 Aquafeed Market: Drivers, Restraints, Opportunities, and Challenges
Figure 20 Global Seafood Trade Data, 2012–2015 (USD Billion)
Figure 21 Aquaculture Production Share (Volume): 2014
Figure 22 Aquafeed Market Size, By End User, 2017 vs 2022 (USD Billion)
Figure 23 Market Size For Aquafeed, By Ingredient, 2017 vs 2022 (USD Billion)
Figure 24 Aquafeed Market Size, By Additives, 2017 vs 2022 (USD Million)
Figure 25 Geographic Snapshot (2017–2022): Germany is Projected to Grow at the Highest Rate and is Emerging as A New Hotspot
Figure 26 European Aquafeed Market: Snapshot
Figure 27 Asia-Pacific Aquafeed Market Snapshot
Figure 28 Dive Chart
Figure 29 Product Offering
Figure 30 Business Strategy
Figure 31 Archer Daniels Midland Company: Company Snapshot
Figure 32 Archer Daniels Midland Company: Product Offering Scorecard
Figure 33 Archer Daniels Midland Company: Business Strategy Scorecard
Figure 34 Ridley Corporation Limited: Company Snapshot
Figure 35 Ridley Corporation Limited: Product Offering Scorecard
Figure 36 Ridley Corporation Limited: Business Strategy Scorecard
Figure 37 Nutreco N.V.: Company Snapshot
Figure 38 Nutreco N.V.: Product Offering Scorecard
Figure 39 Nutreco N.V.: Business Strategy Scorecard
Figure 40 Avanti Feeds Limited: Company Snapshot
Figure 41 Avanti Feeds Limited: Product Offering Scorecard
Figure 42 Avanti Feeds Limited: Business Strategy Scorecard
Figure 43 Cargill: Company Snapshot
Figure 44 Cargill: Product Offering Scorecard
Figure 45 Cargill: Business Strategy Scorecard
Figure 46 Purina Animal Nutrition LLC. (Land O' Lakes Inc.): Company Snapshot
Figure 47 Purina Animal Nutrition (Land O' Lakes Inc.): Product Offering Scorecard
Figure 48 Purina Animal Nutrition LLC. (Land O' Lakes Inc.): Business Strategy Scorecard
Figure 49 Alltech: Product Offering Scorecard
Figure 50 Alltech: Business Strategy Scorecard
Figure 51 Biosatdt India Limited: Product Offering Scorecard
Figure 52 Biosatdt India Limited: Business Strategy Scorecard
Figure 53 Nutriad: Product Offering Scorecard
Figure 54 Nutriad: Business Strategy Scorecard
Figure 55 Aller Aqua A/S: Product Offering Scorecard
Figure 56 Aller Aqua A/S: Business Strategy Scorecard
Figure 57 Biomar: Product Offering Scorecard
Figure 58 Biomar: Business Strategy Scorecard
Figure 59 Biomin Holding GmbH: Product Offering Scorecard
Figure 60 Biomin Holding GmbH: Business Strategy Scorecard
Figure 61 Norel Animal Nutrition: Product Offering Scorecard
Figure 62 Norel Animal Nutrition: Business Strategy Scorecard
Figure 63 Dibaq A.S: Product Offering Scorecard
Figure 64 Dibaq A.S: Business Strategy Scorecard
Figure 65 DE Heus Animal Nutrition: Product Offering Scorecard
Figure 66 DE Heus Animal Nutrition: Business Strategy Scorecard