Updated date -
[163 Pages Report] MarketsandMarkets forecasts the global Managed Security Services (MSS) market size to grow from USD 24,046 million in 2018 to USD 47,648 million by 2023, at a Compound Annual Growth Rate (CAGR) of 14.7% during 2018–2023. Major growth drivers for the market include stringent government regulations, increasing sophistication levels of cyber-attacks, growing BYOD trend among organizations and cost-effectiveness in implementing services.
Attractive Opportunities in the Managed Security Services Market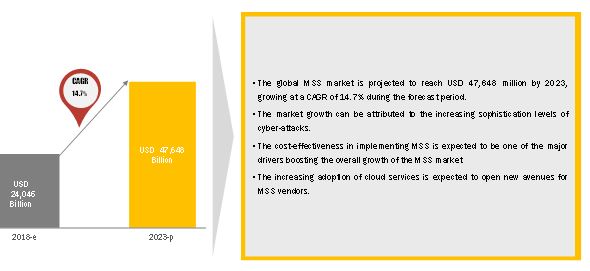 Source: Investor Presentation, Secondary Literature, Expert Interviews, and MarketsandMarkets Analysis

By type, the managed encryption segment is expected to grow at the highest growth rate during the forecast period
The managed encryption type in the MSS market is expected to grow at the highest CAGR during the forecast period, due the increasing organizational need to protect the confidentiality and integrity of digital data. Many organizations are moving toward the cloud for cost-savings, agility, and flexibility, and this makes their critical data vulnerable to cyber-attacks. The managed encryption would also protect cloud data from unauthorized access by making the information unreadable. Hence, it is expected to be growing at the highest rate in the market.
By vertical, the BFSI segment is expected to hold the largest market size in the MSS market in 2018
BFSI is the industry term for commercial banks, insurance institutes, and non-banking financial organizations that provide financial products and services. The BFSI vertical attracts cybercriminals, as it holds very sensitive information about employees, customers, assets, offices, branches, and operations. Therefore, this vertical is always on the lookout for security products and services. Moreover, this vertical is always improving its processing and transaction technologies. The banking industry frequently keeps introducing new and improved financial products and services to improve its business operations, which is why cybercriminals are attracted toward this vertical to grab sensitive customer information. Smart banking, internet banking, and mobile banking are frequently used by customers, so it has become mandatory for the BFSI vertical to prioritize cybersecurity. The IT leaders believe that organizations should increase their budget for cybersecurity and follow a robust cybersecurity strategy.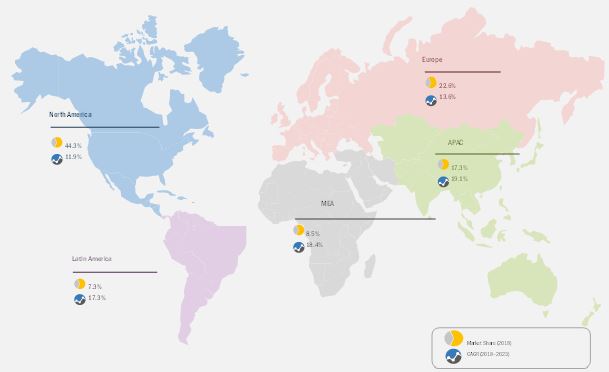 Source: MarketsandMarkets Analysis
North America to account for the largest market size during the forecast period.
The MSS market is expected to be witnessing growth opportunities in this region, with the major players focusing on expanding their presence in various verticals, such as retail, BFSI, and healthcare. Quite similar to North America, enterprises in this region have been demonstrating a progressive growth in the implementation of MSS, due to the presence of a large number of MSSPs and provision of substantial IT budgets. In addition to this, the growing need for strong security measures and compliance management, owing to the increase in internet usage and online applications, has made the European region more lucrative for the MSSPs.
Market Dynamics
Source: Investor Presentation, Secondary Literature, Expert Interviews, and MarketsandMarkets Analysis
Stringent government regulations
The constantly evolving threat landscape has given rise to a large number of government regulations globally, which need to be strictly followed by all the organizations. Organizations are bound to meet mandatory security standards, failing which, a hefty amount of fine is levied. Various regulatory compliances are designed for various industries to provide a standard for protection of data in industries. These compliances not only assure organizations of their data safety, but also enable them to tackle security-related issues effectively. Regulatory compliances such as HIPAA and Health Information Technology for Economic and Clinical Health (HITECH) Act regulate the healthcare sector by providing security to Electronic Health Records (EHRs). The PCI-DSS and the Department of Defense Information Assurance Certification and Accreditation Process highlight various guidelines and security features to be strictly followed by the organizations in the US. In Europe, the European Union Agency for Network and Information Security (ENISA) provides regulations, such as (EU) No 526/2013, which binds organizations to maintain network and information security, and follow the best practices in deploying business services. Thus, the government mandates and regulatory compliances are pushing organizations to deploy security solutions and services to ensure information security, and this is expected to drive the growth of the MSS market.
Lack of trust on third-party applications to share sensitive data
Outsourcing security operations to a third-party service provider involves multiple considerations, such as security of the third-party's infrastructure itself and the loss of control. It is essential that the service provider's infrastructure is secured and up-to-date to be able to combat the latest threats. Since the service provider's infrastructure may hold vital data of multiple organizations, it is highly susceptible to repeated and complex attacks; this can be a deterrent for companies to hand over their data to these service providers. In certain cases, the top management of organizations might not be willing to let go of the control over vital aspects of their infrastructure. Other factors such as hidden costs, the quality of service provided, and lack of trust on the service providers, may limit the growth of this market.
Increased adoption of cloud services among SMEs
With various advantages, such as cost-effectiveness, dynamic access to data, and reduced turnaround time for business processes, which come with the adoption of cloud services, a number of SMEs, as well as large enterprises, are inclined toward having the maximum control over their data and infrastructure in the cloud globally. For this, they are keen on utilizing the benefits of cloud security solutions for greater security and access to data. These solutions have distinctive features, such as security policy enforcement, various compliances, IAM, encryption, SIEM, and malware detection and prevention, which can be utilized by MSSPs. Due to these benefits, many large enterprises and SMEs are moving their businesses to the cloud to deliver excellent services. With the reduced cost of implementation of these services, the SMES have become more inclined toward adopting cloud-based security solutions, and this opportunity can be utilized by the MSSPs for offering custom-based security services to enterprises
Lack of competent security professionals to handle challenging environments
The biggest challenge organizations are facing today is the lack of cybersecurity skills. This is known to be hampering organizations' ability to meet their evolving IT security needs. Many organizations hire security professionals who lack the right skill to analyze and identify advanced threats while under a cyber-attack. Furthermore, the companies with pressing cybersecurity needs are facing a major lack of qualified professionals, which makes them vulnerable to cyber-attacks. This underscores the need for better access to cybersecurity training, which can introduce new talent into the field quickly, help close the cybersecurity skills gap, and make companies more secure. Therefore, the lack of competent cybersecurity professionals is expected to be a big challenge for the growth of the entire MSS market.
Scope of the Report
| | |
| --- | --- |
| Report Metric | Details |
| Market size available for years | 2016–2023 |
| Base year considered | 2017 |
| Forecast period | 2018–2023 |
| Forecast units | Million (USD) |
| Segments covered | Type, Security type, Organization size, Deployment mode, Vertical and Region |
| Geographies covered | North America, Europe, APAC, MEA and Latin America |
| Companies covered | IBM (US), SecureWorks (US), Symantec (US), Trustwave (US), Verizon (US), AT&T (US), Atos (France), BAE Systems (UK), BT (UK),CenturyLink (US),DXC (US),Fortinet (US),Fujitsu (Japan), NTT Security (Japan), Wipro (India), Accenture (EU), Alert Logic (US), Cipher (US), Happiest Minds (India), HCL (India), Hitachi Systems Security (US), Optiv (US), Paladion (India), Rapid7 (US), Unisys (US) |
The research report categorizes the managed security services to forecast the revenues and analyze the trends in each of the following sub-segments:

Source: Investor Presentation, Secondary Literature, Expert Interviews, and MarketsandMarkets Analysis
Managed Security Services Market, By Type
Managed Identity and Access Management
Managed Antivirus/Anti-Malware
Managed Firewall
Managed Risk and Compliance Management
Managed Vulnerability Management
Managed Security Information and Event Management
Manged Intrusion Detection System/ Intrusion Prevention System
Managed Disaster Recovery
Managed Unified Threat Management
Managed Encryption
Managed Data Loss Prevention
Managed Distributed Denial Of Service Mitigation
Others
Managed Security Services Market, By Security Type
Managed Network Security
Managed Endpoint Security
Managed Application Security
Managed Cloud Security
Others
Managed Security Services Market, By Organization Size
Small and Medium-Sized Enterprises
Large Enterprises
Managed Security Services Market, By Deployment Mode
Managed Security Services Market, By Vertical
Banking Financial Services and Insurance
Government and Defense
Telecom and IT
Healthcare
Energy and Utilities
Manufacturing
Retail
Others
Managed Security Services Market, By Region
North America
Europe
Asia Pacific (APAC)
Middle East and Africa (MEA)
Latin America
Key Market Players
Major vendors in the global managed security services market include IBM (US), SecureWorks (US), Symantec (US), Trustwave (US), Verizon (US), AT&T (US), Atos (France), BAE Systems (UK), BT (UK),CenturyLink (US),DXC (US),Fortinet (US),Fujitsu (Japan), NTT Security (Japan), Wipro (India).These vendors have adopted various organic and inorganic growth strategies, such as new product launches, partnerships and collaborations, and mergers and acquisitions, to further expand their presence in the global managed security services market.
IBM is among the leading vendors offering managed security services. In the MSS domain, the company offers a range of solutions to its customers, such as Firewall Management, Hosted Vulnerability Management Services, Information Event Management, Intelligent Log Management on Cloud, Intrusion Detection and Prevention System Management, Managed Data Protection Services for Guardium, MDR Services, and Managed Protection Services. The company has been continuously increasing its expenditure on R&D to provide advanced and vital solutions in the field of security and cloud. The company has also released several new products to tackle the security challenges. For instance, it has launched 2 new security testing services through its IBM X-Force platform for automotive security and IoT.
Recent Developments
In September 2018, Accenture collaborated with SAP to develop the SAP S/4HANA cloud solution for helping oil and gas companies reduce their operational costs.
In September 2018, Wipro partnered with Anaplan, a provider of cloud-based business planning and performance management platform, to offer cloud-based EPM solutions, which help clients automate their enterprise functions across verticals.
In June 2018, Unisys launched Unisys CloudForte, a comprehensive managed service offering, for helping federal agencies securely move their data and applications to AWS.
In May 2018, DXC Technology launched DXC Platform-as-a-Service (PaaS) for SAP solutions on AWS' cloud to provide a cost-effective way for its users to migrate their SAP solutions to an automated on-demand cloud platform.
In March 2018, IBM announced the expansion of its MaaS360 with Watson tool to IBM Security App Exchange. This availability of tool on app exchange would help the users to find the collection of several apps with enhanced unified endpoint management capabilities.
In February 2018, Symantec joined hands with Microsoft to provide enhanced security to Microsoft Azure. The customers can leverage the advantage of Symantec Web Security service to get protection against cyber threats in the cloud environments
In January 2018, SecureWorks allied with the Trusted Government IT Solutions provider, Carahsoft Technology, Corp., to provide early warning systems which was driven by real-time threat intelligence to the government and educational institutions. These systems enable the organizations to not only prevent any cybersecurity breaches but also to protect the critical data and systems they oversee.
Critical questions the report answers:
What are the current trends that are driving the managed security services market?
In which application, most of the verticals are deploying managed security services?
Where will all these developments take the industry in the mid to long term?
Who are the top vendors in the managed security services market and what is their competitive analysis?
What are the drivers and challenges of the managed security services market?
To speak to our analyst for a discussion on the above findings, click Speak to Analyst