[147 Pages Report] The global rain gutter market size is estimated to be USD 7.0 billion in 2020 and projected to reach USD 7.9 billion by 2025, at a CAGR of 2.5%. The growing demand from replacement and renovation activity due to worst weather conditions is driving market growth. Moreover, increasing construction activity and need for rain gutter harvesting will drive the demand for these products in the near future.
To know about the assumptions considered Request for Free Sample Report
Covid-19 Impact On Rain Gutter Market
The rain gutter market players are mainly from North America and Europe as those high share markets. These players have their manufacturing facilities spread across various countries at regional level. The supply chain disruption across Asia Pacific, Europe, North America, South America, and the Middle East and Africa. COVID-19 has impacted their businesses as well. The lockdown imposed due to COVID-19 has impacted construction industry globally and construction work has stand still for almost a quarter, this has adversely effected the demand for rain gutters.
Rain Gutter Market Dynamics
Driver: Increasing repair and maintenance activities due to weather conditions:
Increasing unpredictable weather conditions in North America and other regions, such as heavy downpours, heatwaves, and strong winds, have all been putting pressure on rain gutters and other home maintenance systems In 2019, the US faced extreme weather conditions, such as the Mississippi River flood, snowfalls in summer, spurred tornadoes, and Hurricane Dorian in the Bahamas, which have damaged and in some cases decimated entire structures, costing an estimated USD 1.5 billion to USD 3 billion in damages. Recent damages to the surroundings caused due to Nisarga Hurricane (June 2020) in India and other Asian countries is expected to drive the market for rain gutters in the region for the near future.
Restraint: High Competition
The rain gutter market in major regions such as North America and Europe is in its mature stage, and thus, it is difficult to achieve profits at competitive prices. In order to stay competitive, manufacturers are also focusing on the expansion of their product lines by including new colors and styles, promoting value-added products, such as gutter guards, rain harvesting equipment, and rain chains, and other decorative items.
Opportunities: Increasing reroofing and growing construction activities in the APAC region
The improving economic conditions and severe weather conditions in various North American countries, in the last few years, resulted in more re-roofing projects, which typically include gutter replacement. This creates an opportunity for market players. As per New Building Materials and Construction World Magazine, ASEAN, a 10-country regional bloc consisting of the Philippines, Indonesia, Malaysia, Thailand, Vietnam, Cambodia, Myanmar, Singapore, Laos, and Myanmar, highlights USD 250 billion potential in construction. In these countries, the construction sector is expected to grow at 7.5%, compared to the global growth of 3% over the same period, by 2021.
Challenges: Difficult to get qualified workers
The rain gutter manufacturers are dependent on local contractors and labors for installation, and do not have a permanent workforce and thus, face the problem of a qualified workforce for the installation of rain gutters. Gutter manufacturers and contractors are finding it difficult to get qualified and professional gutter installers in their areas. The labor cost is continuously increasing along with material cost, which creates difficulty in maintaining competitive pricing as well as affects the profitability. Few players say their expansion efforts have been scaled back, because, with the baby boomers retiring, and millennials disinterested in the construction industry, they are unable to find qualified workers for gutter work
Aluminum material accounted for the largest market share amongst rain gutter material types in 2019
Aluminum material accounts for the highest share in the rain gutter market. The high share is attributed to its lightweight, easy installation, and low price. The average cost of aluminum gutter material is around USD 6 to USD 15. Aluminum material has the following advantages and, thus, a high share in the market.
Asia Pacific rain gutter market is forecasted to grow at a higher CAGR, globally, by value
Rain gutters have been historically used in the Asian region for rainwater harvesting, mainly to conserve water for the months of summer as there is uneven rainfall during the monsoons. The construction industry in APAC is growing at a high rate.
Many countries in APAC are facing difficult times due to the COVID-19 pandemic, and hence the construction industry is witnessing substantially slow growth along with economic slowdown. Since China has been severely affected along with other countries, the lockdown and general containment measures imposed to stop the virus spread continues to have a significant impact on the overall Asian construction sector. This has delayed many ongoing projects, and some of the projects have been stopped to contain the spread of the virus. This is expected to slow down the construction and, in turn, the rain gutter market growth in 2020. However, the market is expected to start recovering in early 2021.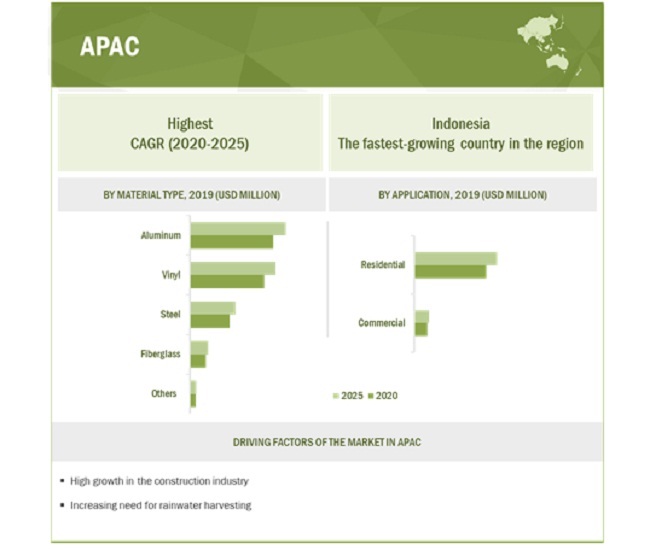 To know about the assumptions considered for the study, download the pdf brochure
The rain gutter market is dominated by regional level player. Thus, the fragmented markets at the regional level with high competition amongst regional players.
Scope of the report
| | |
| --- | --- |
| Report Metric | Details |
| Market size available for years | 2018–2025 |
| Base year considered | 2019 |
| Forecast period | 2020–2025 |
| Forecast units | Value (USD Million) |
| Segments covered | By Application, By Material Type, By Types (Qualitative) |
| Geographies covered | Asia Pacific, Europe, North America, MEA, South America |
| Companies covered | The major market players include Gibraltar industries (US), Lindab (Sweden), Senox corporation (US) |
The study categorizes the rain gutter market based on application, and material type, at the regional and global levels.
By Application
By Material type
Aluminum
Vinyl
Steel
Fiberglass
Others
By Region
North America
Europe
Asia Pacific
Middle East & Africa
South America
Recent Developments:
In 2017, the company Guttercreast Ltd collaborated with AliFabs to take over the ABP/Alifabs product lines ABP product into their portfolio. Alifabs copings and rainwater systems are a highly respected brand in the rain gutter industry, which has further enhanced Guttercrest's existing product range.
In 2018, Alumasc PLC, acquired Wade, a leading manufacturer and supplier of quality drainage products. Wade strengthens the unique position of Alumasc's Water Management division and provides further growth opportunities.
To speak to our analyst for a discussion on the above findings, click Speak to Analyst